2018 Table Tennis Tournament
28 March 2018
Within six months of relocating our head office to Tonsley Innovation Precinct, we've had many opportunities, including some exciting collaborations with other businesses and research institutions. But putting all business aside, the move has given our SA-based staff the opportunity to show their competitive streak in their lunch hours.
They've been using the Tonsley communal basketball court, table tennis tables and squash courts. [And in December one of SAGE's two squash teams won the Tonsley Squash Tournament 2017!]
Spurred on by our success in squash, some of our engineers decided to bring a competitive edge to table tennis. Thus was born the annual SAGE Table Tennis Tournament.
In true SAGE spirit, engineer Nick Minchin wrote a mobile app using the Ignition SCADA software to schedule and run the competition - all in his spare time. After seeing what he had done, the vendor happily donated a license for such an important cause.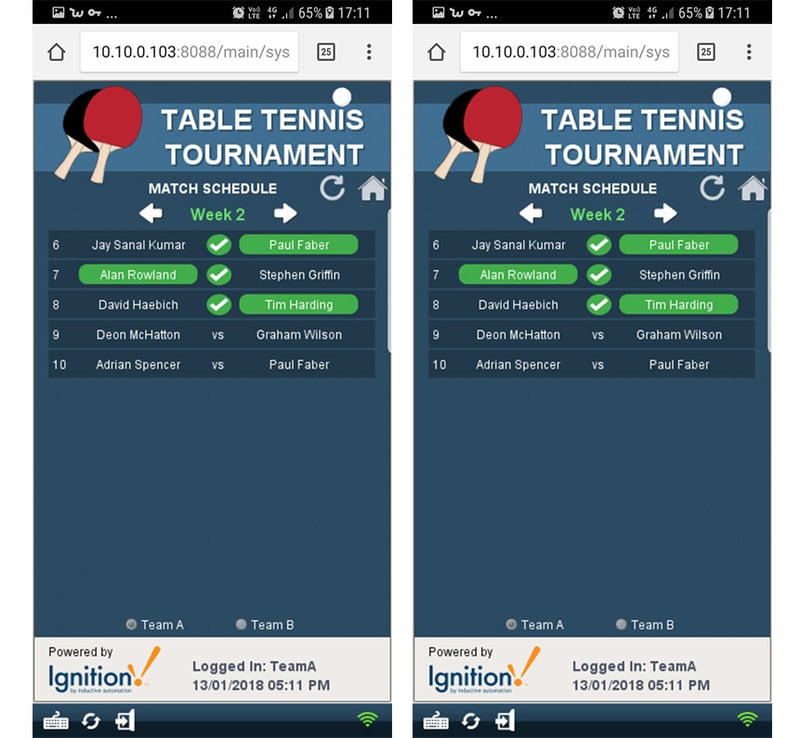 The table tennis tournament was organised using a custom app made with Ignition SCADA by SAGE engineer -Nick Minchin
Head-to-head contest
Over a gruelling few weeks, the weakest players were knocked out in the round robin competition to leave two competitors: Graduate Systems Engineer Tim Harding vs Trade Assistant David Haebich.
With one goal in mind, Tim and Dave battled it out on Friday 23 March to take the inaugural title of 2018 Table Tennis Champion - the first in SAGE history.
As SAGE staff watched on and cheered each player throughout, Tim managed to sneak in a few tricky shots and secure the win!
Take a look at a few of the snaps taken during the afternoon.