SAGE Automation named a Schneider Electric Sustainability Impact Award winner
Published: March 21, 2023 - Updated: March 21, 2023
SAGE Automation has been awarded the Schneider Electric Sustainability Impact Award for the Pacific region, for its industry-leading development of a communications solution for monitoring and control of an extensive solar energy system.
The award recognised SAGE's work with SA Water, a South Australian utility who aim to neutralise more than $80 million in annual electricity costs, and significantly reduce emissions by approximately 89,000 tonnes per year.
The Sustainability Impact Awards were launched earlier this year to celebrate and recognise the pivotal role of Schneider's extensive partner network in delivering a more resilient and sustainable electric world. Participants are carefully assessed on how they are leveraging energy and digital and automation solutions in operations, reducing energy usage, increasing operational efficiency, and embracing circularity across the value chain.
The awards are part of Schneider Electric's efforts to support partners concerned about climate change and are under pressure to address the issue for shareholders, customers, employees, and the younger generation.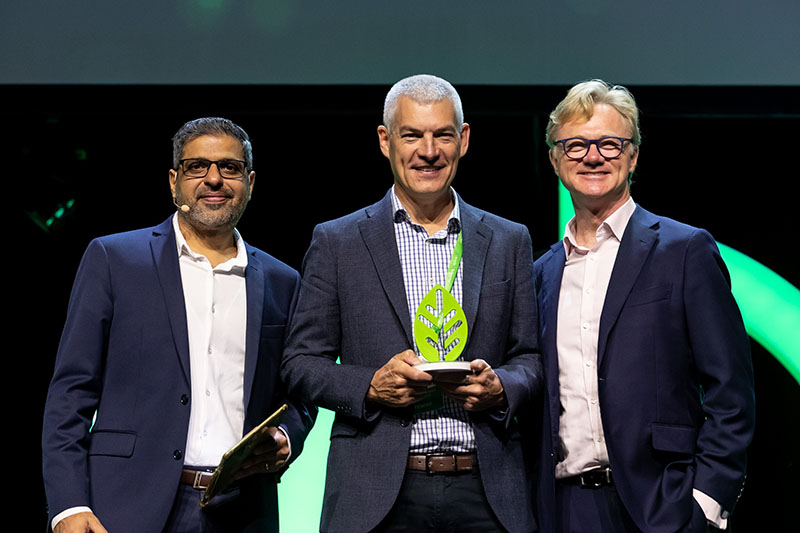 Executive General Manager for SAGE Automation, Justin Kahl (centre), accepts
the Sustainability Impact Award.


The Sustainability Impact Awards for the Pacific region were presented at Schneider Electric's 2023 Innovation Summit in Sydney.
SAGE Automation's Executive General Manager, Justin Kahl, accepted the award.
"We're absolutely honoured to be the first recipient of the Sustainability Impact Award, it is incredible recognition for a ground-breaking sustainability project," Mr Kahl said.
"As part of the SAGE Group, our vision is to create a smarter future, better world. Working with partners such as Schneider Electric ensures we can support our customers to reduce their carbon footprint and deliver on their own sustainability strategies," he said.
SAGE will now move into consideration for the global awards, with winners to be announced in April. The award sits within the 'Sustainability and Efficiency Impact to My Customers' category.
About the awarded project:


SAGE designed and engineered a bespoke control system that autonomously manages energy generation, conversion, and allocation for solar and grid-derived energy, balancing this against operational electricity requirements in real-time.
The project strategy aims to enable the utility to generate and export its sustainable energy supply to offset total electricity costs to a zero net outcome.
To help mitigate grid supply stresses and minimise its reliance on the grid, the utility opted for behind-the-meter generation and storage capability across multiple sites.
Delivery of the project saw more than 350,000 solar panels connected across 33 metropolitan and regional locations.
Read more about the project here.