What is SAGE Edge?
SAGE Edge wins ITS Australia National 2020 'Smart Transport Infrastructure' Award!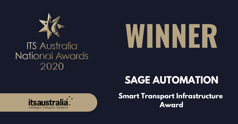 SAGE Edge is a universal IoT data capture device that offers many different capabilities deployed in one device. The SAGE Edge device can be used for multiple applications including SMART City data collection, transport travel time data, tourism pedestrian data and general IoT data management.
SAGE Edge is used by local government, road authorities and tourism operators, drawing on real-time data to provide exceptional outcomes for local businesses and the wider community.
It is a non-invasive technology that collects data and integrates with external data sources, reducing field sensor requirements and costs. With built-in iBeacon messaging, it can generate messages to passing apps.
SAGE Edge is compliant with the Australian Communications and Media Authority regulations and proudly displays the Regulatory Compliance Mark.