Cassie Hames wins international award celebrating "blind ambition"
Published: September 19, 2022 - Updated: September 19, 2022
SAGE Automation software programmer Cassie Hames has been named a winner of the Holman Prize, an international award recognising innovative thinkers who are blind or legally blind.
A programmer for SAGE's smart cities team, Cassie is passionate about accessibility and future mobility and has an infectious personality, exclaiming "Holy moly!" when she was announced as one of three winners of the 2022 Holman Prize on Friday 16th September.
Launched in 2017 by San Francisco's Lighthouse for the Blind and Visually Impaired, the Holman Prize celebrates "blind ambition", encouraging adventurous spirits, entrepreneurship, and leadership within the blind community by providing funding to realise a big idea.
Cassie's video application for the Holman Prize.
The Holman Prize – named after James Holman, a renowned 19th-century explorer, author, and the first blind person to travel to all known continents – requires applicants to pitch an innovative project that challenges the common misconceptions of what it means to be a blind person.
As part of the application, Cassie had to create a video pitch providing details of her project, which was centred around improving the public transport experience for people who are blind or vision impaired.
"I was struck by Cassie's tenacity demonstrated in her 90-second video pitch," Holman Prize judge and blind author, Dr M. Leona Godin told Lighthouse.
"Cassie is a woman with a clear and important project, and the will and ability to make it happen." 
Cassie's proposal was to create "See Me," a fully integrated app that bridges the disconnect between bus drivers and passengers which can lead to people who need assistance being left behind.
The app notifies bus drivers when a See Me user is waiting at an upcoming stop while it also alerts the user (once on the bus), when they are arriving at their destination, and aims to make independent travel on public transportation safer and more accessible for everyone.
"Going out into the community shouldn't be less of an experience from one person to the next, regardless of ability, disability, or anything else," Cassie says.
"As a frequent public transport user, I wanted to develop a solution that increases accessibility for all people so that everyone can feel comfortable, confident, and safe catching the bus.
"See Me ensures no one is left behind."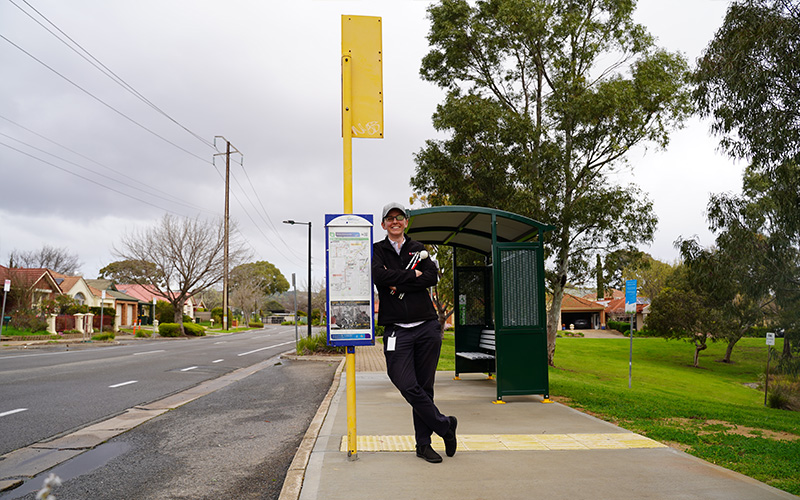 Cassie at a local bus stop near Tonsley, South Australia.
Winning the Holman Prize means that Cassie receives USD $25,000 provided by Lighthouse to develop the application, with several transport authorities right around Australia already in discussions for a trial.
Future mobility has come into the spotlight in recent years thanks, in part, to the rise in popularity of autonomous vehicles (AV) in the public sphere, but a range of other technologies are also quietly being deployed across Australia by companies such as SAGE.
Internet of Things (IoT) devices and advanced software applications have been instrumental behind the scenes in supporting local councils to reduce COVID-19 testing wait times by providing vehicle counts and real-time traffic condition data.
As advanced technology becomes more integrated into our local communities, involving more people of differing abilities and experiences in the accessibility conversion is essential, says SAGE Head of Smart Cities and Future Mobility Damian Hewitt.
"Cassie's unique perspective of navigating public transport and the local community is invaluable in bringing a critical voice to the conversation of accessibility in the transport industry," Damian says.
"It's so important for us as an industry to get behind an initiative like this, to bring greater awareness for what future mobility can achieve when embedded in the community."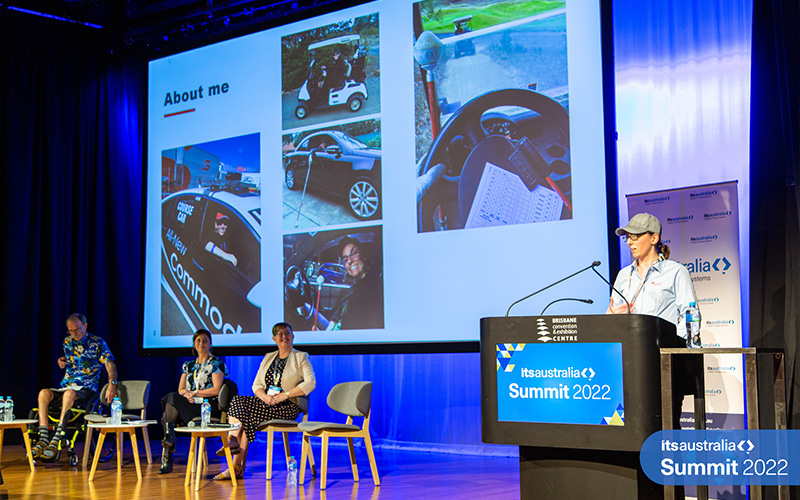 Cassie speaking about accessible and inclusive transport at the ITS Australia Summit 2022 in Brisbane. Photo courtesy of ITS Australia.
Future mobility is just one of the many challenges that the fast-growing smart cities sector aims to address in the coming years. Other items on the agenda include data visibility, analysis, sovereignty and security, resource planning, safety, accessibility, and traffic congestion.
Cassie will spend the next 12 months developing the See Me app as part of her Holman Prize commitments and is aiming to have the app ready for trial by August 2023.