Smart tunnel control systems to reduce lifetime maintenance costs
SAGE Automation, Published: March 31, 2020 - Updated: March 31, 2020 (8 min read)
Incorporating smart tunnel solutions provides road authorities with the greatest opportunity to make existing and future tunnels safer and more cost-effective. Future-proofing our road networks has always been SAGE Automation's goal, and congestion management is just one part of this.
Another key area of experience we provide is around operations and maintenance for key transport systems. When we're talking about road tunnels, the two areas are intrinsically linked.
This article is going to explore three core areas – energy efficiency and management in tunnels, fire and life safety systems, and operations and maintenance — explaining how smart tunnel control systems reduce maintenance costs over the tunnel lifetime.
Tunnel lighting
Road tunnel projects require lighting that is safe and reliable, maximising visibility for commuters and playing an important role in accident prevention.
Many infrastructure groups are moving towards LED lighting in order to increase energy efficiency. At SAGE, the LED lighting systems we install reduce maintenance costs, as they allow monitoring of each lamp remotely. Rather than requiring each lamp to be individually checked, the issue can be detected remotely and fixed faster, with less labour required.
Intelligent tunnel lighting control can increase the life of lighting devices within the tunnel network, including the ability to self-report should an issue develop.
Case example: O-Bahn Tunnel, Adelaide
The O-Bahn Tunnel was fitted with intelligent LED lighting systems, making it the first wholly LED-lit tunnel in Australia.
This project also involved the first deployment of an LED egress guidance lighting system.
It demonstrates an energy efficient LED lighting control system can provide precise dimming, which is currently maintained through a SAGE-designed SCADA interface. This same interface controls all other elements of the tunnel's smart control systems, ensuring a fully integrated solution all operated and maintained via a single interface.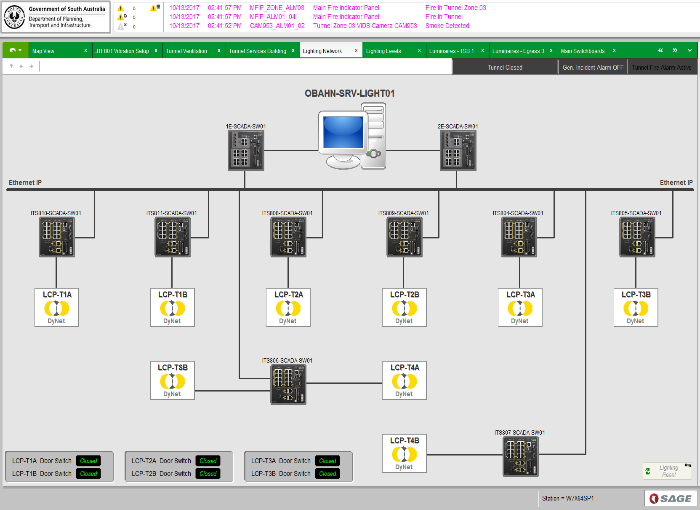 SAGE-designed SCADA interface for managing LED lighting systems in the O-Bahn Tunnel.
Read more: Smart tunnel reduces congestion and whole of life costs
Ventilation systems
One of the largest energy requirements for road tunnels is the operation of ventilation systems. Increases in traffic volume require more fans to be run, increasing energy usage.
As they are critical for safety, ventilation systems in tunnels can be connected to automated management systems for improved operations and efficiency. Environmental monitoring uses air quality sensors inside a tunnel to measure visibility, CO and NO2 levels. Data is then fed to the PLC/SCADA ventilation control system to adjust the fans as needed.
By using variable speed drives, fans can be run at lower speeds during off-peak travel times, reducing electricity usage.
Power monitoring systems
Improving the power quality to intelligent tunnel assets can reduce failure rates and increase asset availability. This can be achieved by installing active power factor correction and harmonic filtering devices in the tunnel solution.
As we've explained in a previous blog on energy efficiency, power factor is the ratio of active power (kW) to apparent power (kVA). The waste energy component of apparent power is known as reactive power (kVAR) — and can lead to increased costs and poorly performing devices. Power factor correction compensates for reactive power and improves the power factor ratio, reducing operating costs.
The inclusion of power factor correction helps to improve the quality of power to each device, increasing the device's life expectancy.
A power monitoring solution provides diagnostics to analyse potential faults before they occur.
Fire and life safety systems for tunnels
Motorways and smart tunnels equipped with sensors allow for the implementation of Intelligent Transport Systems (ITS) to enable future growth and innovation.
Using this technology, SAGE Automation delivered advanced fire and life safety (FLS) systems for the O-Bahn Tunnel. Some of the key features are:
Fire detection
Video incident detection systems can detect abnormal events that pose a danger to commuters, such as smoke or fire. Used in conjunction with linear heat detectors, these systems can generate alarms that pinpoint the location of the incident and can trigger additional technologies such as directing nearby Pan-Tilt-Zoom (PTZ) cameras at the event. These PTZ cameras should be positioned below the smoke layer, to enable visibility in the event of a tunnel fire and guide emergency responders.
Additionally, fire detection systems can (and should) be integrated with the SCADA system, allowing increased visibility and support in the remote control of a deluge system. This allows for all assets to be controlled in a coordinated fashion to help minimise the risk of harm.
Incident detection systems
The same video cameras that are used to detect smoke and fires can also be used to detect abnormal activity such as unauthorised persons, wrong direction of traffic, stopped vehicles or debris. Incident alerts are delivered to the Traffic Management Centre for automated response plans to be initiated.
Operations and maintenance for tunnels
Ongoing maintenance of tunnels is critical in order for them to be serviceable for years to come. Tunnels represent a significant infrastructure investment, so regular maintenance is needed to minimise deterioration or damage.
A key challenge in the maintenance of tunnels is minimising closures and disruptions to commuters, while upholding the highest safety standards.
Tunnel closures have the potential to negatively impact the surrounding community from a safety perspective. SAGE offer solutions to modernise the way maintenance is conducted on key assets and equipment used within tunnels.
Preventative and predictive maintenance
The ability to detect wear on critical tunnel equipment has already delivered exceptional value in the infrastructure sector. Predictive maintenance models reduce the chance of equipment failures, which can lead to unplanned tunnel closures, and this model reduces long-term costs of maintaining equipment by identifying when repairs are needed.
The detailed diagnostics and history currently available through preventative maintenance monitoring provides accurate information to quickly diagnose root causes of faults. With this information, technicians and/or maintenance teams are able to quickly and efficiently return equipment to full service.
Outcomes of predictive maintenance:
Condition of assets can be fully documented and used as a baseline
Data trending and reporting provides insight into performance (such as mean time to failure)
Captured data enables ongoing diagnostics and preventative maintenance
Long-term maintenance costs reduced.
Case example: Heysen Tunnel, Adelaide
Jet fans in the Heysen Tunnel have sensors installed at 12 points on each fan, enabling accurate monitoring of vibration trends from the fans and mounting brackets. The real-time data captured from the monitoring system can detect trends and trigger an alert once a threshold is exceeded.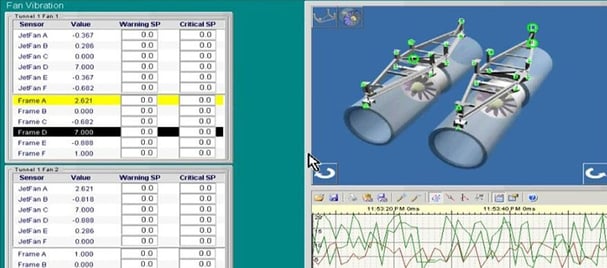 Data trending for monitoring system installed in the Heysen Tunnel
With this predictive model, maintenance can be planned and performed prior to breakdown, reducing potential downtime waiting for parts, and allowing for better resource allocation and safety management all while keeping maintenance costs down.
Read more: Tunnel ventilation safe thanks to smart predictive maintenance
Smart tunnel control systems drive safety
Tunnels help to manage urban congestion and regular maintenance is crucial to ensure the best outcome for road authorities, commuters and local communities.
It is possible to maximise both savings and safety when maintaining tunnels. SAGE has a comprehensive understanding of the control system technologies that can improve the operation and lifespan of tunnels, including the ability to protect equipment and increase the asset's availability.
In addition to delivering innovative solutions, SAGE provides value through minimising whole-of-life costs, enabling a smooth transition to regular maintenance plans.
To read more about our smart tunnel control solutions, head to our case study: Smart tunnel reduces congestion and whole-life costs
To find out more about SAGE's work with smart tunnel control systems, get in touch with our transport team using the form below.