7 actionable steps to move towards preventative maintenance
Chad Herbert, Published: March 29, 2018 - Updated: January 7, 2019 (10 min read)
As a company that delivers control system and automation maintenance support across manufacturing, food and beverage, defence, utilities, infrastructure, transport and resources we see a lot. And an increasing trend we're seeing is the amount of clients doing 'run-to-failure' maintenance.
Where planned preventative maintenance and Christmas shutdowns were a standard in the industry 10 years ago, now we're seeing more reactivity, despite all the talk about predictive maintenance capabilities coming onto the market.
Increased business pressures, reduced operating budgets and a growing backlog of urgent maintenance is making it difficult to adopt 'prevention' over 'reaction'. Our technicians frequently talk to maintenance teams who spend 100% of their time reacting to problems, which begs the question – how do we help clients get out of this cycle?
Before we begin…
Whatever the reason, I think we can agree that reactive maintenance regimes cost more in the long run.
The benefits of a preventative maintenance program include:
Reduced downtime – for business-wide savings and business risk reduction
Increased availability – through elimination of breakdowns
Increased quality and safety
Decreased capital expenditure – through prolonged equipment lifespan and reduction in replacement costs
Maintenance maturity scale
We've mapped the maturity levels of manufacturing and production maintenance to help you plot where you are on your maintenance journey. Our goal is to help you progress along the scale.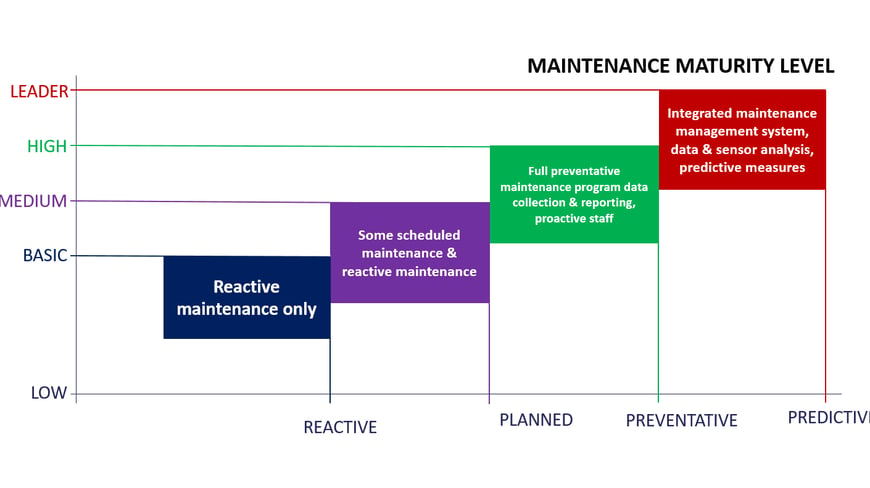 While each of you will be at a different stage, this blog will assist anyone who wants to move up the preventative maintenance maturity scale.
If you're at the 'reactive stage', here are our top tips for getting started:
1.
Change your team's thinking
Preventative maintenance is about mentality. And this starts with you and your thinking on maintenance and works its way down. Operator error is the second-most common cause of downtime after hardware error. So arming your operators with the right tools, skills and mentality will have high impact.
Consider introducing Total Productive Maintenance (TMP) to your operation. Born out of Lean manufacturing, TPM emphasises proactive and preventative maintenance to maximise the lifespan and productivity of equipment. And it does this by empowering employees to take responsibility for such equipment.
Preventative actions: empower operators through a TPM program, provide inbuilt diagnostics for fault finding and ask them what needs maintenance attention; no one knows the equipment better than they do. Finally upskill your electrical maintainers in automation as this can help them pinpoint the cause of failure and prevent future failure around PLCs.
These steps will promote more proactive thinking and a more preventative maintenance-driven philosophy.
2.
Go back to basics
The most basic level of prevention is to be prepared for failure.
Mechanically this means having a parts standardisation regime, critical spares on-hand and up-to-date equipment documentation.
From a controls system standpoint this means doing control system backups, regular critical spares audits and obsolescence reviews to ensure your systems are supported. Don't forget HMI and VSD backups as well as PLC and SCADA.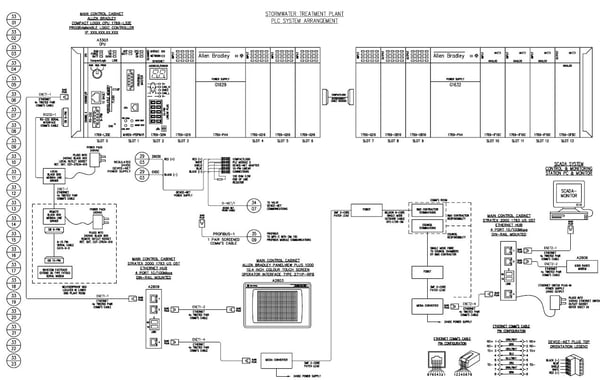 e.g. We had a client that lost two years of process improvements after a power outage, simply by not having a backed up PLC. All the improvements the operator had made to materials parameters were lost.
Which brings me to the next point: have backup redundancies in place for disaster recovery such as fire, flood or vandalism. The time-to-recovery difference can be anything from four weeks for backed up systems to six months for non-backed up systems.
Preventative actions: Ensure you have a parts standardisation regime, critical spares on-hand, up-to-date equipment documentation, electrical schematics / CAD drawings and full redundancy backups in place for when things do go down.
3.
Get management buy-in
You may find you need additional resourcing, asset management software like CMMS, or Maximo or an external maintenance technician to help support your maintenance program. And this requires gaining support from the business and higher management.
Start understanding what you want out of a preventative maintenance regime – and tying this with business objectives. Maybe it's increased focus on on-time-delivery, and recent downtime is affecting this more and more.
Preventative actions: As a starting point, calculate the dollar cost of downtime and compare this against the resourcing spend.
True downtime costs include loss in staff productivity, loss in production of actual goods, number of man hours devoted to rescheduling, the unexpected costs of repairing equipment, time spent satisfying customers and damage to reputation.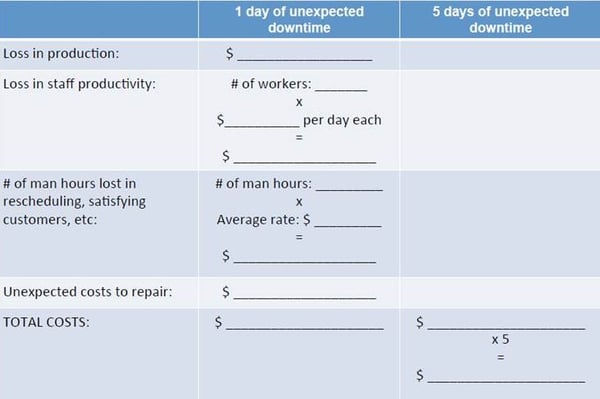 A simple way to calculate the dollar cost of downtime
4. Review resourcing
Take some time to review your current resourcing structure and requirements to see where opportunities exist to fine-tune and become more proactive.
If you have internal maintenance: Ask your maintenance team if they have the time to do more preventative work orders? Or are they 100% reactive? Cross check with your maintenance work order data. Where can improvements be made? Do you need to bring in more resources or an external preventative maintenance provider?
If you have OEM equipment: It's common for plants with OEM equipment to have multiple third party suppliers coming in and making changes. 1) Review work orders to see if they're spending more time on repairs vs preventative maintenance and checks. Ask OEMs for a more preventative approach if required. 2) Make sure you have a way of capturing the changes they're making through backups and knowledge transfer. 3) Order critical OEM equipment spares with delivery of your machine. Some OEM have specific parts made for them that can be difficult to source.
If you have or are considering external maintenance support: If you opt for external maintenance support, ensure your backups, documentation and drawings are up-to-date, as any outsourced resource will need to be brought up to speed quickly whenever they're brought in. Consider employing an embedded technician that works for an external company but works on your specific preventative programs.
"Food for thought": Building maintenance capability on the line: Some clients are trialling the use of electricians as line operators so they can actively maintain equipment, but the costs of employing fully qualified electricians are proving to be higher.
Preventative actions: Find out if your team has capacity for preventative maintenance. If you engage external maintainers such as control system support technicians and mechanical specialists – ensure they're doing worthwhile preventative activities and documenting all changes.
5. Equipment inventory and criticality ratings
This step is about knowing where to put the money.
Do an equipment inventory and criticality rating by ranking how critical each piece of equipment or system is for production. Note down its attributes, spares, life stage and maintenance requirements to show you what needs the most attention.
Then show the business-wide consequences associated with equipment failure to help prove ROI for prevention programs:
E.g. if a VSD stops on your packaging line the entire plant's production will halt. Estimated time to fix is 4-8 hours depending on spares and the fault. You calculate the downtime dollar cost to X million dollars per 8 hours, showing the business case for more preventative measures in planned downtime.
At this stage it's also useful to draw on your operator and maintainers to identify problem equipment, as they know it best.
Preventative actions: Make an inventory for all equipment and/or rank this with an equipment criticality rating (ECR). Tie critical equipment to the dollar cost of downtime to make a business case for prevention activities.
Read more: How to find equipment criticality ratings
6. Schedule preventative maintenance
procedures
When your critical equipment has been identified, and the business is on-board, it's time to schedule.


Great preventative maintenance programs will include two types of scheduled activities:
Assessment e.g. scheduled inspections and lubrication samples
Remedial works identified as result of inspections e.g. lubrications, adjustments and documentation that will prevent future wear and failure
Preventative actions: Determine the tasks, time and frequency required to maintain each piece of equipment. Some tasks may be suitable to perform in runtime, others will need to be done in planned downtime. Not all machines need daily or weekly maintenance checks but most will need monthly, quarterly, bi-annual or annual exams.
7. Measure program success
Capture data, set the right baseline measures and maintenance KPIs and keep track of your progress.
This will do three things:
Ensure program effectiveness
Prove ROI
Isolate failure points and identify where to refocus maintenance budget
Central to this is in setting KPIs, which can help:
pinpoint the root cause of failure
understand where production losses occur
understand program effectiveness
Read more: How to develop powerful Key Performance Indicators for manufacturing maintenance
A note on maintenance software and data collection methods:
Plant Engineering's 2017 Maintenance Survey found the most common technologies used to monitor or manage maintenance are CMMS (53%), in-house spreadsheets/schedules (52%), and paper records of maintenance reports (39%).
It doesn't matter which tool you use; the most important thing is setting the right baseline measures and religiously capturing data.
If employees are helping collect data, make sure they know why, and how important it is. Share results with them to get more buy in and ensure data integrity.
Preventative actions: set the right KPIs and data collection methods and stick to it religiously.
Final thoughts
If you take one thing from this article let it be this: Even if you only tick off one of these items, you'll have progressed along the preventative maintenance maturity curve.
And this will directly tie into your spend on unplanned downtime.
When a machine stops, it can quickly escalate to calling in external help – sometimes unnecessarily. The Breakdown Checklist is designed to get you back online faster. It will get your team thinking about what caused the breakdown and assess the need for external advice. Download the free downtime checklist here.