Backup basics: PLC backups will save you money
Deon McHatton, Published: June 8, 2021 - Updated: June 8, 2021 (4 min read)
You'd be surprised to hear that many industrial operators - from manufacturers to utility providers, don't store a backup of their PLCs!
It's an all to common story we as system integrators hear: a power failure or hardware fault causes a PLC failure, and there is memory loss. Then, the PLC needs re-writing from scratch because there is no backup on site, which leads to hundreds of thousands of dollars in downtime!
This most recent story from a customer serves as a good reminder on how absolutely critical PLC backups are to the bottom line, and your sanity. Skip below for tips on how to get your control systems backed up today.

Client story: no backup causes weeks of downtime cost


A manufacturing site, with a servo controlled cut-to-length machine, had a failure that halted production completely.
In trying to stop the sounding alarm, a maintenance team member accessed the control cabinet and reset the PLC.
Meanwhile, with the machine still down, one of our Control System Technicians was called out to assist.
After some initial fault finding our technician saw, to his surprise, there was no PLC program there! Turns out it had been completely (and accidentally) deleted by the staff member attending to the alarm.
Our technician asked, "Do you have a PLC program backup onsite"?
"What backup?" the site maintenance manager said.
Our technician had to break the bad news; "Unfortunately, without the backup there's nothing I can do to get the machine back into service now. We can rewrite the program but it will take some time."
It took 2 weeks to rewrite the program from scratch and easily cost the business upwards of $200,000 in downtime.
Prevention only takes an hour
Taking a backup of your systems generally takes us under an hour to perform, but will save you thousands of dollars and a lot of stress in the future.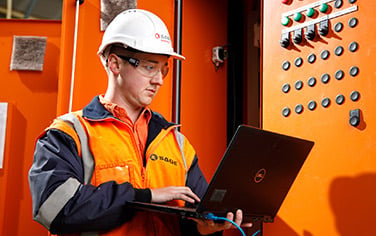 We've seen this scenario countless times with different causes like:
prolonged or significant power loss or surge
battery backup loss
hardware failure.
This is easily avoided with a backup!
5 backup tips to get started
✔️ What should I backup? PLCs, HMIs, SCADA systems, VSDs, industrial PCs, network configurations.
✔️ How often? Once if your systems don't change, or every time after you reprogram.
✔️ How long does it take? Generally it takes us under an hour back up one PLC.
✔️ Where do I store backups? They should be kept on secure media that is backed up. This could be in the cloud or onsite. Or we can store these for you on our secure servers.
✔️ How much does it cost? 1-4 hours of work versus risk of thousands-of-dollars in downtime.
Get protected today
If you're keen to address this risk in your facility, we can get a backup plan underway for you today. Get in touch below, or direct with your local Service Manager.