Smart cities: juggling future mobility and accessibility in transportation with Cassie Hames
SAGE Automation, Published: August 17, 2021 - Updated: August 17, 2021 (12 min read)
In the world of smart cities, the future is now. That means making the dream of an accessible, all-inclusive public environment a reality – in our cities, on our streets and, eventually, embedded in our day-to-day lives.
Ahead of us lies the challenge of achieving that dream.
Meet Cassie Hames, the newest member of SAGE Automation's Smart Cities team. Cassie brings her skills as a web programmer to the role, as well as the lived experience of being legally blind and navigating Australian transport networks. With an intricate understanding of the need for future mobility and accessibility – particularly in transportation – she provides SAGE with an invaluable and unique perspective on tackling these issues.
When you get to know her, you'll understand that no challenge is too great for Cassie.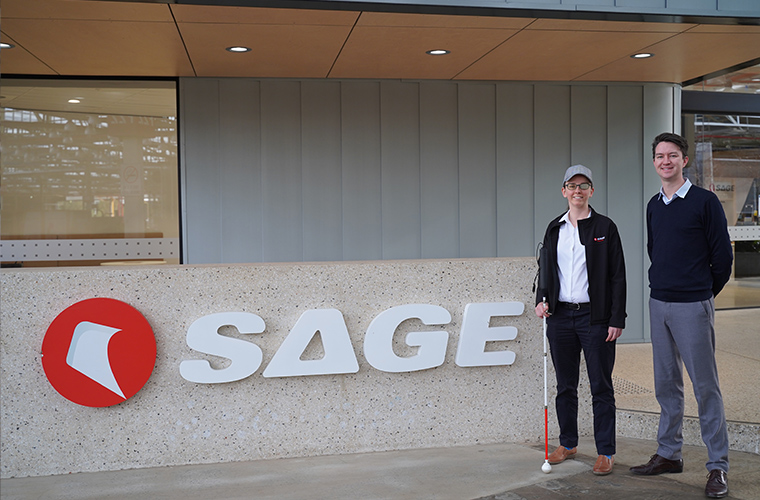 Cassie Hames (left), SAGE's Smart Cities newest programmer alongside Ashby Martin, SAGE's Smart Cities Technical Lead.
No challenge too great for Cassie
Cassie joins SAGE's Smart Cities team following 14 years of experience as a web programmer for a cloud-based safety and compliance software business. She works day-to-day using a magnification program that allows her to zoom in and change the colour of her screen. Cassie says she always has a secondary regulation screen on hand, so co-workers don't get "seasick" when sharing project details.
Ashby Martin, SAGE's Smart Cities Technical Lead, is excited to see the huge impact and value Cassie is already providing within the team. He cites her unique skillset in managing workflow through a software development team as an important addition for future projects at SAGE, especially following the recent acquisition of Addinsight and the growth of smart cities as an industry.
Cassie first crossed paths with SAGE at the 2018 ADVI International Driverless Vehicle Summit when she was a guest speaker on the panel for Technology and Transport: Improving Accessibility for the Disabled and The Ageing. Damian Hewitt, SAGE's Head of Smart Cities and Future Mobility, was also a guest speaker.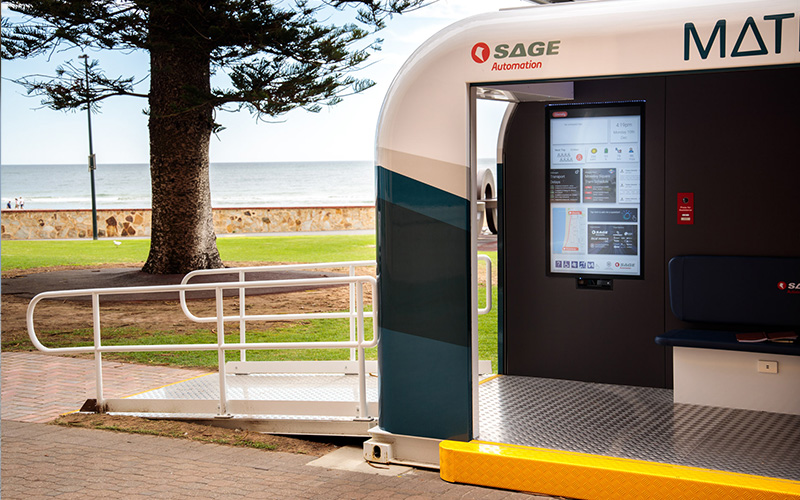 Matilda, SAGE's smart transit hub, getting some sun in Glenelg during a trial alongside an autonomous vehicle.
Cassie says it was following this experience – where she learned about Matilda, the world's first transit hub – that she knew she wanted to work with SAGE, drawn to the opportunity to work on innovations focused on accessibility.
"With what [SAGE] were doing with the Matilda; the fact that it could speak – you could talk to the hub – because as someone that is legally blind, I don't get to use a lot of the products that are out there because they're not accessible," Cassie said.
"So, to come across this 'transit stop' where it had that option was quite exciting!"
Providing the best public experience lies at the heart of smart cities, which means delivering the highest level of accessibility is a must, for all passengers. It's a task worth taking on according to Cassie – who embraces challenges in all aspects of her life.
Perhaps this is best illustrated by her interesting choice of hobby.
"I am trying to learn how to ride a unicycle – because I like a challenge! My end goal is to be able to ride a unicycle while juggling," she said.
"I'm not sure how safe that is – but you've got to give these things a try!"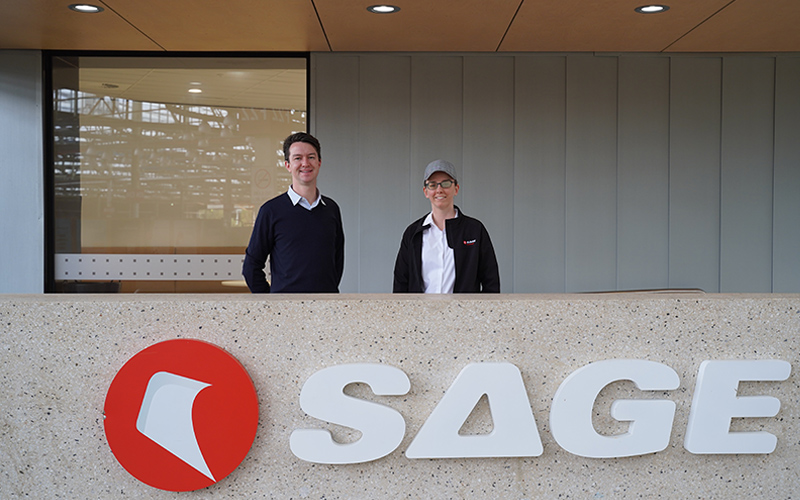 Ashby, Cassie and SAGE's Smart Cities team are tackling future mobility and accessibility in transportation head-on.
Ashby says setting extraordinary goals such as this exemplifies Cassie's drive and determination.
"I think that speaks to Cassie's tenacity in terms of being able to take on a task, even if it's something that is initially very tricky," he said.
"Cassie's very determined and I've already seen that in the first month that she's been at SAGE.
"It's exciting to have somebody determined to solve problems like that, and I don't think there's too much that would stand in Cassie's way to getting a great result."
Improving the public experience for everyone
Accessibility and future mobility are a huge focus of the smart cities industry in both upgrading existing infrastructure and installing new innovative technologies in the public space.
Internet of Things (IoT) devices, such as SAGE Edge – which is able to detect WiFi and undiscoverable Bluetooth devices that are undetectable by traditional Bluetooth scanners – provides non-invasive, valuable data that can be used to improve the public experience.
In her short time at SAGE, Cassie's been working on process improvements on the production of SAGE Edge devices, focusing on the day-to-day development of SAGE's hardware. Additionally, she's working on reviewing SAGE's Smart Interactive Kiosks – a sister project born of the Matilda – to provide feedback on its accessibility.
The digital kiosks are standalone interactive touchscreen computers that provide wayfinding and public information on nearby services, real-time schedules and updates for public transport, and community event data.
Building upon the interactive kiosk onboard the Matilda, they have a heavy focus on inclusivity - equipped with options to increase screen contrast for an easier viewing experience for the visually impaired and have an option for a wheelchair-accessible control mode.
"One of the things that we are really excited about with having Cassie on board is her ability to understand what is required at a much deeper level," Ashby said.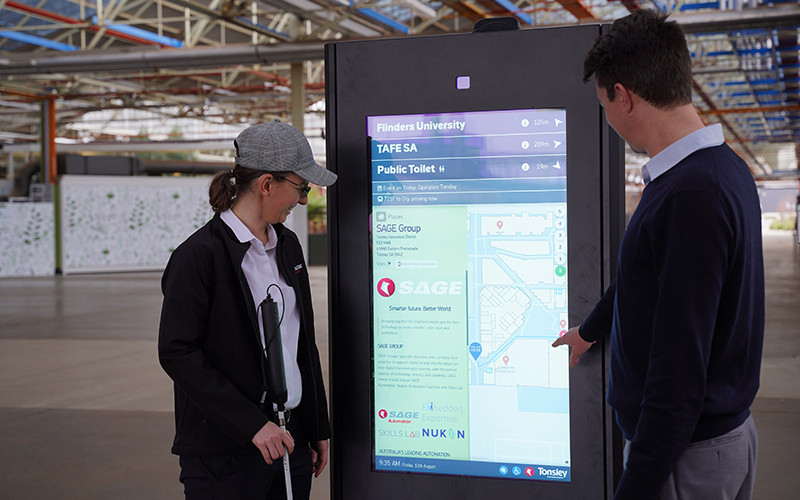 Cassie and Ashby checking out one of SAGE's digital kiosks in the Tonsley Innovation District.
"We've asked Cassie to look at the current kiosk and to provide feedback – which she does in a way which is a lot deeper and has a lot more native understanding of the requirements and the things that will make it easier to use for her and others.
"For her to be able to take a critical look at that is really, really exciting for us because it makes our products much more usable in the public space."
SAGE's Smart Interactive Kiosks, which have already been deployed in Tonsley's MAB area and in select city councils, are just one example of how smart cities are having a positive impact on the public experience in Australia.
Numerous projects in Australia use smart infrastructure to collect data, including the Brisbane Smart Poles project. Twenty smart poles were installed across Brisbane to monitor air quality and collect cyclist and pedestrian user numbers while expanding the free WiFi network. This project was one of three winners of the Smart Cities Council's 2021 Readiness Challenge.
Unley is a South Australian city positively impacted by smart cities. In 2019, The City of Unley tasked SAGE with revitalising the King William Road retail precinct using smart cities technologies.
In this project, SAGE introduced an industry-first lighting solution that adjusts light levels based on pedestrian data, weather conditions, and ambient light to maximise visibility during busy retail hours and to promote safety at all times. Digital kiosks, smart lighting, smart poles and smart benches were installed, along with supporting smart infrastructure including SAGE Edge – to monitor pedestrian and traffic movement.
These initiatives seek to improve the public experience within Australia.
To ensure these innovative solutions are proving valuable in improving future mobility and accessibility in the public space, there's a need to be consulting wider communities and people of differing needs. Engaging in regular dialogue around greater accessibility is just one approach that smart cities teams can take, something SAGE is proud to be doing alongside Cassie and groups such as the Royal Society for the Blind.
Smart cities: the future of accessibility in transportation
As we've explored in this blog, smart cities extends far beyond the transportation revolution. It does, however, remain deeply ingrained within the core of the transportation industry moving forward, as we continue the efforts to future-proof our road networks with intelligent transport systems and communicative data technologies.
There are plenty of exciting future technologies that have the capacity to better prepare for future mobility within public transportation, including autonomous vehicles (AV), intelligent transport systems (ITS), sustainable smart parking, smart lighting, parkland pedestrian movements, cycle count and deployment of IoT devices.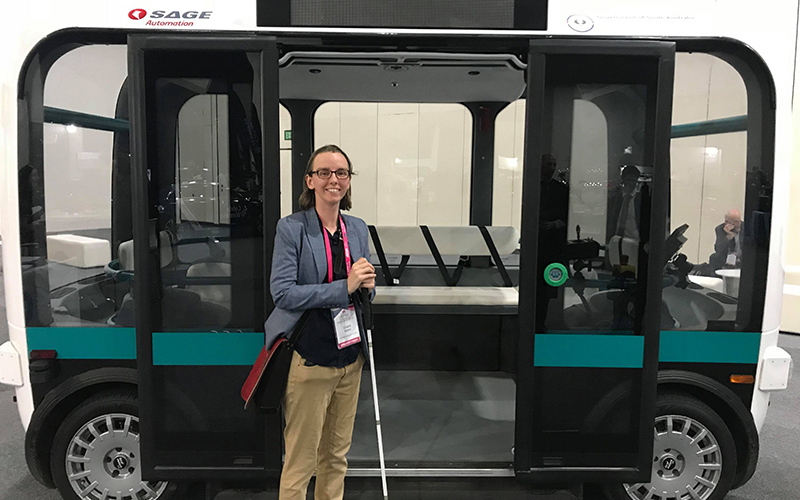 When Cassie first met the autonomous vehicle Olli (pictured) and transit
hub Matilda at the 2018 ADVI International Driverless Vehicle Summit.
For Cassie, the potential for more inclusive technology, such as the Matilda, or even autonomous vehicles to be publicly available in the future is something she hopes to one day experience.
As if perfectly timed for her arrival, a planned AV trial will see the smart cities team heavily involved in the next step of its evolution, gradually moving closer to driverless vehicles becoming normalised in Australian society. Cassie is looking forward to providing feedback or recommendations throughout the upcoming trial.
"I'm definitely excited to see what comes out and to be involved with that as well.
"As a user, it can be quite frustrating – especially with my vision impairment – that there are a lot of barriers.
"And to be able to even have a voice and go: 'here's some of the barriers, is there anything we can do?' – that's pretty exciting."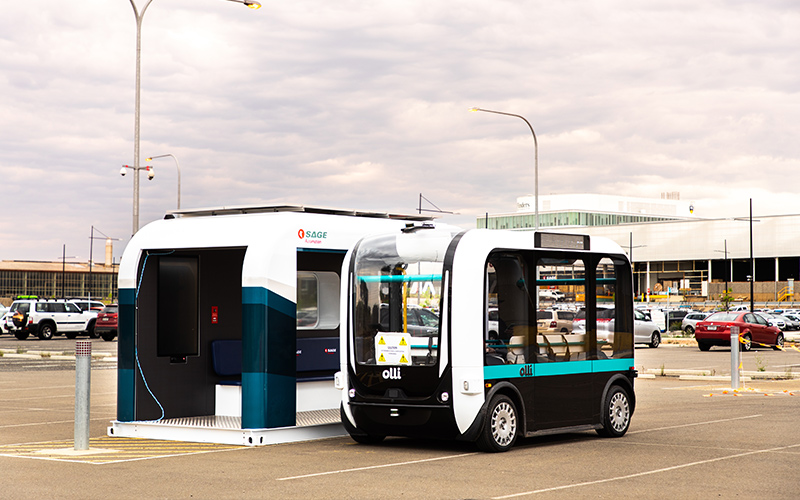 Matilda and AV 'Olli' side-by-side during their 2018-19 autonomous vehicle trial together.
Developing solutions for the first mile and last mile conundrum in transportation – improving accessibility for all passengers in the 'before and after' phase of public transportation travel – is just one of the many challenges Cassie and SAGE's Smart Cities team will be tackling in the coming years.
Smart cities have a huge role to play in future mobility and accessibility in transportation and in the subsequent step in providing councils effective and affordable avenues to use these solutions to provide the best public experiences.
Through data-driven resource management and discovery, smart cities solutions can intertwine within the existing city and local council structures through the integration of smart technologies to deliver useful information to users, increase accessibility, reduce waste, and provide valuable data to councils.
If we know one thing about Cassie, it's that she's ready to take on the challenge.