Victoria's leading industrial automation specialist
Specialising in Melbourne industrial automation and control solutions and industry-derived skills training
SAGE Automation, Melbourne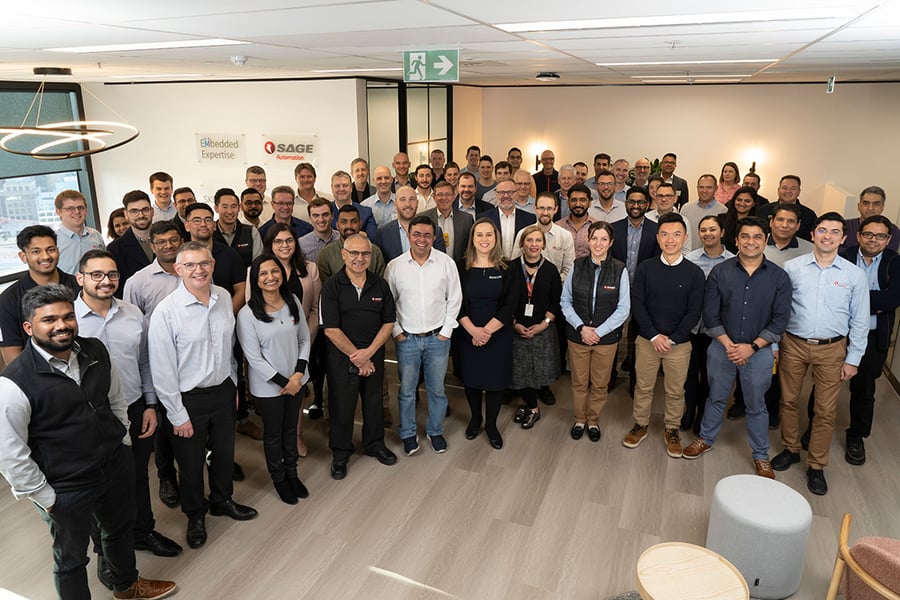 For emergency automation breakdown support 24/7, call 1800 724 373
For other enquiries, call 1300 00 SAGE [1300 00 7243]
Find us in our new location in Southbank


Level 21 (HWT Tower)
40 City Road
Southbank, VIC 3006
SAGE quickly outgrew its humble beginnings and established a strong reputation for industrial automation in South Australia.
Expansion interstate was the next logical step, and Melbourne, Victoria, was the perfect fit.
Fostering our existing working relationship with Ford, SAGE began establishing a local presence in Victoria, developing our close links to the manufacturing and automotive sectors.
SAGE Melbourne's early start saw a small team sharing office space with two other companies in Port Melbourne back in 2004.
Now located in Southbank, our SAGE Melbourne office, along with offices in Geelong and Keysborough, the team has grown to more than 100 staff members, offering service to the entire state and backed by national coverage.
Through our SAGE Group offering, you can now gain access to automation services and a suite of digital transformation solutions – from automation and training to consulting and industry expert hiring – for a wide range of industries, including manufacturing, Defence, transport, utilities, resources, energy, and smart cities.
Some of our more recent projects include the installation and commissioning of 80 customised Lane Use Management System (LUMS) signs for the Burnley and Domain Tunnels in Melbourne, delivering a smart cities solution to continually (passively) monitor visitor movement in the Royal Botanic Gardens Victoria, and designing, integrating, and commissioning more than 1200 ITS components for Fulton Hogan as part of the Monash Freeway Upgrade (MFU).

In 2023, SAGE Automation was delighted to have been awarded the Operational Technology Maintenance and Project Delivery (OTMPD) contract with Melbourne Water, Victoria's largest water wholesaler.
Today, the SAGE Melbourne office houses SAGE Automation, Nukon, Skills Lab, and Embedded Expertise – providing you with the Digital Key to unlock your digital transformation goals.
Find out more about our
Melbourne PLC training courses
Learn more about automation training with our sister company, Skills Lab
Find out more about our Melbourne automation services
24/7 Local technical support


Our Victorian Automation Technicians are all locally based, highly qualified and ready to work whenever and wherever you need. We can customise a Service Level Agreement (SLA) specific to your business needs, at a level that suits your budget.
Victorian shift coverage: Highly-skilled essential workforce: Automation Technicians with a combined 180 years of experience.


Multidisciplinary skills: Electrical maintenance, SCADA, PLC, operational support, instrumentation, hazardous area, shift supervising, reactive and planned maintenance, small project work.


Immediate start: Our technicians can hit the ground running with minimal onboarding. Our site and technology experience means we can get started within hours.


Any time of day 24/7: We can work onsite with minimal notice for as long as you need us: hours, days, weeks.


Metro and regional: We have customers from Melbourne Metro to Gippsland, Mildura, and Warnambool. We have well-established ties with local food and beverage, manufacturing, and utilities sectors.


National resources: We're local but are backed by a national business of more than 700 people.
We also have the ability to remote into your site to support and safely upskill your team.
If resourcing constraints are putting your production at risk, feel free to contact us below.