Greater support for regional businesses a priority for SAGE
Published: January 20, 2020 - Updated: May 26, 2021
In a bid to ensure no client faces a dreaded extended downtime event, SAGE Automation has placed control system support technicians in key regional locations across Australia.
The new on-the-ground support complements SAGE's Australia-wide metropolitan locations, and is backed by a number of sophisticated remote support services.
Joining a team of 90+ metropolitan service technicians are additional resources in Whyalla and Renmark in South Australia, Alice Springs in the Northern Territory and Kalgoorlie in the Goldfields of Western Australia.
SAGE already had a regional presence in the Northern Territory and Tasmania, in addition to its metro locations in Sydney, Brisbane, Perth, Darwin, Adelaide, Hobart and Melbourne (read more below).
"Having direct access to a control system service technician will guarantee fast fault resolution and better overall performance," National Service Manager Deon McHatton said.
"Unfortunately businesses in regional locations tend to face longer downtime periods, as they must factor in technician availability and travel time to the site."
He says this is precisely why SAGE has posted local support in the regions, in addition to remote support.
Regional and remote support leads to downtime prevention
SAGE's 80 service technicians provide emergency breakdown support and planned maintenance services to thousands of industrial clients across Australia.
"With our expansion into regional locations of South Australia, clients have access to local service technicians, backed by the support of the national team," explains Peter Thompson, Control System Support Manager at SAGE Adelaide.
"This gives our regional clients access not only to exceptional talent but also to the latest software and technology solutions, many of which haven't been readily available in these regions," he said.
The expanded regional service offering will assist clients in all project stages, with the local technician quickly connecting clients to the wider SAGE support network when necessary.
"Access to the full range of SAGE support services means clients are well-positioned for the whole lifecycle of their project, and beyond. We believe this has huge potential economic benefits for our clients, as we are able to implement preventative maintenance to avoid costly breakdowns altogether," Mr McHatton said.
Meet the regional service team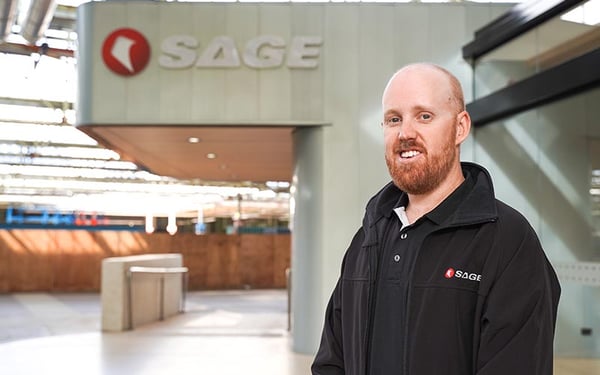 Kym Bennie, SAGE Whyalla


Whyalla and the Eyre Peninsula
Although the local steel industry went through a period of uncertainty, Whyalla looks to have a very bright future, with multi-million-dollar projects in horticulture, infrastructure and solar on the horizon.
One of the original regional offices, SAGE first began providing emergency and operational support to iron and steel manufacturers in 2007. In 2019, SAGE announced that the Whyalla office would re-open, supporting local clients in Whyalla, Port Augusta and the Port Lincoln region.
Read more: Rapid telemetry response prevents fines and spillage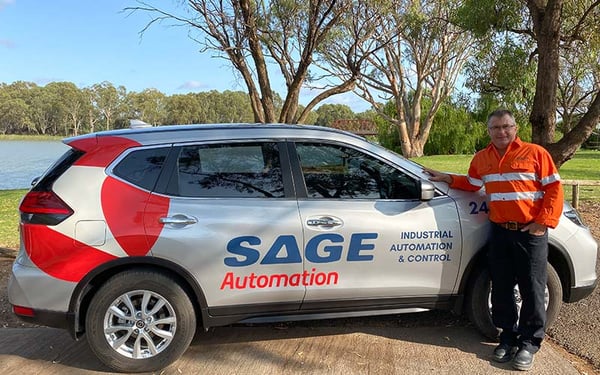 Darran Bright, SAGE Renmark


Renmark and the Riverland
The Riverland region is known for its food and beverage production (particularly wine and fruit production) and the Murray River. The demand for servicing and technical support across irrigation and manufacturing is particularly high for a regional location, in addition to servicing provided for utilities.
Instrumental in a number of major projects throughout the Riverland region of South Australia, SAGE's decision to have a local control system technician supporting the area was an easy one.
SAGE is currently part of a two-year autonomous vehicle trial in Renmark, which is managed from the National Operations Centre (NOC) at the Adelaide head office. Through the NOC, live video and SIP intercom connections from CCTV and assistance points are remotely monitored, in addition to AV trial-related data such as usage patterns and ridership. The trial will be used to demonstrate how autonomous vehicles service the local community and improve mobility for residents.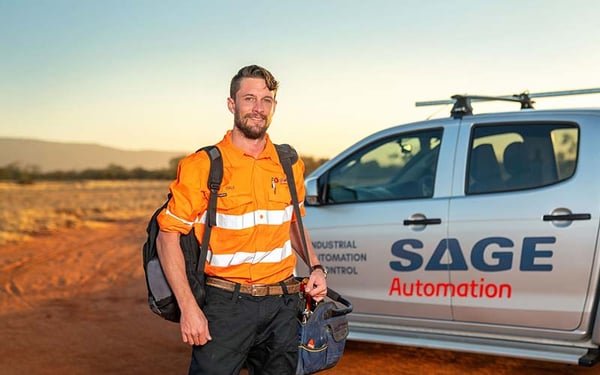 Dale Uebergang, Alice Springs control system support technician
Alice Springs, Katherine and regional Northern Territory
Regional areas of the Northern Territory can often feel isolated and under-resourced, and regular access to technical expertise has long been an issue for regional Territorians.
With the Northern Territory's growth and economy reliant on resources and major projects, the need for ongoing support with a regional presence is highly sought-after. SAGE's Katherine and Alice Springs offices have supported many regional projects, particularly across the utilities sector, working with Power and Water Corporation to ensure reliable water and energy supplies.
Read more: Energy management control systems to bolster remote solar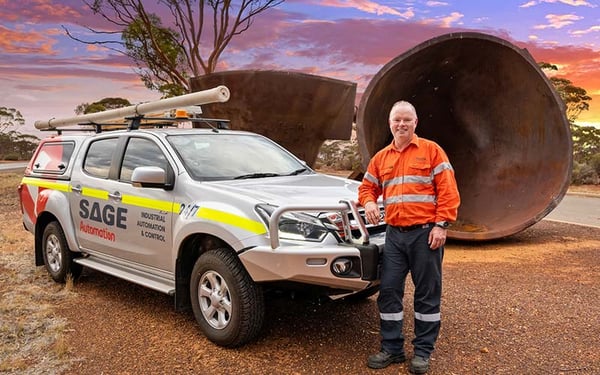 Craig O'Neill, Kalgoorlie control system support technician
Kalgoorlie and the Goldfields, Western Australia
SAGE's newest regional control system support is servicing the Goldfields-Esperance region. A Kalgoorlie local, Craig brings many years of experience as a fixed plant electrician responsible for maintaining major sites across multiple sectors.
The new office will support the region for onsite needs including breakdown support, maintenance and commissioning. With the backing of the Perth team and a national network of expertise, the local support of Craig can help to keep your assets performing at their best.
Launceston and regional Tasmania
Tasmania's economy may have been the fastest growing in Australia in 2019, but that doesn't mean the pressure of maximising asset availability while keeping operational costs in check isn't being felt.
As an island state, Tasmanian manufacturers must be able to efficiently move their products to market to remain competitive. The benefit of fast access to emergency breakdown support and ongoing asset management is a huge drawcard for local clients.
There are a number of industries depending on support from the Launceston service team, including food and beverage, timber, irrigation, mining and minerals, utilities and newspaper printing.
National support across capital cities
To meet an increasing demand for asset maintenance and support as clients rollout their industry 4.0 capabilities, SAGE plans to increase their national presence. Currently, SAGE has offices in every state and in the Northern Territory.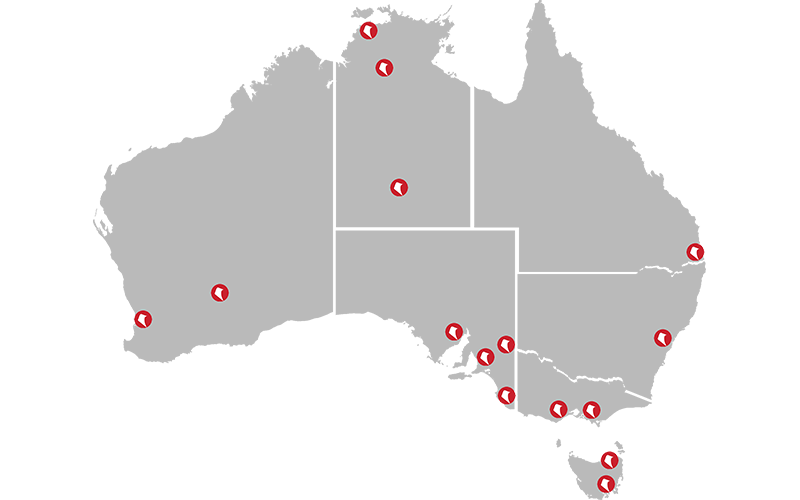 SAGE locations around Australia, ensuring businesses have access to technical expertise when they need it.
The additional regional services have been welcomed by clients.
"Having locally based service technicians in regional areas is just part of SAGE's multi-layered support services to help businesses reduce costs, improve efficiency and minimise downtime," Mr McHatton said.
In the last year, we've launched a number of industrial service support platforms, including our National Operations Centre, Remote Service Module and the SAGE Go app, to help clients achieve these goals."
Read more: Remote support cuts unexpected downtime for regional winemaker
Where will the next SAGE regional service office be located?
Mr McHatton is confident the offering of remote and regional support for the growing client base will continue.
"Our expansion into the Northern Territory looks likely to continue in the near future, but we are also building a strong presence throughout Western Australia," said Mr McHatton.
At SAGE, we strongly believe in our ability to be an extension of our client's business, so to meet that need, we're planning to have more technicians who are locally based in regional areas," he said.
Operating for more than 25 years, SAGE currently employs more than 450 staff across 13 offices around Australia.
Breakdown resolution without the travel time — find out how SAGE Service were able to cut downtime for a regional winemaker and avoid the need to dispatch a technician to site.