SAGE named first global Platinum System Integrator Partner with Rockwell Automation
Published: May 18, 2022 - Updated: May 18, 2022
SAGE Automation was recognised as the first organisation in the world to be named Platinum System Integrator Partner with Rockwell Automation this week.
The Platinum Partner status recognises global leaders who have demonstrated multiple competencies across Rockwell Automation technology disciplines, as well as sales growth, a dedication to training and certification, and a collaborative relationship with Rockwell.
The Platinum level status is an invitation-only partner level, and SAGE is the first System Integrator globally to be recognised with the achievement. The announcement took place at the PartnerNetwork Conference in Singapore.
SAGE and Rockwell Automation have been partners for more than 28 years, a partnership anchored by their similar values and commitment to creating a better world.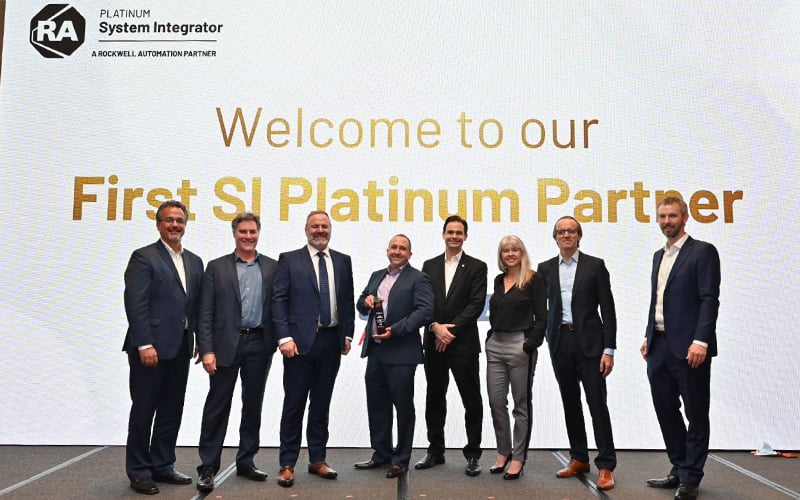 SAGE Group Managing Director, Adrian Fahey and Steve Bailey (third and fourth from left) celebrate becoming the first
Platinum System Integrator partner at Rockwell Automation's PartnerNetwork Conference in Singapore.
"The partnership between Rockwell Automation and SAGE aims to deliver the full benefits of world-class automation to Australia, helping local industries obtain the widest possible breadth of expertise to make the most productive automation choices and avoid the high costs of uninformed decisions," said Anthony Wong, Managing Director, South Pacific, Rockwell Automation.
SAGE Group Managing Director, Adrian Fahey, was at the conference for the announcement, with his speech highlighting the joint values between SAGE and Rockwell, as well as SAGE's commitment to being the best in the industry.
"SAGE Automation is proud to be the first recognised Platinum Partner globally in Rockwell's System Integrator Partner Program. Our partnership with Rockwell brings the technical experience and best thinking to critical industries and projects, from supporting Australia's most iconic manufacturers, to the energy systems that power our homes, the safety solutions that protect workers in high-risk environments, and the systems that provide Australians with clean drinking water."
"Achieving this level of partnership with Rockwell cements SAGE's position as a world leader, supporting our clients through times of change and always delivering the certainty they rely on," he said.
SAGE demonstrates ongoing commitment to technical excellence
For SAGE, achieving Platinum System Integrator Partner status further demonstrates the alignment with Rockwell across the entire SAGE Group offering – supporting a client's entire project lifecycle and beyond.
SAGE's partnership with Rockwell Automation including ongoing training and certification in Rockwell technologies. More than 385 technical people across SAGE Group have been enrolled in Rockwell University, building technical knowledge and capability to bring to major projects across water, energy, major infrastructure, and resources.
In addition to project delivery and implementation, training delivered through Skills Lab, SAGE Automation's sister company, includes Rockwell technology in its core modules. For many of the digital apprentices, Rockwell is often the first technology the apprentices start working with.
Combined with a growing service offering, which includes technical support for clients nationally, Rockwell skills sit at the core of SAGE's technical capacity. With many years of demonstrated experience onsite and remotely, the collaborative partnership with Rockwell ensures client feedback is shared back to the technical team.
As part of the commitment to being the best in the industry, SAGE has Australia's deepest and broadest capability across technology platforms, achieving the highest level of certification and partnership with all automation vendors.
Learn more about SAGE's partnerships.
Never miss a news story! Sign up for our newsletter to get the latest news, industry insights and case studies.