SAGE Automation's Matilda wins iAwards Business and Industry Solution for SA and the NT
Published: October 19, 2020 - Updated: October 19, 2020
Matilda, SAGE Automation's smart transit hub, was named the winner of the Business and Industry Solution category at the 2020 South Australian and Northern Territory Australian Information Industry Association (AIIA) Awards.
The virtual award ceremony took place on October 15th, recognising the Australian innovations that create positive change for the community.
Matilda is designed to deliver a seamless passenger experience and to increase accessibility for passengers with mobility, vision, hearing or cognitive impairments.
"SAGE is very proud to win the SA/NT iAward Business and Industry Solution category and excited to represent SA/NT at the national awards in November. Showcasing an accessible solution like Matilda in a national forum provides a fantastic opportunity to put disability and aged care support needs at the forefront of transport planning and development," said SAGE Automation's General Manager for Transport, Damian Hewitt.
SAGE worked with partners including the South Australian Government's Future Mobility Lab Fund, IBM Watson, Sonnex Engineering, KinTrans and STS (Security and Technology Services) to increase access to services for all transport users.
SAGE also consulted extensively with the Royal Society of the Blind (RSB) to understand the needs of people who are blind or vision-impaired, ensuring the transit hub is as inclusive as possible.
Matilda is designed to ensure greater accessibility in transit, featuring leading technology including IBM Watson's cognitive voice assistance, KinTrans vision system for interpretation of sign language, customisable interactive screen with rotation and intuitive display, and T-coil loop to connect to hearing aids. Users can interact with Matilda via voice assistance or touchscreen, getting a real-time update on nearby services.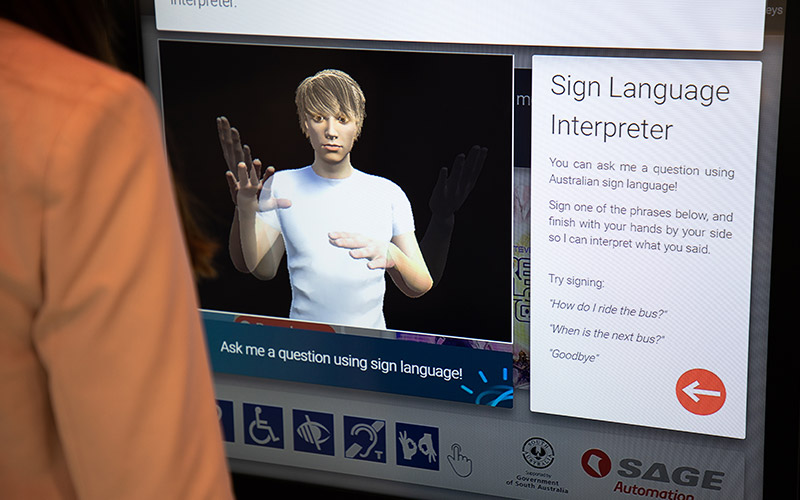 Users can interact with Matilda via sign language, thanks to the
KinTrans vision system.
Already demonstrating value for first-mile last-mile connections with autonomous vehicle trials, Matilda can be quickly embedded into existing networks to increase access to services.
The iAwards is Australia's longest running innovation recognition program, marking 27 years in 2020.
AIIA CEO, Ron Gauci, said, "2020 has been challenging for so many businesses. The AIIA iAwards entries have seen the incredible ways Australian businesses have innovated during this period and looked for growth. It is important to recognise and award the businesses that have worked so hard to achieve this. There is a need for strong domestic skills and an innovation ecosystem, which will allow Australia to compete more competitively on the global scale. We believe our winners are reflective of what Australia has to offer to the world."
Matilda will now progress to the 2020 national iAwards, which will be announced on November 17th.
Matilda has also been shortlisted for the Intelligent Mobility Award in the 2020 ITS Australia National Awards.