What are distributed energy resources and how do they reduce industrial power bills?
SAGE Automation, Published: September 6, 2018 - Updated: February 25, 2020 (9 min read)
In Australia, distributed energy resources (DER) are predicted to take over as the main type of energy supply, but what are they? And how can they impact industrial businesses' bottom line?
"Over 40 per cent of energy customers will use DER by 2027. By 2050, that figure will grow to more than 60 per cent." – Australian Renewable Energy Agency (ARENA).
ARENA says its $12.5 million dollar funding program will help increase the share of distributed energy resources in homes and businesses that contribute to grid reliability.
Meanwhile, first movers like SA Water are actively rolling out large-scale renewables, storage and energy management and control systems to secure their energy reliability and achieve net zero electricity costs now and in future.
This industry activity indicates that DERs are a promising addition to industrial business' future energy mix, and close attention should be paid to this space going forward.
We asked SAGE Automation Business Development Manager, Paul Moore what DERs are, and how they present opportunities for industrial businesses to reduce their electricity bills and secure energy reliability:
Q. What are distributed energy resources (DERs)?

Distributed energy resources are energy generation and storage units that 'live' on-site, and work together to generate, store, manage and optimise the use of energy.
A DER system can include any combination of behind-the-meter technologies like diesel generation, storage/battery facilities, controllable loads, and renewable energy such as hydro, rooftop solar, wind turbines, and biofuels.
DER's must be connected to a distribution network and they typically use Industry 4.0 enablers such as smart meters and data analysis services.
Q. How do they work?
DER's work together to provide optimized and reliable electricity supply to a local area or site. Because there's so many different systems involved, DERs must be managed and controlled with energy management and control systems.
e.g. At a basic level a DER system could be some rooftop solar PV, a control system, and a backup generator that kicks in during energy intensive processes to reduce peak load.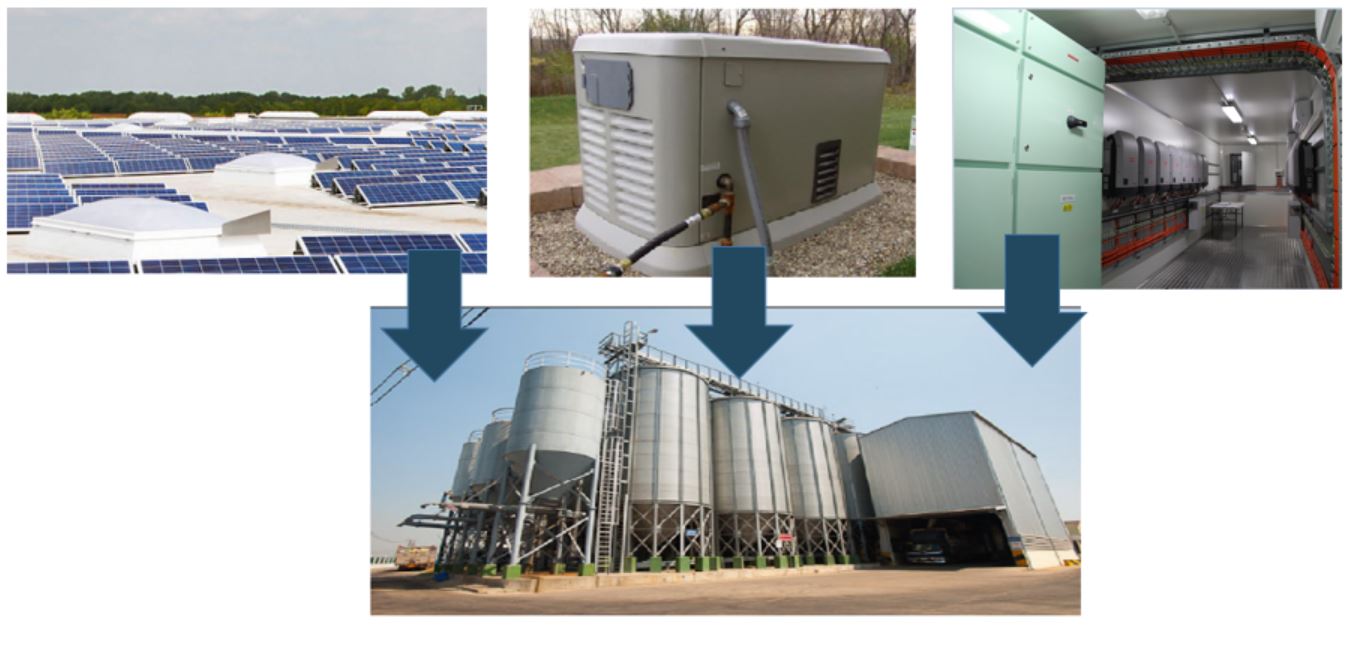 A more sophisticated DER could control, collect and analyse multiple physical systems and data assets to find the most efficient way to power the facility for every minute of the day.
It could pull data from: every solar PV unit, wind farms, diesel generators, battery storage supply, the facility's process and production schedule, the facility's historical energy consumption, and external datasets like spot pricing and weather reports.
Q. Who uses DERs?
DERs are most suited for heavy power users with ample rooftop space or land such as manufacturers, utilities, hospitals, shopping centres, or mining and resources companies.
Special types of DERs are even powering entire remote towns like Onslow or communities like Mooroolbark street in Melbourne.
Q. How is Industry 4.0 helping advance DERs?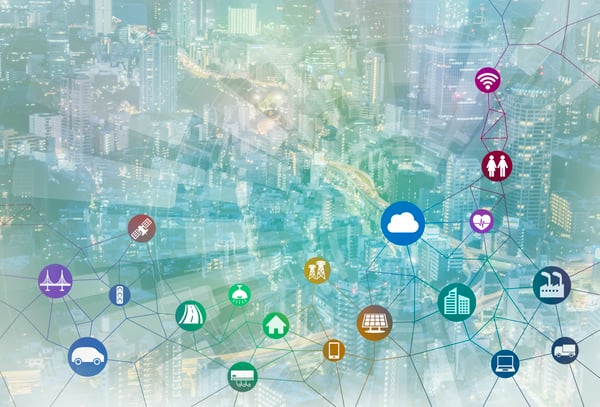 Industry 4.0 technologies are central to how DER systems work. Here's how:
DERs bring on a mix of energy generation methods on-site, such as backup diesel generators, solar and battery storage.
But central to this system working is an energy management and control system that is able to accept and act on data in real time – this is where the Internet of Things (IoT) and data comes into play.
The system needs to be able to listen to sensor data at the process level and external information such as weather reports, spot price and scheduled/forecast demand, then make decisions about which energy supply to draw on at what time of the day.
Once the system understands the data, it can automatically control different energy generation units to supply energy in the most efficient, profitable way according to the energy mix available.
Q. How do DERs reduce power bills for industrial businesses?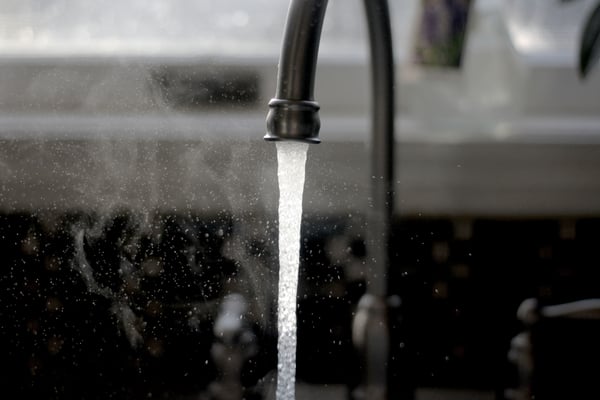 SA Water aims to have zero electricity bills by 2020* using a range of renewables and control technologies – aka DERs.

Briefly, DERs provide opportunities for business to:
Avoid actual demand tariffs by 'shifting energy load' with demand response techniques
Sell large-scale generation certificates via the Renewable Energy Target
Receive compensation by selling energy to the grid when requested (ancillary markets)
Optimise energy use according to spot markets and weather forecasts with Industry 4.0 tools
These opportunities have a big impact on electricity bill price and fluctuation.
Q. How do DERs increase energy reliability for industrial businesses AND the grid?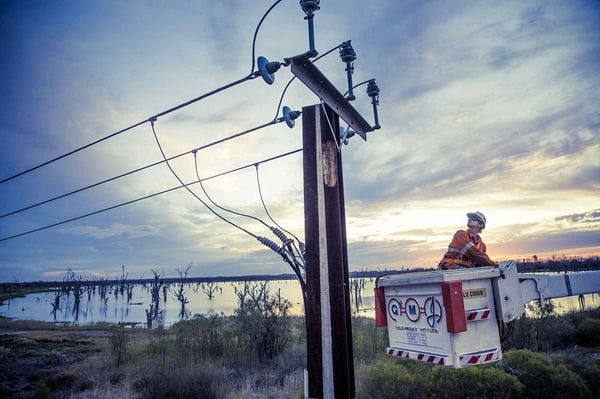 There's three areas of benefit to mention:
1: DERs provide more reliability in blackouts
DERs allow you to keep generating energy from your backup or renewable supplies in a power outage. Standard grid connected solar does not allow this function, which leaves the business open to downtime due to power outages and blackouts.
2: DERs provide financial incentives offered for supporting grid reliability
Because DERs have smart control systems that must be able to talk to and exchange energy with your power authority, they can help balance the grid to meet demand.
In fact, DERs that meet certain criteria may enable you to operate in ancillary markets that pay attractive rates if you can supply the grid with large boosts of electricity in periods of high demand.
3: DERs could contribute to fall in network costs
There's been talk that DERs could reduce network costs and cause possible fall in energy cost overall – one study found DER could reduce network expansion costs by nearly 60% by 2050.
Q. Can my businesses install a DER system now?
Yes, but it will pay to have someone who understands both the technical solution and the compliance and network connection side. Unfortunately, every state's power authority has different regulations and compliance standards.
A good place to begin is at AEMO's Network Connections page. SAGE Automation handles this side of things when it integrates DER systems for clients.
Distributed energy resources of the future – where to from here?
The business case for DERs is becoming clearer as more and more industrial scale renewable projects come online. Big projects by AGL, Yalumba, Sanjeep Guptha's Whyalla Steelworks and a raft of others flying under the radar typically feature a mix of renewables, storage and control – aka 'DERs'.
As we've found, DERs offer industrial businesses an opportunity to reduce electricity bills through renewables, demand response, storage and optimising energy use according to data.
Armed with this, we're seeing business take back control of their energy generation and profit in the process. Watch this space keenly!
Still exploring your energy needs and options? Our free guide to managing industrial energy costs explores the energy market and current technologies that are giving heavy energy users saving opportunities. The guide covers: What energy challenges are big businesses facing?, Energy Management & Measurement, Making financial savings through improved energy efficiency, Distributed Energy Resources and Industry 4.0 Enhancements.
Download your free copy today: The graphical guide to managing industrial energy costs [with renewables and Industry 4.0]