Australia's smart grid future: when we can expect change
Paul Moore, Published: December 22, 2021 - Updated: December 22, 2021 (9 min read)
Is the Australian market ready to move to smart grids? That's what we've been exploring over the last few months - starting with a look at traditional energy grids and their limitations.
We delved into the evolution of renewable energy in Australia and the regulations that impact the shift to smart grids, before exploring market changes and the evolving hydrogen economy.
In this final blog, we draw the series to a close starting with a look at cyber security, increased consumer market participation, potential future smart grid technologies. Throughout the series, I've talked about the future of the Australian power grid, so I'll break down when we can expect to see these changes taking place.
As mentioned in previous blogs, the smart grid of the future is a digitised grid where each component is smart, can communicate and is part of a larger network of systems producing large volumes of mission-critical data as well as sensitive consumer and transactional data.
Smart grids and cyber security
Our world is rapidly digitising to the extent that cyber security is now a part of our modern lives and part of modern language.
Cyber security in smart grids is perhaps one of the most important considerations in the transition to new networks, as a security breach could lead to large scale blackouts. These blackouts can result in hundreds of millions of dollars worth of economic damage, as well as potential safety risks in situations where traffic lights drop out, or life support equipment switches to backup systems.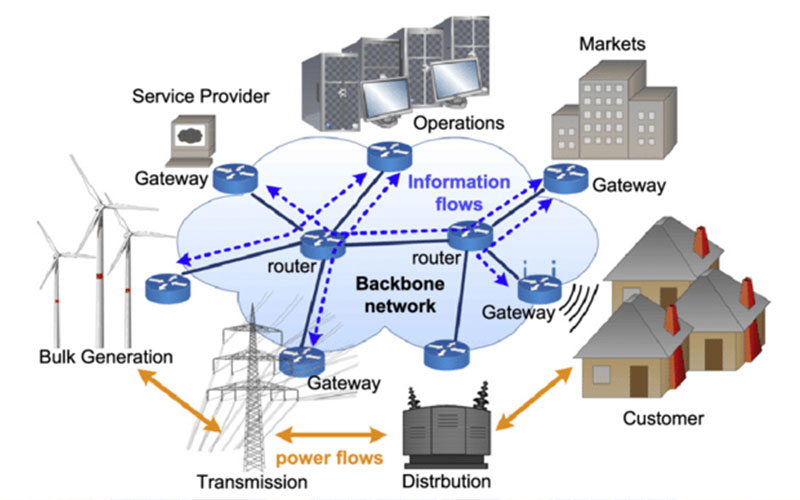 A future smart grid connection
The Australian Energy Market Operator (AEMO) in conjunction with industry and the Department of Industry, Science, Energy and Resources has recognised this challenge and has formed the Australian Energy Sector Cyber Security Framework (AESCSF).
The framework has a set of eight essential strategies for cyber security incident mitigation and is tasked with assessing the industry's cyber security maturity and uplift capability.
Major technology vendors in the energy sector also recognise the threat and are developing technologies with cyber resilience baked into them. This includes companies like CISCO, SEL, Kitu Systems, Moxa and Siemens.
Research organisations such as NREL are also doing extensive work in the area.
As is often the case, cyber security should always start with the basics.
In December last year, there was a well-publicised cyber breach at SolarWinds, a Texas-based software firm with a number of high profile customers (including US agencies such as the Department of Energy, and the Treasury).
One of the possible avenues for hackers to access customers' IT systems was through a leaked password, which was discovered on a Github repository in 2019. That password had been in use to protect a server since 2017, and the server password was 'solarwinds123'.
This incident highlighted a number of lessons for the energy industry, including the importance of a secure supply chain.
We see continued development in the area of cyber security as the grid digitises and this will be a key component of the energy transition that is here to stay.
Increased consumer market participation
We're already seeing that the home of the future has Electric Vehicles, smart appliances and loads such as hot water systems, energy storage, and solar PV.
It's hard to predict exactly how the markets will look in future, but it will certainly include a higher level of consumer participation than we currently see. The home will become a mini (pico) grid of its own with controllable generation, loads and electrical distribution and potentially the ability to island during network outages.
The grid of the future will be a 'grid of grids', with utility-scale microgrids, through to community microgrids, and right down to domestic-level picogrids.
With this level of control at the domestic level, we will see far greater consumer participation in energy markets. The VPP (Virtual Power Plant) trials that we see currently are just the beginning of this evolution.
New business models will emerge to manage situations such as rental properties in order to provide incentives for both the renter and landlord to participate actively in the energy transition.
In parallel, we're seeing the emergence of a new breed of more boutique retailers and aggregators, like Powershop, providing customers with the ability to purchase entirely carbon-neutral energy.
The new wholesale demand response mechanism is already introducing new opportunities for commercial and residential customers to offer their dispatchable load to the wholesale energy market for payment.
We're seeing large utilities take a significant market participation role as well.
SA Water's Zero Cost Energy Future project is a prime example of what this looks like and how it can be achieved. The link provided gives some great detail on their project. In full disclosure, this was an energy project SAGE Automation was involved in.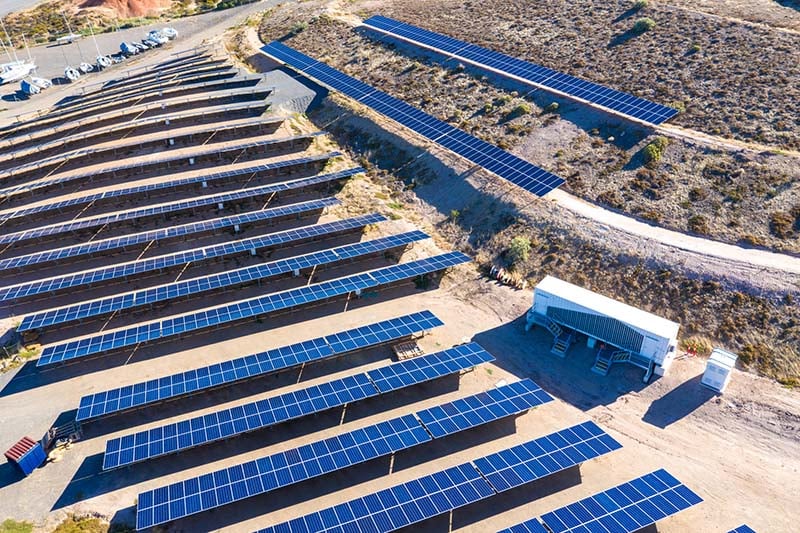 Solar PV panels set up as part of the Zero Cost Energy Future project.
Future smart grid technologies
It is very exciting to see developments in technologies that will be adopted in the smart grid of the future.
Utilities such as SA Power Networks, Energy Queensland, Western Power and many others are running programs trialling newer technologies such as:
Blockchain
Machine learning
AI
IoT
Cloud/Fog/Edge computing
Microsynchrophasor Units (uPMUs).
These technologies in particular provide the ability for utilities to manage the vastly increased volumes of data produced by the smart grid. Perhaps more importantly, they provide the ability to process, analyse and provide useful insights, operational state information, and warnings in very close to real-time to allow for the more economic and efficient usage of grid assets.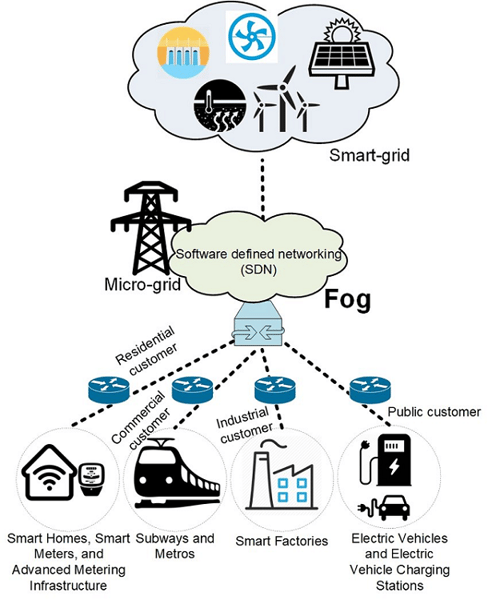 Future smart grid communication architecture. Image credit
When we will see smart grids in Australia?
The Australian energy market redesign in 2025 is built around a future of renewable energy and smart grid technology.
It proposes a suite of reforms designed to further accelerate the adoption of the technologies described in this blog series. The redesign focuses on flexible demand, distributed energy resources and technology.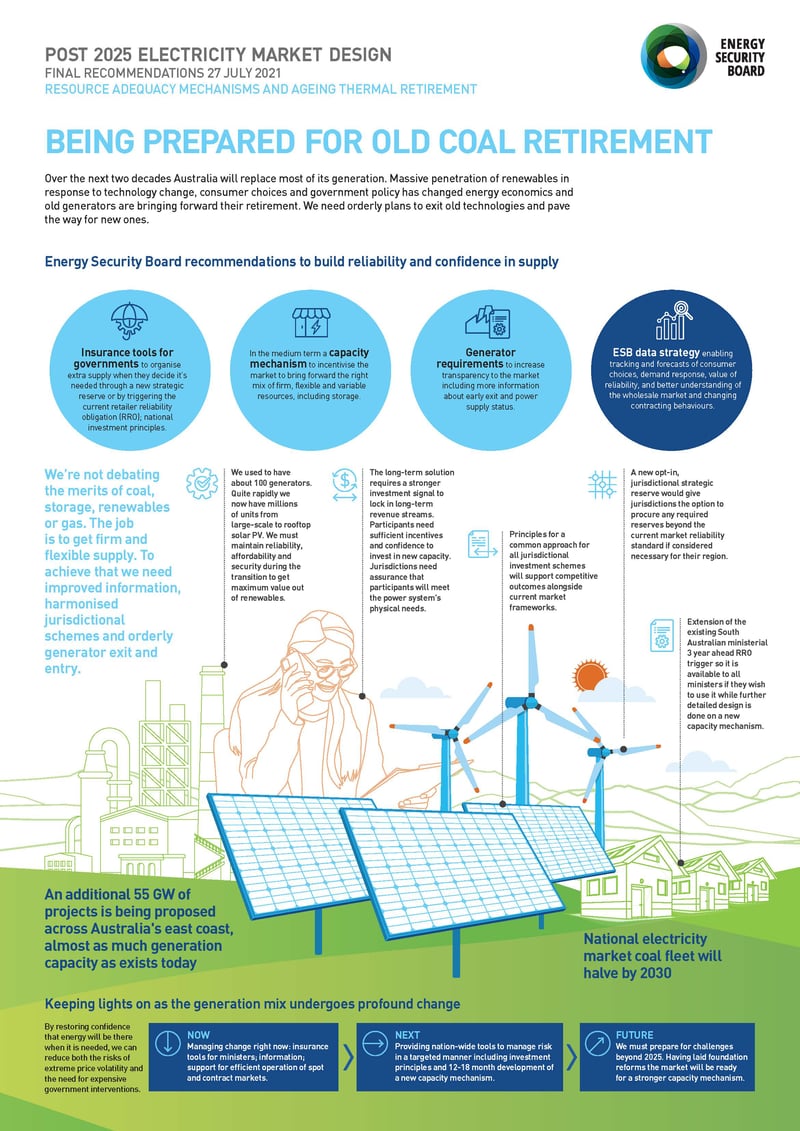 Post-2025 Energy Market Design poster, showing recommendations to ensure a reliable supply
to the market as we transition away from coal power.
This will help to support a transition that is already occurring, in spite of old market structure and regulation, and a notable lack of federal policy. Thankfully, state governments and private industry have taken risks and invested in making the energy transition happen, now having a market and regulation specifically designed to support it can only be a good thing.
Over the course of this smart grid blog series we've covered:
Traditional grids
Renewable energy generation
Distributed generation
Self-healing networks
Advanced communications
Demand side participation
Market evolution
Electric vehicles
Hydrogen
Cyber security
Consumer market participation,
and future technologies.
Any one of these subjects warrants a series of articles to cover each one in-depth, this series has really only scratched the surface.
Conclusions and a forward look at the industry
The grid of the future described in this series is not an idealised view of the future, it is already here and proven.
To illustrate this, the below figure shows the NSW grid from the 14th December (on the left-hand side), and the second is South Australia for the same time period (on the right).

South Australia is a gigawatt scale grid that has no baseload power station and hasn't since 2016. It has survived a number of interconnector outages since then with no problems.
The black area in the NSW figure is black coal, most of which is scheduled to shut down in the coming five years. The green, yellow and orange we see in the South Australian chart is wind, solar and gas respectively.
What does this mean?
The entire Australian grid will look similar to the SA profile within the next ten years as we transition to smart grids.
In closing, I'm personally very proud that SAGE is already positioned to provide many of these critical new smart grid technologies, and have been involved in many of the major smart grid projects described in this series such as SA Water's Zero Cost Energy Future.
This is a very exciting time in Australia's history and I look forward to the enormous social, economical and environmental benefits that this energy transition will bring for all Australians.