Traditional grids vs smart grids: why we're making the shift
Paul Moore, Published: June 1, 2021 - Updated: September 6, 2021 (5 min read)
Reliability, availability and efficiency – the benefits of switching to a smart grid have been talked about for some time.

As our population has grown, Australia's energy grid has had a few problems keeping up. This has raised the question of modernising our system to a smart grid and whether we're ready to make the shift.

Over the next couple of blogs, I will be diving deeper into the future of smart grids and smart grid technology.

To begin, I want to look at a conventional grid and its network. Understanding this makes it easier to contextualise the concepts of a smart grid.

In the coming weeks, I'll delve into current smart grid technologies currently being deployed in the Australian market, as well as what the future of a complete 'smart grid' solution might actually look like.

As we jump in, I would like to point out that this blog is intended to be purely a technology discussion. That means I'll largely skip bringing in the weighty subjects of energy policy, regulation, and most importantly, the politics of it all.
A look at the traditional energy grid
The conventional grid has been around for a long time. The first real grid was built in 1896 taking power from Niagara Falls hydro to Buffalo.

The conventional grid design was based on the 'economics of scale' of large, centralised power generators. These were connected to bulk power transmission systems and in turn connected to substations where the voltage levels are stepped down to safer distribution levels for supply in residential, commercial and industrial areas.

Below, I've included a diagram to help explain the conventional power grid system.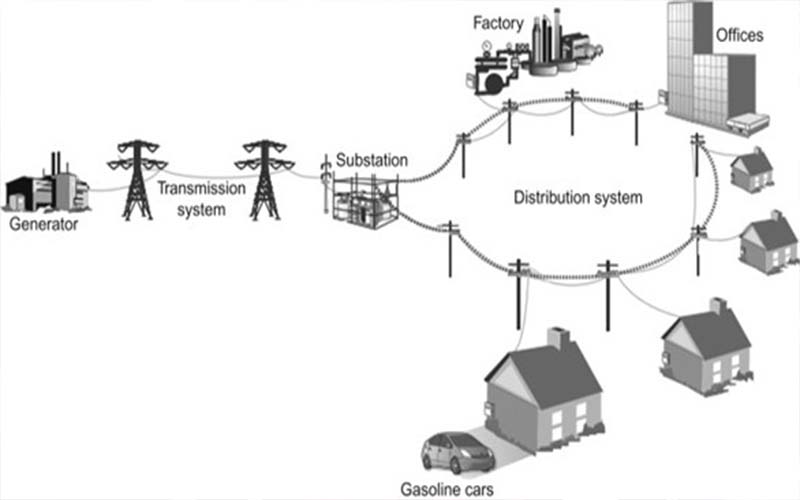 Operations of such a conventional system are relatively simple in that bulk power and energy requirements can be calculated and optimally dispatched to meet load requirements.

As load centres tended to have a lot of diversity built into them, the average load profile for a city area was quite readily predictable and relatively flat when averaged, and so the concept of 'baseload' power generation yielded a lot of economic benefit for all consumers.

However, the conventional power grid was not without significant issues for the consumer. There are a couple of reasons why:
1. Traditional power grids are based primarily on fossil fuels

Fossil fuel costs are variable and are often impacted by global events.

More significantly, they are inherently damaging and costly for the environment we live in. The externalities (costs to end-users that we usually don't agree to) are largely ignored in order to provide what has been termed 'cheap power'. The old adage of "no such this as a free lunch" applies here.

What was commonly termed cheap reliable bulk power was actually costing us a lot of money, in some cases, the costs are unmeasurable. These externalities were not well understood when the conventional grid was being designed originally, but we do know better now and have a responsibility to act.
2. Traditional power grids are uni-directional and centralised by design
This means traditional power grids are subject to cascading failures, and significant energy losses through the lines.

These losses mean that more energy is consumed in generation than is required to provide the electricity demanded by customers. When that energy is fossil fuel-based, the issue is not just one of additional cost, but also additional environmental damage. Managing the risk of cascading failures, and building the infrastructure required to support over-generation is expensive, and this cost is passed on to the consumer.
3. Conventional grids do not typically have high-resolution data and control of the distribution networks themselves
This was simply not required in a conventional system where energy flows from centralised fossil-fuelled power stations to consumers in one direction.

Where the market has seen a change is with the wider adoption of rooftop solar. When we hear comments such as "rooftop solar is bad for grid reliability", what is really being said is the conventional grid is based on old technology, outdated system design conventions and that it is not digitised enough to meet modern market requirements.
Read more: Renewable energy - the smart option for Australian industry
4. The traditional grid allows consumers very little participation in the market
Consumer demand was assumed to be non-controllable.

This worked well for power generation companies, as demand for the service they provide increased. It also meant that the "pole and wires" needed to be built to meet the maximum foreseeable demand on the network. This leads to a power market, seen by many to be dominated by a few "big players", with not a lot of consumer choice or participation.

The points above are not intended as a criticism of any particular system. It's simply an observation that an energy system designed more than 100 years ago is no longer adequate to meet the market that exists today.
Where the smart grid solution fits
This is where smart grid technologies, including renewable-based generation, distributed generation, self-healing networks, advanced data and communications technologies, modern demand side management techniques, consumer market participation, new energy market constructions, and also issues like dealing with cyber security come into play.

This is what I will be covering in upcoming blogs.

Hopefully, this provides you with a good baseline context for the next blogs on smart grid technologies and their role in the energy systems of the future.


Read part two in this series: How smart grid solutions will power us into the future