Renewable energy the smart option for Australian industry
Paul Moore, Published: April 11, 2019 - Updated: February 25, 2020 (5 min read)
The 2019 World Economic Forum (WEF) placed Australia 43rd out of 115 advanced economies ready to transition to renewable energy.
Despite this ranking, as the National Energy Manager at SAGE, I'm seeing first-hand how Australian industry is moving towards renewable energy generation… at a rapid pace.
I thought I'd provide a snapshot of energy across Australia's financial, industrial and private sectors. These changes illustrate that you can, and should be, looking out for opportunities to optimise your businesses' energy supply to ensure reliability and competitive advantage in the future.
1. Reserve Bank: price coming down on renewables
Energy affordability is on Australia's collective industrial mind, and the Reserve Bank (RBA) is watching this space closely.

The RBA's graph below, shows the levelised cost of generating electricity and how that has declined in the case of wind and solar to the point where they are now cost-effective sources of generation.

"There has been a rapid decline in the cost of renewable energy sources, in part because of extensive spending on research and development in renewable energy technology around the world occurring both because of government policies and private actors anticipating the transition to a lower carbon economy," RBA deputy governor Guy Debelle told a Centre for Policy Development public forum Sydney in March.

"As a result of the price decline, the investment cost-benefit analysis has changed and continues to change quite rapidly," he said.
2. Industry bodies are looking to 'zero emissions' future
The Australian Industry Group says tackling the "trilemma" of affordable, reliable and low emissions electricity (and the transition to zero net emissions) is both necessary and inevitable. It says Australian companies are working together in the absence of a comprehensive federal energy policy.

"Representatives of Australia's small and large businesses; conservation groups; energy network, supply and services sectors; investors; property sector; and social services sector have together agreed that driving down electricity costs is urgent, and that addressing emissions and reliability are not only critical in their own right but are essential parts of achieving cost reduction" –AI Group.

Late last year, the Business Council of Australia set up its Energy and Climate Change Committee, involving more than 20 companies in generation, retail, manufacturing, mining and oil and gas to work on the problem.

The Committee's aim is to regain Australia's comparative energy advantage while implementing a suite of durable, national, climate change policies that are integrated with broader energy policy.
3. New wave of energy generation technology to improve costs
Distributed energy resources (DERs) are small-scale units of local generation connected to the grid at distribution level. They provide a source of decentralised, community-generated energy and two-way flow of power, and they are predicted to transform the grid.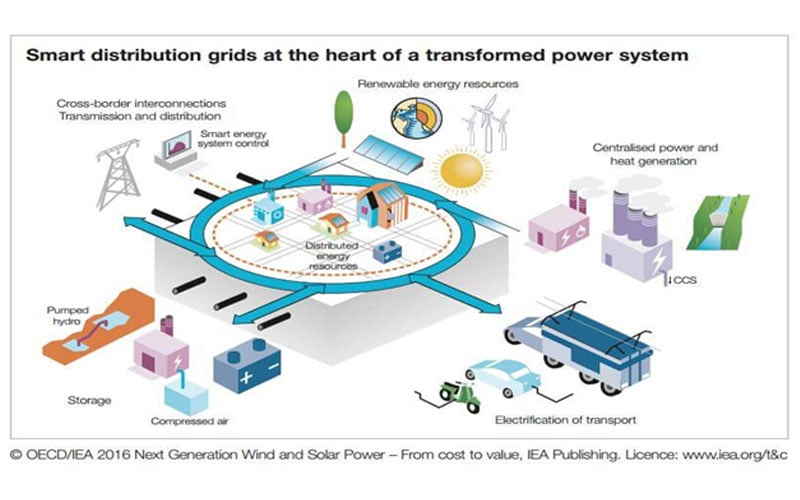 Energy Networks Australia and the CSIRO predict more than 40 percent of industrial customers will use DER by 2027, lifting to 60 percent in the next 30 years.

DERs produce dispatchable energy, close to the point of use, via any combination of: diesel generation, storage facilities, and renewable generation methods such as hydro, rooftop solar, wind turbines, and biofuels. Read more in our blog: What are distributed energy resources and how can they reduce industrial power bills?


How SAGE is helping reduce industrial power bills

SAGE Automation is enabling industry to reduce its power costs with smart energy solutions such as those delivered in SA Water's Zero Cost Energy future.

SAGE worked with energy provider Enerven to deliver 154 megawatts (MW) of new solar photovoltaic generation and 34 megawatt hours of energy storage. This will put SA Water on track to become an exporter of energy back into the grid.
These projects require specialised energy management solutions in addition to solar photovoltaic (PV) generation installation. For example this project included:

• the design and engineering of the utility's Energy Management System (EMS) and SCADA integration,
• the testing and installing of more than 160 solar inverters,
• the engineering and building of three containerised 'switch rooms' to control the flow and transfer of energy on site.


Australian companies are following suit

A number of Australian companies are now investigating how to make use of unused land or rooftops to generate energy to offset their electricity bills.

The nature of energy is 'use it now or lose it forever'. As an engineering services company operating in this sector we're seeing high energy users, utilities and communities act on this truth.

Now the technology is available and more affordable, you can generate energy, choose to store it for later, or sell the remainder back to the grid, provided you are compliant and are using the right systems to control and monitor it.

That's where we can help.

If you'd like to learn more about how you can manage your industrial energy costs, download our free Graphical guide to managing industrial energy costs [with renewables and Industry 4.0] or simply get in touch with me via the form below.