4 benefits of Total Productive Maintenance in production
Peter Thompson, Published: July 25, 2019 - Updated: July 25, 2019 (8 min read)
'Perfect production' with zero breakdowns, zero defects and zero accidents may seem like a dream. But the Total Productive Maintenance (TPM) approach is bringing manufacturers closer to making this a reality.
Whether you've experimented with TPM in the past, or are relatively new to the concept, it's worthwhile understanding what can be gained from it.
In today's post, we explore these benefits and look at what other companies have been able to achieve with a TPM approach.
First: what is Total Productive Maintenance or TPM?
TPM is a lean manufacturing philosophy that centres on achieving near-perfect production. The aims of TPM are high: no breakdowns, no small stops or slow running, no defects, and no accidents.
It emphasises proactive and preventative maintenance to maximise the lifespan and productivity of equipment.
And it does this by empowering all employees to take responsibility for such equipment.
Here are some of the benefits of total productive maintenance:
1. Less unplanned maintenance time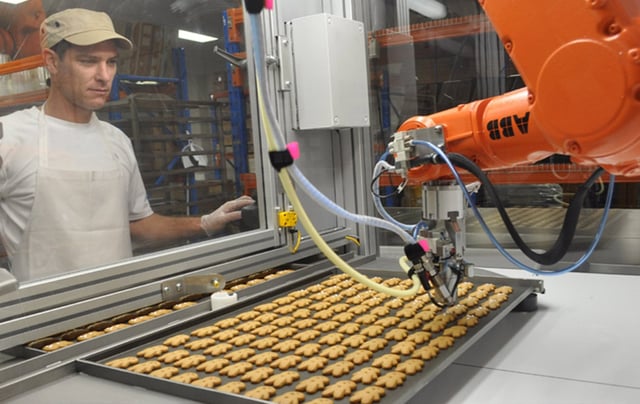 Image: Perryman's Bakery
The TPM approach is heavily orientated around employee empowerment, and encourages employees to take ownership of their machinery, which in turn increases production uptime.
TPM allocates the jobs traditionally completed by maintenance personnel to all plant personnel. That way everyone is responsible for machinery and equipment upkeep. A TPM regime will typically have operators carry out basic manufacturing maintenance duties and cleaning regimes, and encourage a proactive attitude toward spotting issues. This frees up maintenance staff to perform more value-adding tasks.
Aerospace industry supplier MRC Bearings were able to achieve almost a 98 per cent reduction in unplanned maintenance hours within eight months of introducing a TPM program. A major TPM event would involve cleaning, inspecting, lubricating, and performing corrective work on a piece of machinery, after which the entire machine was painted.
Employee resistance was an initial concern for the company, but the positive results soon changed people's minds. "In fact, the same people that were hesitating in the beginning were suddenly asking when their machine would be scheduled for a TPM event," said Greg Folts, Manager of Continuous Improvement at MRC Bearings.
"At first a lot of folks here defined TPM as 'Totally Painted Machines'," said TPM coordinator Don Russell. "Now I can say we all define TPM as 'Taking Pride in our Machines'."
2. A safer working environment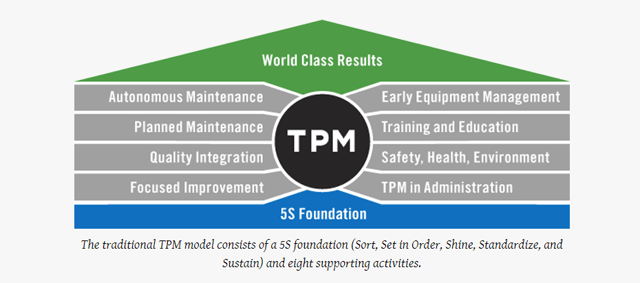 Source: Lean Production's Guide to TPM

The TPM model is made up of a 5S foundation, ensuring all workspaces are sorted, ordered, clean, and standardised at all times, and eight supporting activities, all of which result in a safer workplace.
At its simplest, this focus on 5S and continuous upkeep of machinery results in clean, healthy machines that are less likely to have loose ball bearings, lubricant leakage, or issues hidden under layers of grime. Plus, as dirty work environments present risk of injuries in industrial settings, a simple cleaning regime can do wonders for safety.
In addition, workplace incidents that occur due to disorderliness – for example, tools in the wrong place, incorrect machine setup or a messy station – are reduced.
TPM activities also focus on layout and flow of product and people. Minimising movement and clutter and maximising product flow through floor design will reduce safety risks.

3. Increased quality output
One of TPM's supporting activities or 'pillars' is Quality Maintenance, which integrates quality improvements into the production process. This approach has been shown to drastically improve quality and customer satisfaction.
Take this potato chip manufacturer's program. In one initiative of many, the company identified where defects were occurring within the production process, and assigned quality component 'tasks' for each point in production. This diagram shows the checkpoints and tasks that were assigned: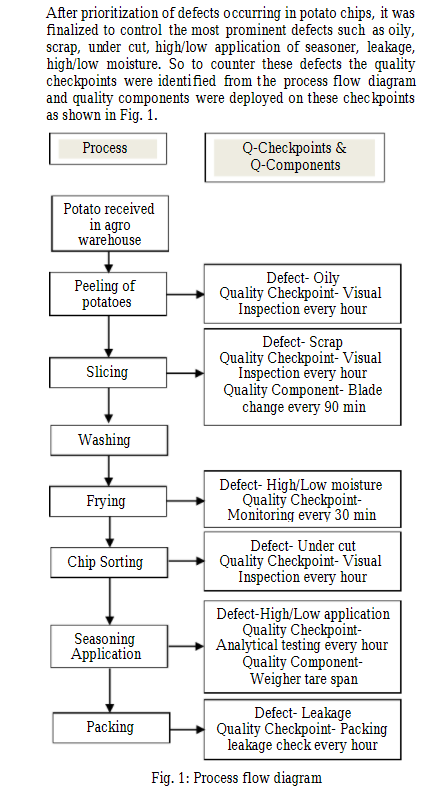 Source: The Impact of Quality Maintenance Pillar of TPM on Manufacturing Performance
As a result, the company experienced increased quality output and a zero customer complaint rating, achieving its core focus of 'delighting customers'.
As an added bonus, staff experienced increased morale and support for the TPM program because there was less 'reworking' and headache due to defects.
4. Proven impact
TPM's major goal of achieving 'perfect production' is measured using an Overall Equipment Effectiveness (OEE) score – the gold-star standard for rating manufacturing productivity.
Applicable to both discrete and process production settings, OEE makes it easier to improve because it quickly identifies loss areas, benchmarks progress and improves equipment productivity – all with data.
Solid metrics speak louder than words: OEE allows you to benchmark your facility against the industry, and prove your TPM improvement program is working.
How OEE is calculated


The OEE rating is calculated using three main reasons for productivity loss: Availability, Performance and Defects. These are directly tied to TPM's goals of no breakdowns, no stops and no defects:
Availability (no breakdowns)
X
Performance (no small stops or slow running)
X
Quality (no defects)
=
OEE score (where 100% = Perfect Production)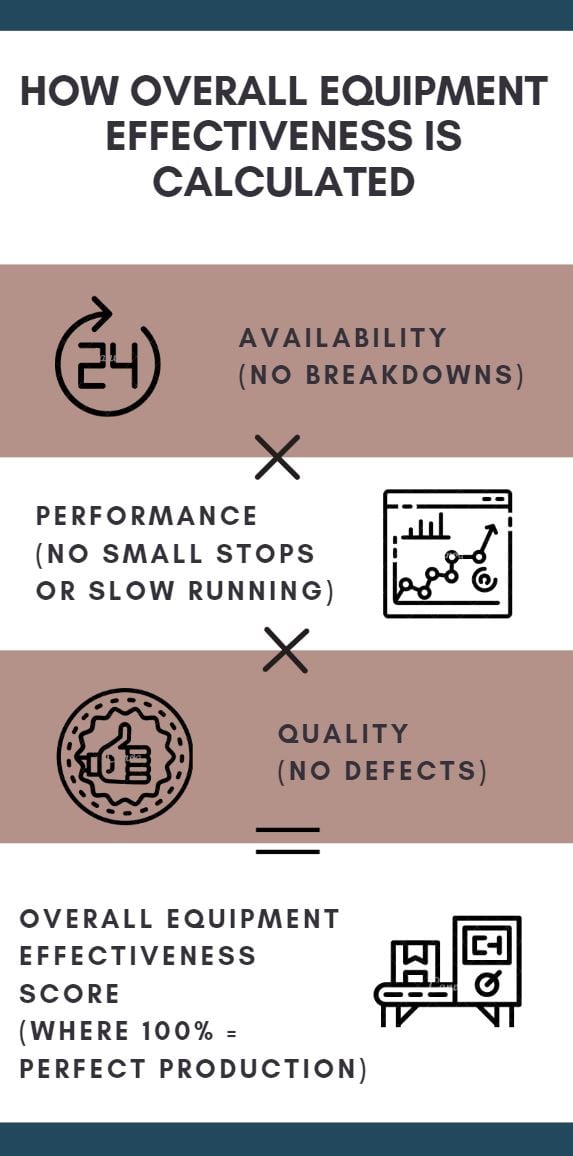 For a more comprehensive guide on how to optimise OEE, we recommend reading this post from our digital transformation partners Nukon on how to get ROI on your BI projects.
Achieving perfect production with total productive maintenance
"We are all about team ownership of outcomes and love that the TPM approach empowers employees to be proactive." – Deon McHatton, National Service Manager at SAGE Automation.
At its core, TPM is about improving equipment reliability through taking ownership and pride in its upkeep. Done correctly, TPM can have measurable, lasting results such as improved quality output, improved manufacturing maintenance regime, reduced changeover and a proactive culture that "Takes Pride in its Machinery".
Maintaining your equipment can't prevent every failure. So we developed this Downtime Checklist to help your production staff determine the best course of action when a machine does go down. It will get your team thinking about what caused the breakdown and assess the need for external advice. Download the free downtime checklist here.