SAGE the first Australian SI to implement Schneider augmented reality tool
Published: April 17, 2020 - Updated: October 12, 2020
SAGE Automation has added augmented reality (AR) to its maintenance ability, recently deploying Schneider Electric's EcoStruxure Augmented Operator Advisor platform. Using image recognition, the software allows a technician to inspect and diagnose through an app, which superimposes real-time data and virtual objects onto electrical cabinets, machines, or other assets within the plant.
SAGE has become the first System Integrator in Australia to deploy the technology to live equipment, and it is already in use in SAGE's Advanced Manufacturing Facility in Adelaide.
How it works
The Augmented Operator Advisor platform allows maintenance engineers to conduct virtual equipment inspections, reducing the need to refer to paper-based operator manuals.
The platform also enhances preventative maintenance, reducing the time required to complete these tasks. The inspections can be completed virtually, without requiring a full shut down of the facility, and without the need to physically handle the equipment. Safety of frontline staff is improved, and reporting and audit trails of completed tasks are stored within the software.
At SAGE, this technology can enable inspections of live equipment without requiring a full shut-down and isolation, which avoids disruption to critical processes while still ensuring strict safety protocols are followed.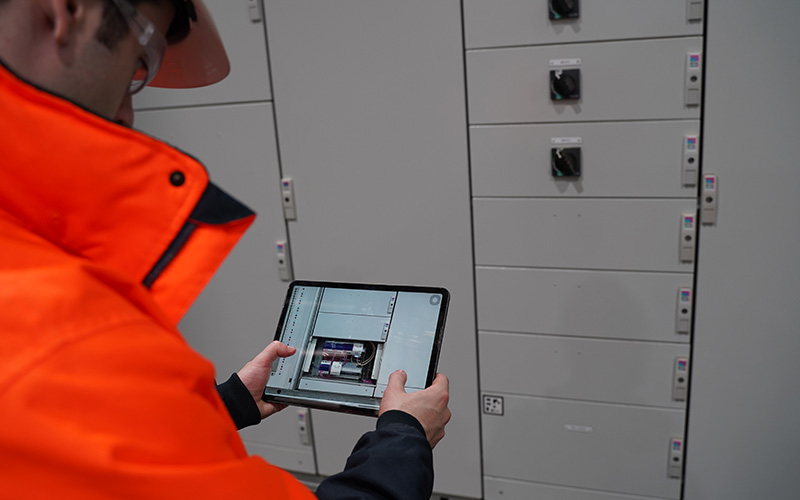 The platform allows for virtual inspections, without needing to physically open or handle live equipment.
Digital safety procedures and improved maintenance
For SAGE, which is very proactive in its workplace safety measures, the technology allows existing safety measures and procedures to be built into the maintenance prompts. The process of maintaining equipment can be much more prescriptive, creating an audit trail each time an operator interacts with it.
Closely involved in the platform being deployed at SAGE, Business Development Manager Antonio Piscitelli sees the platform as a great tool for customers focused on improving efficiency and staff safety.
"Augmented reality can improve both maintenance and breakdown response times, while minimising the potential for human error. Real-time data, such as live control system information, is shown in the app so users can quickly identify abnormal readings. The software then highlights this change with an alert in the app," said Mr Piscitelli.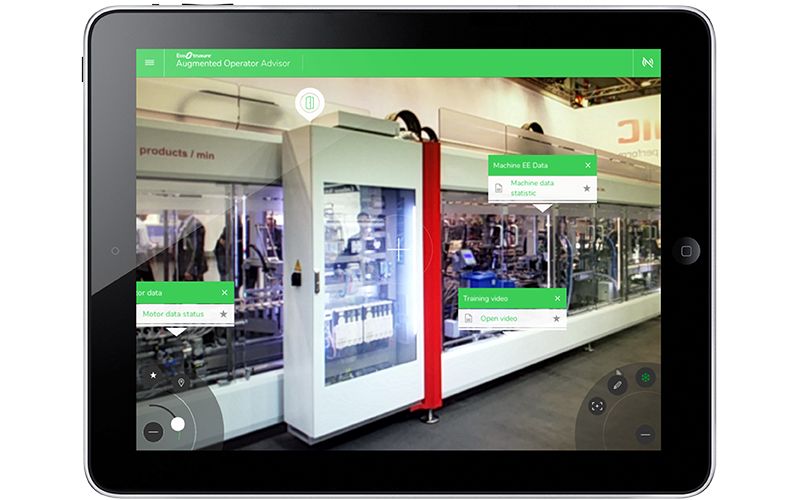 Schneider's EcoStruxure Augmented Operator Advisor app enables technicians to inspect and diagnose live
equipment by simply holding a device up to the asset.
The solution is completely hardware agnostic, offering connectivity to live data sources via major industrial protocols and making it a viable option for more companies.
In addition to deploying the platform in its own facility, SAGE is also the first System Integrator to include the platform in its offering to clients within Australia.
"For our customers, EcoStruxure Augmented Operator Advisor offers fantastic cost-saving benefits, and a SAGE engineer can assist with implementing the solution quickly. For clients in the manufacturing, utilities and resources sectors, the platform has huge potential," said Mr Piscitelli.
As a Schneider Electric Master Alliance partner, the EcoStruxure Augmented Operator Advisor platform joins a suite of offerings in SAGE Automation's capability.
Read more: Alliance partnership bolsters SAGE offering
Putting data in the operator's hands with augmented reality
The web-based app solves a major challenge for many of SAGE's clients — increasing access to user manuals and technical information while out in the field.
Site staff rely on having access to information to aid in diagnosing and repairing a problem. The ability to quickly access manuals, as well as using overlays and videos to provide guidance helps speed up fault resolution and get equipment back up and running faster, potentially reducing the duration of the outage by up to 50%. Time can be saved on finding and/or researching manuals to complete troubleshooting.
SAGE clients can benefit from the technology in multiple ways:
Fast deployment —the technology can be rolled out onsite quickly and up and running in a few days.
Safety – reducing exposure to dangerous situations for staff and contractors, particularly those not familiar with the site; a full audit trail of interactions with the equipment is also saved for future reference.
Instant diagnosis — maintenance staff can find and access information such as user manuals, diagrams and instructions instantly, even while in the field.
Minimised outages —process information is available in real-time while a technician is onsite, guiding them through the process step-by-step and reducing the potential of human error.
Improved maintenance — the user receives prompts for each step of the maintenance process, and all interactions are logged
Remote assist — smart integration with Microsoft Dynamics and Microsoft Teams enables a live 'over-the-shoulder view' with annotations and assistance by a remote expert.
As businesses look for further ways to reduce expenditure, the ability to diagnose issues rapidly and safely is critical. The Augmented Operator Advisor platform is suitable for a range of industrial operations, such as water treatment plants, manufacturing plants or refineries, where unplanned downtime has significant impacts.
The platform can be easily integrated for a range of industries, including resources, utilities, energy and manufacturing, and SAGE is preparing for a large uptake in the technology from their client base.
Smarter service and support with SAGE

To discuss how simple it is to deploy EcoStruxure Augmented Operator Advisor in your operations, speak with a SAGE engineer.