SAGE bolsters manufacturing capability with Industry 4.0 initiative
Published: July 15, 2019 - Updated: April 21, 2021
The Komax Zeta 640 cabling machine is the latest piece of SAGE's Industry 4.0 transformational journey, enabling SAGE to ramp up its manufacturing capability more than ever before.
The cable harness machine automatically produces cable looms for control panels and LV switchboards, which are used throughout the defence, energy, manufacturing, transport and utilities industries.

Not only will it reduce production time, the machine will allow SAGE to increase its scalability and improve accuracy - resulting in even better quality assurance. Clients will also be able to order a larger volume of products and can expect a faster turnaround at cost competitive prices.

VIDEO: Learn how the Komax machine is cutting production time and increasing volume

Greater flexibility in designs

This cyber-physical machine features a direct CAD to machine interface; meaning even a tiny change to the CAD design will automatically be reflected in the resulting cabling.

SAGE Manufacturing Operations Manager Sam Koulianos said designs could therefore be increasingly dynamic, flexible and agile.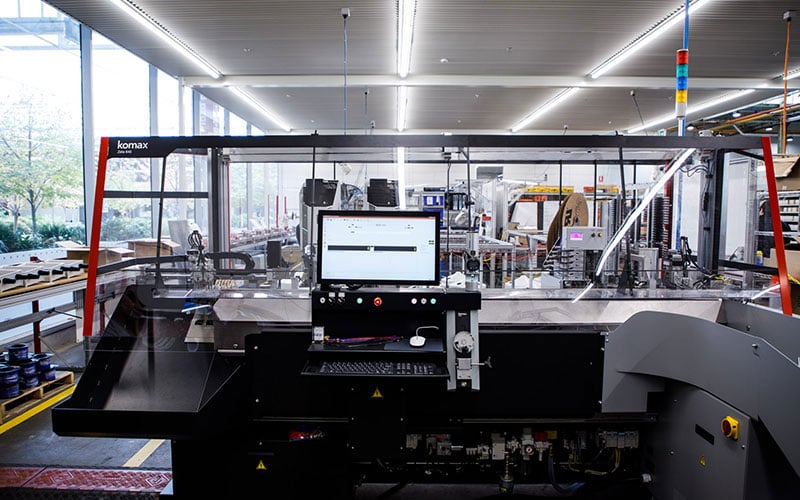 The Komax Zeta 640 cable harness machine
"For example, say we have a pump panel and the customer wants an additional pump, all we have to do is update the 3D drawings which automatically updates the cable harness requirements," explained Mr Koulianos.

"Previously, we would have to manually go through and update our documentation, order another button and wire it in, so the time taken to make changes would be much, much longer," he said.
The machine forms part of a series of industry 4.0 transformations being rolled out across SAGE's manufacturing facility, after the 'digital twin' was introduced in January.

Read more: 'Digital twin' optimises SAGE manufacturing in industry 4.0 initiative
How the machine works
CAD electrical drawings generate data used to develop a cutting list of cables for the project.


The connected cutting list data is read and analysed by the Komax cable harness machine.


Once verified, the machine automatically processes the looming job by selecting the appropriate cable from the 24 different size and colour pre-loaded cables.


Vital data generated in the CAD drawings, such as the device and terminal numbers for each cable, is autonomously printed onto each cable as instructed by the cutting list.


The Zeta 640 then cuts the cable to length and terminates both ends with a bootlace pin or partial strip without any need for changeovers of tooling.


Finally, the loom set is then taped together in customisable format ready for post-processing or forms a completed sub-assembly.
Increased production leads to more work
SAGE's Industry 4.0 transformation is a key part of the company's strategy to keeping people employed locally. By reducing repetitive tasks (like the manual production of cable looms) SAGE electricians and apprentices are able to spend more time on complex wiring projects, which in turn, leads to the company being able to produce a larger volume of work.
Mr Koulianos explained, "People often fear automated machines and similar technologies are taking away local jobs, but in fact they're allowing us to be leaner from a business perspective, which is allowing us to scale up our production so we can employ more people."

"Our approach isn't purely technology focussed, it's also about empowering our employees and teaching them to perform processes in a way that is smarter" he said.

This very concept has led SAGE to coin the term 'smart electricians' to describe a new breed of electricians employed by the company, who each share the belief that 'every little bit counts'. Smart electricians also have the knowledge required to service the technologies of the future, such as electric and autonomous vehicles or renewable energy, rather than simply being confined to traditional electrical knowledge and skills that have been the focus for years previously.