'Digital twin' optimises SAGE manufacturing in industry 4.0 initiative
Published: January 29, 2019 - Updated: April 21, 2021
SAGE Automation has partnered with University of Adelaide engineering students to implement a series of industry 4.0 improvements set to revolutionise its manufacturing process.
The initiative will enable the company to manufacture superior control system and electrical panels to clients – faster and at scale.
In a cross disciplinary, industry-research collaboration SAGE and two Adelaide University final year engineering students developed a proof of concept and roll out strategy to integrate the 'digital twin' into its control panel manufacturing process.
"The digital twin is basically a replica of a physical product or system, and behaves in the exact way the physical object would," Mechatronic Engineering student Thomas Jolley said.
"Previously the control panel design and build process involved some manual processes such as building a prototype, then manually measuring and cutting hundreds of electrical wires based on this prototype," he said.
"The electrical technicians also worked from printed documents and there were some inefficiencies in the review feedback loops."
So how does the digital twin optimise the manufacturing process?
"First, the digital twin removes the need for us to physically build a prototype on which to base production," Electrical and Electronic Engineering student Henry Clayden-Rose said. "But it does so much more. It also removes several wastes, clarifies design up front, and gives more transparency to the process and end product."
The new process will also include a looming and cutting machine that will receive orders from the digital twin and cut and label them, ready for the assembly stage. This removes room for error, manual handling and idle time between design and assembly.
The pair collaborated with more than 10 SAGE employees to develop the proof of concept and roll out strategy. In 2019, another three Adelaide University students joined the project to help in the execution.
In a nutshell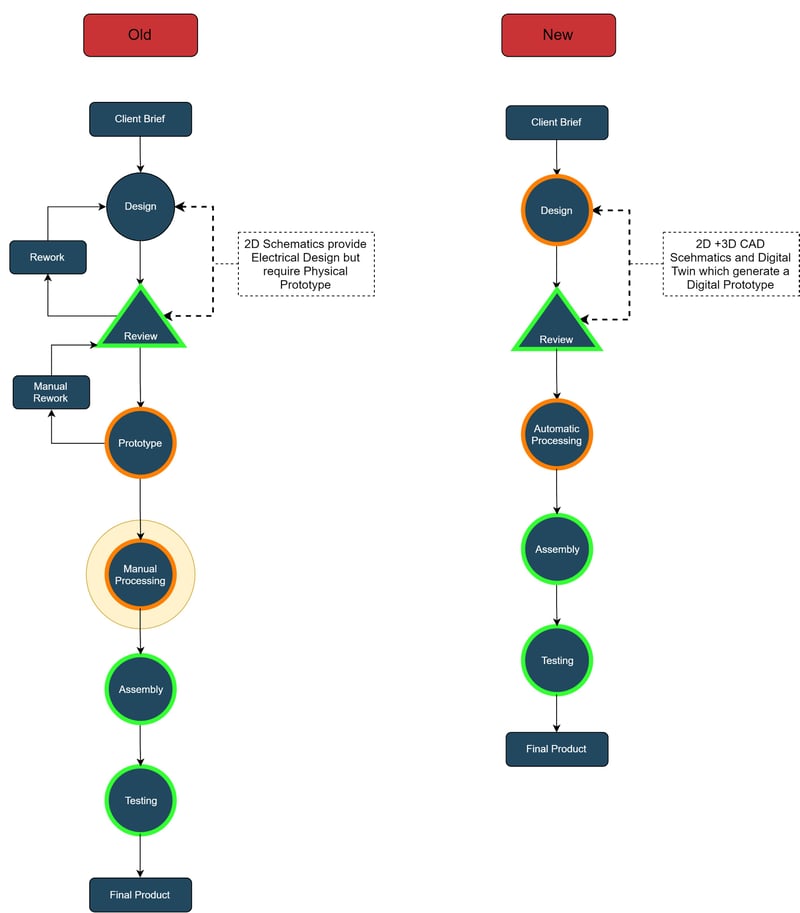 Industry 4.0 at SAGE
SAGE is no stranger to industry 4.0.
It, along with sister company Nukon delivers digitisation, advanced automation and Internet of Things (IoT) solutions to clients from defence to transport to water and smart cities initiatives.
"As automation and communication technologies have advanced, SAGE's engineers and project managers have kept up," SAGE Group CEO Adrian Fahey said.
"We've been delivering engineering and control system automation solutions to industrial clients for 25 years, and new technologies under the 'industry 4.0' banner are just new ways of solving age old client challenges," he said.
In a bid to bring the same efficiencies to its own Advanced Manufacturing Facility, SAGE initiated the Industry 4.0 Manufacturing project.
Read some examples of how SAGE Group uses industry 4.0 to solve problems: IoT recycling waste solution, Smart Transit Hub Matilda, IoT monitoring solution for Melbourne Water, and a smart manufacturing initiative.
Mr Fahey says Industry 4.0 is not only changing SAGE's manufacturing line of business.
"Over the past 12 months we've been developing a suite of new industry 4.0 service tools for our service clients."
"Services like the SAGE GO app, National Operations Centre and Remote Support Module will give clients an even faster return to uptime and better visibility of their operations."
The suite of services are geared towards providing clients with better access to control system technicians and tools to resolve breakdowns faster than ever before. Read more: SAGE GO suite brings industrial service sector into industry 4.0