SAGE's IoT solution recognised at OzWater
Published: May 9, 2019 - Updated: May 23, 2019
The delivery team at SAGE Automation was proud to attend this years' OzWater as award finalists for their Internet of Things Site Monitoring Solution.
The solution won the Victorian 2018 Australian Water Association Award and went to the national awards in 2019.
It enabled Melbourne Water to monitor previously unmonitored low lying sites at low cost and with rapid deployment.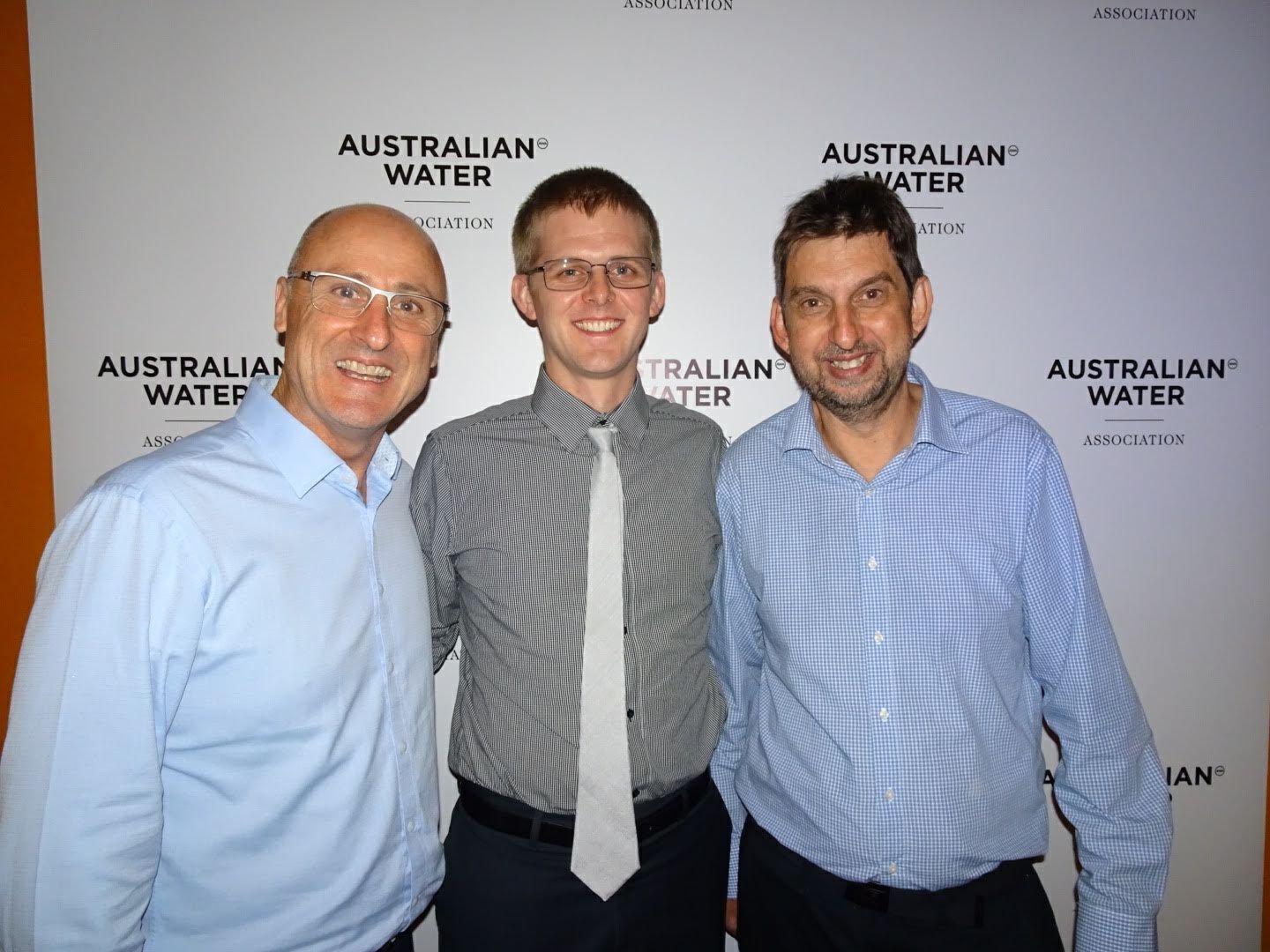 SAGE General Manager Victoria Paul Markwick, Control Systems Engineer Jason Leppin, and Metasphere's Steven Coward at the 2019 Ozwater AWA Award Gala as finalists and Victorian winners.
About the solution
In a novel application of cloud-based SCADA, SAGE enabled the client to monitor an initial 38 of their most critical retarding basins, rapidly. One site was installed and live in 24 hours, showing how quickly the technology can be installed.
The solution incorporated RTU-Dataloggers, field sensor devices and SAGE's cloud-based SCADA service 'STRATUS' for interim alarming and visualisation. Field works were managed by ALS Global and supported by SAGE.
Monitoring of these sites allowed Melbourne Water to better-manage storm water flows by receiving live alerts of potential overflows and warning residents of potential flooding events.
Benefits to water industry
"This project presents utilities with new improvement opportunities in asset management such as real-time remote alarming and monitoring or preventative maintenance driven by trend data," Mr Markwick said.
"This ability to collect and use data in real time to deliver better customer service and cost effective asset maintenance was certainly a theme of OzWater and we're proud to be able to deliver these capabilities to the sector as it moves toward digitsation."
Watch the innovative project video below:
How can you access and implement IoT solutions, and how are others doing it?
Our clients, from transport, utilities, councils and government departments often ask this question, therefore we've put together this guide highlighting some IoT projects that we've delivered.
Read the guide now:
6 cross-industry applications of industrial IoT in practice