SAGE IoT monitoring solution wins Victorian Australian Water Award
Published: December 9, 2018 - Updated: December 14, 2018
SAGE Automation and Melbourne Water have won the Victorian 2018 Australian Water Association Award for its 'Internet of Things Site Monitoring Solution'.
The solution won the Infrastructure Project category which had more than 30 other entrants from across the state. The other finalist was John Holland and Goulburn-Murray Water.
The Internet of Things (IoT) solution enabled Melbourne Water to monitor previously unmonitored low lying sites at low cost and with rapid deployment.
"This is true IoT in practice," SAGE Project Manager Stephen Coward said. "One of the sites had hardware supplied, configured and installed within 24-hours, illustrating how quickly this cloud-based infrastructure can be used."
Melbourne Water achieved remote monitoring of more than 70 below ground and low-lying assets using SAGE's cloud-based Supervisory Control and Data Acquisition (SCADA) service called 'STRATUS'. SAGE connected some 70 energy efficient field monitoring devices STRATUS using via a 3G/4G, Sigfox and LoRa networks. As such it is a true Internet of Things (IoT) application.
"The project needed to select, test and implement low cost monitoring hardware that would not require mains power, would connect to the clients' existing IT infrastructure and if possible, roll out within a reasonable time frame and at a lower cost," Mr Coward said. "Normally this would take considerable time and capital investment."
"But by harnessing Stratus, Melbourne Water and (now other clients) are achieving monitoring without the costs associated with upgrading or building a new SCADA platform," Mr Coward said.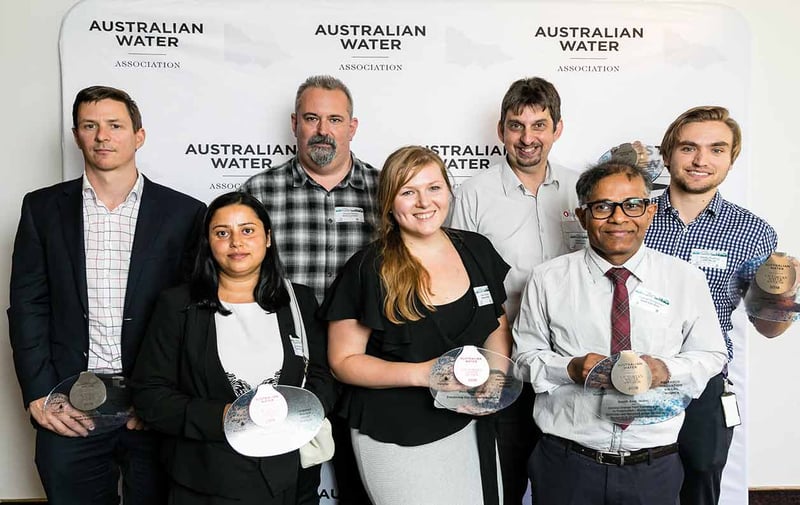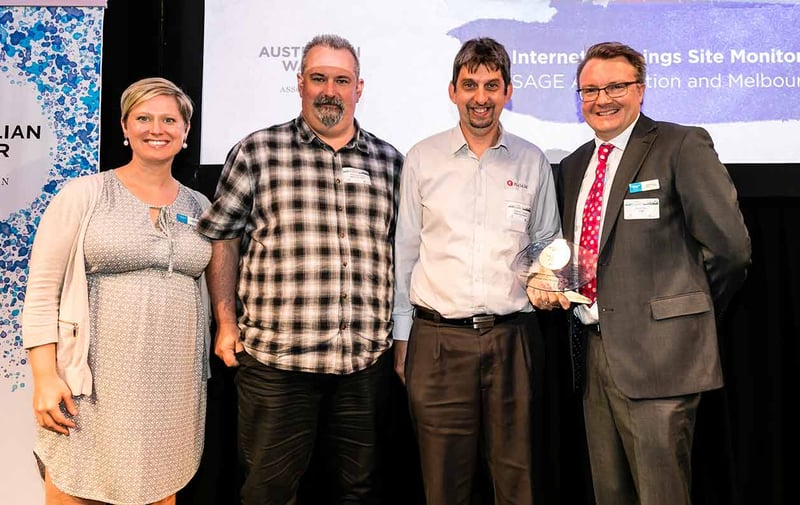 SAGE's Stephen Coward and Melbourne Water's Russell Riding accept the Victorian AWA Industry Project Award, 06 Dec 2018.
The benefits for Melbourne Water include increased visibility of its sites for improved customer experience, environmental management and reduced capital expenditure.
SAGE Group CEO Adrian Fahey says the project is just one demonstration of how the IoT is enabling clients to achieve more with less, quickly.
"STRATUS presents new improvement opportunities in asset management such as real-time remote alarming and monitoring, intelligent water metering, or preventative maintenance driven by trend data," Mr Fahey said.
"Industry 4.0 represents an opportunity for the water industry to decrease lifetime maintenance costs, improve environmental response times, improve community services and communication, and ensure consistent water supply to remote and urban areas through monitoring," he said.
The IOT Monitoring Solution will now go to the Australian Water Association's national awards to be announced in May 2019.
Making sense of the technology for your problem...
Our clients, from transport, utilities, councils and government departments often ask us, "How can we access and implement IoT solutions, and how are others doing it?".
So we've put together this guide highlighting some IoT projects that we've delivered. Read the guide now:
6 cross-industry applications of industrial IoT in practice