George Funnell named ITS Australia's Young Professional for 2021
Published: February 23, 2022 - Updated: February 24, 2022
SAGE Automation System Engineer, George Funnell, was awarded the Young Professional Award at the 12th Annual ITS Australia National Awards.
The Young Professional Award recognises and encourages the passion and positive contribution George has made and is likely to make within the Australian transport technology industry in his early professional life.
First starting with SAGE as part of a 20-week placement, George was able to apply his learnings from Flinders University to real-world transport projects. During placement, George spent time working on autonomous vehicle trials, gaining practical skills with vehicle-to-infrastructure (V2I) communication systems and signalised intersections.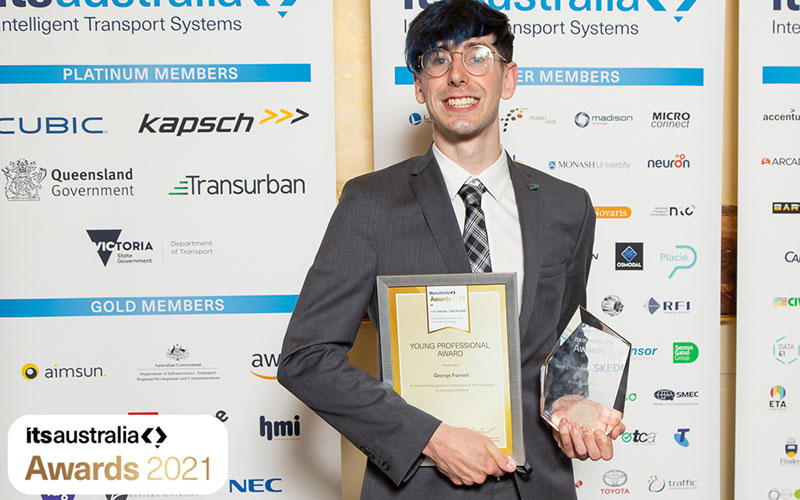 George with his Young Professional Award at the ITS Australia award night.
Photo courtesy of ITS Australia.


Following his placement, George joined SAGE as a Graduate Engineer while studying a Bachelor of Electronic Engineering with Honours. Six months later, George was promoted to a systems engineer and has been involved in delivering a smart school zone crossing project in Tasmania.
The project involves more than 600 sites, using Electronic Speed Limit Signs to warn approaching drivers to reduce their speed when pedestrians are detected within active school zones.
Being recognised in an industry he is passionate about is very exciting for George.
"I feel really honoured to be recognised by ITS Australia! I became an engineer because I wanted to give something back to the community, and I get to do that every day through my project work. To be recognised among such a talented group of finalists is very humbling, and I'm now even more excited to find new ways of making transport better for our community," he said.
Being able to combine innovative thinking and technical skills with hands-on learning has contributed to George's career progression at SAGE.
"We're incredibly proud of George and the high-quality work he continues to deliver. George is a great example of the new generation of engineers making their mark on the industry while bringing a culture of innovation and inclusiveness. These new perspectives will lead to better transport outcomes for everyone," said Damian Hewitt, Head of Smart Cities and Future Mobility at SAGE.
"George first began working with us during a placement program and has shown a great commitment to continuous learning and growing. The value of training the next generation of engineers, and the value we as an industry gain by bringing their new perspectives to our work is evident," said Mr Hewitt.
The ITS Australia Awards night celebrated the nation's work in advanced transport technology.
During the evening, ITS Australia reflected on their 30 years of operation, how far the industry has come, and how respected the industry and its members are on a global stage.
"Every year our industry raises the bar, delivering work that propels the Australian transport ecosystem forward," said Dean Zabrieszach, ITS Australia President.
"As we emerge from the pandemic, Australian transport users are asking new questions about how they travel. This week's award winners are beginning to offer answers to those questions, delivering new and innovative technologies that increasingly impact and improve the lives of all Australians by enabling more seamless movement through the nation's transport networks," said Mr Zabrieszach.
As part of his award win, George receives sponsorship to attend the ITS Australia Summit 2022 Forum in Brisbane.
George explains some of his project work with SAGE.