What is the digital twin, and how does it derive value?
SAGE Automation, Published: February 14, 2019 - Updated: July 1, 2022 (9 min read)
It sounds like a sci-fi movie plot: your doppelgänger lives in another dimension and behaves exactly like you, but learns faster and can access more information. It's the 'test dummy' that tries everything first, so you can make all the right decisions to lead a perfect life.
We're talking about the 'digital twin'; and what sounds like a fictional human scenario, is fast-becoming a manufacturing industry reality.
The concept has been around for some time, but according to Deloitte, Industry 4.0 has made the digital twin more realistic for manufactures. Advancements in digital technologies, including the Internet of Things (IoT) and the ability to integrate operational technology (OT) and information technology (IT) systems, is making the digital twin scenario possible.
Applied correctly, the digital twin can help manufacturers and business:
predict and prevent outcomes
build better products, faster and to scale
improve processes
tighten gap between design and execution
measure improved performance.
In an effort to inform your decision around whether the digital twin could be right for your context we've compiled some of the background, new research, and use cases to provide a foundational understanding of the digital twin:
What is a 'digital twin'?
A digital twin is basically a replica of a physical product, process or system, and behaves in the exact way the physical object would.
Deloitte puts forward this widely-circulated definition of the digital twin as:
…a sensor-enabled digital model of a physical object that simulates the object in a live setting." - Dr Michael Grieves (who first introduced the concept in 2003), in Digital Twin: Manufacturing Excellence through Virtual Factory Replication.
Going on to add:

Image: Deloitte.
In essence, the digital twin is about the connecting the physical world with the virtual world through data and information.
So, it's no surprise that the IoT and increased capability in data gathering and processing, is allowing the digital twin to become a reality.
What context is the digital twin suited to?
Generally speaking, the digital twin is suited to organisations with the following qualities:
Be manufacturing or producing a physical product
Ideally have in-house design, but it is possible for you to work with suppliers on digital twin design
Long manual review process or excel and paper-based processes
Perfectly suited to machines on the workshop floor that have cyber-physical capability
Perfectly suited to organisations with good in house IT capability:

"Our research showed the biggest employee skills gap of the future is in IT and data analytics in the specialist domain space," SAGE Automation's Thomas Jolley says.
General requirements to implement the digital twin:
Information: A digital twin relies on the availability of complete information such as sensory data, quality inspection reports, even customer feedback. It also needs to work with existing assets, products and processes.
Capital: "You can't just 'install' this concept and see a return within a year. It's the magnitude of the shift in your whole process that the digital twin enables. It's a long term turn around but if you don't make a move now, you'll be overtaken," Mr Jolley explains.
Skilled workforce: A workforce that can be upskilled and adopt to technological change.


Digital infrastructure: Depending on your level of digital maturity you will need IT infrastructure including wireless internet, powerful hardware, and software systems and devices and machines that are IoT enabled.


A migration plan, including change management.
How the digital twin drives value
By 2018, companies who invest in digital twin technology will see a 30 percent improvement in cycle times of critical processes, predicts IDC." -Forbes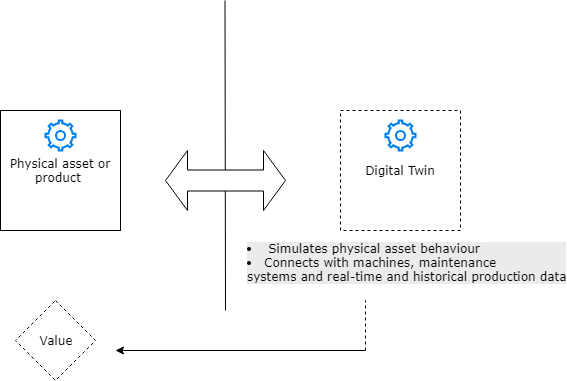 There are many different use cases for the digital twin that will result in different outcomes. SAGE's experience with the application has derived value from four key areas:
1. Design – Visualise your product digitally before you build it | Customer-manufacturer transparency | Opportunity to move to in-house design vs outsourcing | Mass customisation becomes more achievable because of digitised design and 'one click to production' process.
+
2. Data – Digital design immediately generates data and provides an opportunity to create and expand a digital ecosystem | Design data is linked directly to production and machines |Storage and analysis of this data explodes the possibility of streamlining quality, production, traceability, visibility and reducing rework and the likelihood of rework.

+
3. Simulation – The twin extends beyond digital design because it allows you to interact with, test and validate your product or asset through simulation. | Test exactly how a product modification will affect quality | Simulate how long a machine will run at a certain speed to identify maintenance opportunities
+
4. Convergence of your digital ecosystem – The digital twin connects design, production and even maintenance schedules in a digital ecosystem | The next level is when your equipment or machinery supplier is in your digital ecosystem too, so they're alerted to faults or can help you prevent failures before they occur.
= value.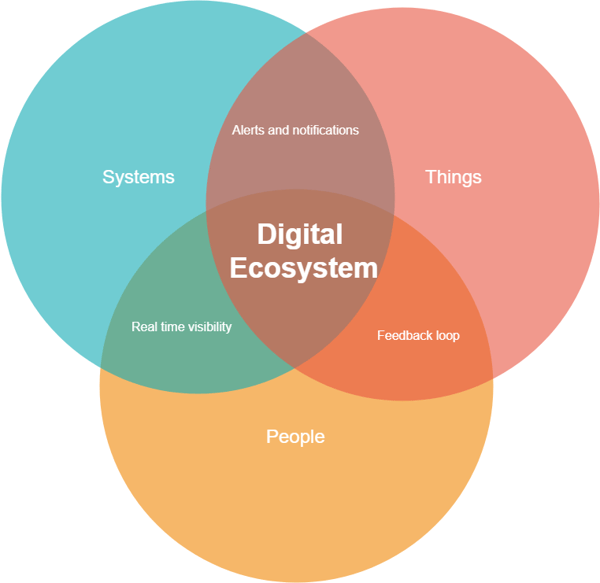 Examples:
Unlike your physical assets, (or some people!), the digital twin doesn't stay stagnant or get tired. Because the twin is constantly learning, modelling and applying advanced data analysis on the asset it mimics, new value opportunities are consistently identified.
e.g. Production line performance
Twins can create operational excellence by monitoring their physical twin and merging live data with an interactive visual interface. Production line performance data is usually presented with a 3D visualisation of the part, machine or line, improving an operation manager's ability to consider actionable insights.
e.g. Faster response to faults
Combining monitoring with machine learning algorithms, manufacturers are able to perform predictive analytics to identify and diagnose issues before they occur.
The result is improved asset performance and reliability.
'Socialising' your twins
Applying the digital twin to a single asset is only the beginning, as socialising the digital twin concept across a fleet of assets enables twin-to-twin assessments for optimized operations. The twin can be further socialised across a business, providing relevant information to decision makers and to enable better collaboration between people, processes and equipment.
Use cases for digital twin technology
Nuclear cleanup
At the Internet of Things Solutions World Congress 2018, Hitachi Vantara chief product and strategy officer Brad Surak, said digital twin technology was used to train Hitachi's PMORPH robot to help clean up the Fukushima reactor destroyed by the 2011 tsunami in Japan.
The first PMORPH robot deployed in the site got stuck, so Surak's team created a digital twin of the reactor itself to train the robot on how to navigate through the spaces and capture the needed measurements.
Asset life-time maintenance
The oil and gas industry has used digital twin technology for early and accurate detection of faults in aging infrastructure, predicting the remaining useful life of an asset given an operational context, or even to give guidance on the work scope for a field service team with recommendations of parts and skills needed to service them.
Streamlining manufacturing design and build
A firm supporter of Industry 4.0 and adviser to its clients on how to integrate digital and physical systems, SAGE has 'walked the talk', enlisting University of Adelaide engineering students to deliver a digital twin to its control panel manufacturing process.
The project removed the need for a physical prototypes and enabled SAGE to manufacture superior control system and electrical panels to clients – faster and at scale. The digital twin reduced margin for error, sped up production time, and grew SAGE's capability to take on larger orders in less time.
Read more: 'Digital twin' optimises SAGE manufacturing in industry 4.0 initiative
Leveraging data in predictive models
Some of SAGE's clients are starting their digital twin journey by breaking down predictive analytics into small pieces. For example TasWater used their live and historical data and machine learning to create a model that detects sewer blockages in their infancy, thereby preventing potential spill events.
How to start using digital twin technologies?
Ai Group's Business Beyond Broadband report confirms there is a strong link between investment in digital technologies and higher business performance. The digital twin is no exception.
We advise you to assess your current state, develop your plan and incrementally update your systems now, paying careful attention to your migration strategy, skills and change management and whole of business processes.
You may also find the business is more open to investment in digital technologies: over the past few years there has been a shift in the way business are investing in 4.0 – with CFOs signing off on industry 4.0 initiatives without the detailed ROI data they're traditionally used to, in recognition of the perceived value and competitive advantage 4.0 initiatives will bring.
Read more advice on getting started in our Q&A: Transforming SAGE's manufacturing process with industry 4.0 and the digital twin.
Data is a great leveler. Our sister company Nukon specialises in turning data into a useful tool. Find out how real time data can improve day-to-day operations, including fault finding for reducing downtime by downloading the free guide from Nukon: Driving operational efficiencies through real-time data.