Developing a 'data culture' in the age of big data
SAGE Automation, Published: May 22, 2018 - Updated: February 25, 2020 (8 min read)
The world has more data then it knows what to do with. IBM says the world creates two and a half quintillion bytes or 2,500,000,000,000,000,000 bytes of data EVERY DAY.
Manufacturing, defence, transport, utilities, resources, IT and consumer markets are awash with data that promises to enhance the way they operate.
The financial gains from using data to enhance operations is well understood. Research back in 2011 suggested that companies that adopt data-driven decision making would have a 5-6 per cent higher output than expected. In 2013 data-driven innovation was worth $67 billion in the Australian economy.
We can only imagine what that statistic is now, with data-centric 4.0 digitisation technologies already making waves in manufacturing and the utilities sector to name a few.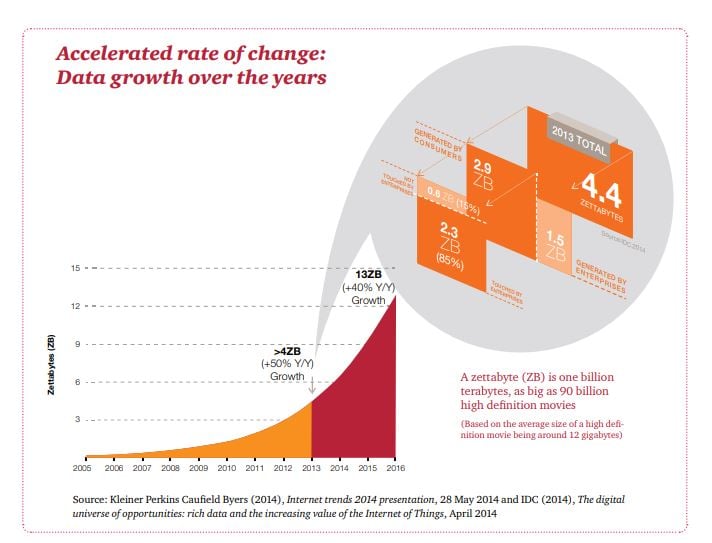 'Data is the new oil': Turning 'crude data' into action

"Data itself is not inherently valuable. Value is created by working more intelligently with it to innovate, invent, change business processes, and enhance decision-making." – PwC, Value to be unlocked from data report.
Making data-backed decisions within an organisation – and handling, storing and analysing such data to begin with – is not easy. It's all too easy to ignore reports, miss-handle data, or miss understand the output.
To avoid the pitfalls of mismanaged data, organisation's must create a strong 'data culture'.
Here are some lessons on promoting and growing a data culture:
Make data everyone's business
At its core, data must be understood at all levels within an organisation: From data collection at a machine on the shop floor, data entry and administration, data analysis and presentation, right through to knowing how to interpret data to make the right decision.
The data-driven organisation engages with its data at every staff level from executives, management, business support, engineers, technicians, operators, and manual workers – so a basic level of data literacy is vital.
It takes an educated workforce AND leadership to create a data culture that can handle and act on its data.
The benefits include improved quality output and more understanding between departments at the least.
Think about your barriers to data
MIT's Centre for Civic Media's Data Therapy report outlines some data culture barriers and remedies:
Confusion and fear about working with data
Not knowing the data you have access to
Organisational silos
IT centric thinking or 'IT ownership' of data
Data is irrelevant for their role
Boredom – collecting and entering data can be monotonous
Think about which boundaries exist in your workplace and how you could counter these.
Start with data collection quality

Technology and internet education firm O'Reilly, says the foundation of a data culture is in the quality of data collection.
If you still rely on manual collection methods, ensure shop floor staff understand the importance of regular, careful data collection and/or entry. This will go a long way to ensuring data integrity.
If you have more enterprise level software that automatically collects data – ensure staff know how to handle it to get the data they need for their jobs.
Upskill
"The ability to take data – to be able to understand it, to process it, to extract value from it, to visualize it, to communicate it – that's going to be a hugely important skill in the next decades, not only at the professional level but even at the educational level for elementary school kids, for high school kids, for college kids." Hal Varian, Chief Economist, Google
But the ability to understand data shouldn't be limited to statisticians. Basic data training can eliminate uncertainty around handling data from:
Decision making
Data entry
Data collection
Data analysis
Data manipulation
Data presentation
Start with basic, general training


At a basic level, training staff in Excel and analysing data will go a long way to improving skill levels but also promoting a data culture. Understanding how to manipulate data to knowing a few shortcuts in data entry will go a long way to building basic confidence around handling data.
Depending on the organisations skills need, hiring in or upskilling key staff on data cleaning and analytics for whole of business insights maybe required.
Lynda have some general, low cost courses for building data literacy: e.g. Avoiding common mistakes in Excel to avoid errors & Meta-analysis for Data Science and Business Analytics.
Build data-driven innovation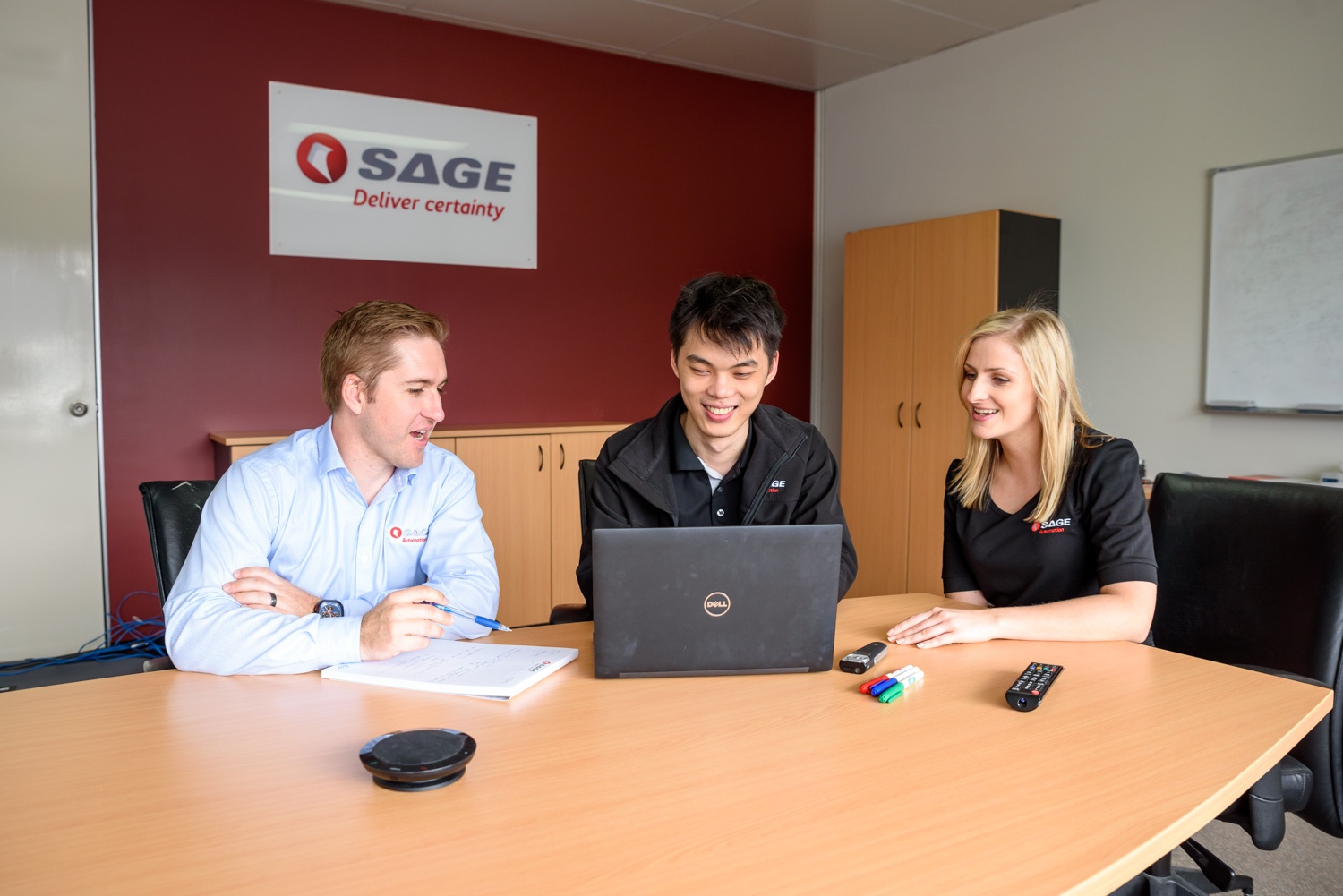 Once basic confidence in handling data has been built through training, the next step is in promoting its use in day to day decisions and projects. Data is a great leveller that helps the business challenge its assumptions.
A more innovative, data-backed organisation might do more a/b testing, innovation based on data, trial of new ideas on a small scale, or piloting concepts based on customer / real-time output data.
To do this, management must encourage staff to access, draw from, and trial new ideas through data.
A data-driven approach isn't about reporting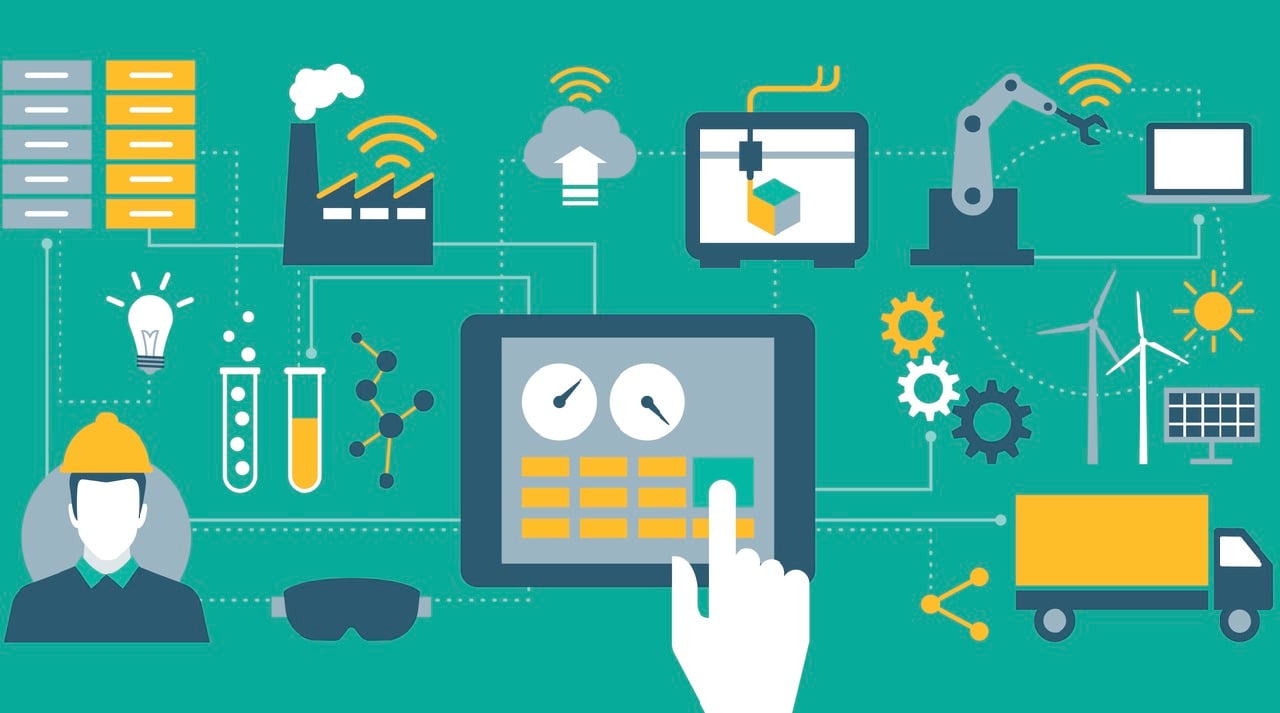 Foster a data culture through clear strategy

Leaders who want to promote a data culture need to communicate data as a strategy that will drive returns for the business. Some organisations have even appointed someone to manage their data vision.
This sends a clear message that data, above politics is how the business will makes its decisions.
Take a leadership health check
Are your leaders' decisions most often based on information, intuition, opinion or all of the above?
In some organisations, the highest paid person hierarchy can get in the way of good data. It must be clear that decisions aren't only made by way of an individual's opinion but by data too. Otherwise employees will not be incentivised to dig for, and present valuable data to management.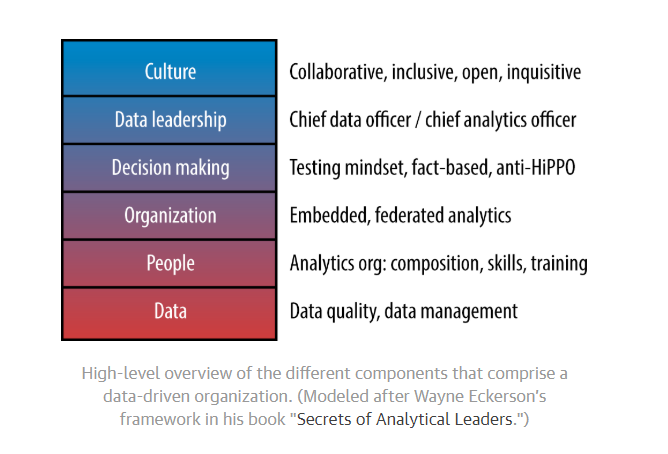 The proposed components of a data-driven organisation. Image: O'Reilly
Use your data warriors 'from the bottom up'
Your people who are confident in data can promote a data culture through being more vocal, visible, and proactive.
In an industrial context this could look like a maintenance technician using maintenance management software to analyse machine breakdown trends and suggest increasing the preventative maintenance orders on a particular machine. They could then share any improvements in machine performance with staff via intranet or notice board.
Unlocking data's potential

Despite saying it in 2006, Clive Humby's revelation: "data is the new oil" is more potent than ever. Michael Palmer, of the Association of National Advertisers, expands on Humby's quote:

"Data is just like crude. It's valuable, but if unrefined it cannot really be used. It has to be changed into gas, plastic, chemicals, etc to create a valuable entity that drives profitable activity; so must data be broken down, analysed for it to have value."
Companies who build the ability to refine and act on their data will ultimately hold the competitive advantage. And, central to achieving this advantage is in building a data culture that builds confidence, skills and performance around data.
Our sister company Nukon is the expert in harnessing data achieve business wide insights. From building a predictive analytics tool that detects sewer blockages ahead of time for TasWater, to consolidating IT and OT systems across Melbourne Airport, Nukon can give your operation unparalleled visibility and control over operations. Explore the case studies here.
For more industry news, blogs and insights, sign up to SAGE's Best Thinking Newsletter.