SAGE Automation in the spotlight at Euronaval, after signing major partnership agreement with Detegasa
Published: October 25, 2018 - Updated: October 25, 2018
As the world's largest naval conference Euronaval 2018 gets underway in Paris, Australian-based company SAGE Automation and Spanish OEM company Detegasa are celebrating a major commercial and industrial partnership agreement together.
An exclusive, ongoing support contract - signed just weeks ago - will allow SAGE to expand its existing through-life-support (TLS) capabilities for the Royal Australian Navy surface ships, by providing in-country support for Detegasa equipment on board LHD, DDG and future AOR vessels.
The contract, potentially worth millions of dollars to the Australian economy each year, will also set the basis for SAGE to manufacture Detegasa OEM equipment in Australia for future programs, including the BAE Hunter Class Frigates.
"We see this agreement and partnership with Detegasa as a game changer for our TLS delivery. We very much look forward to working with Detegasa to bring value to the Defence support managing contractors and Navy assets" said SAGE General Manager for Defence Paul Johnson.
Just weeks after sealing the partnership deal, SAGE Automation is continuing to broaden its horizons; this week attending the world's most prestigious naval conference Euronaval 2018 in Paris.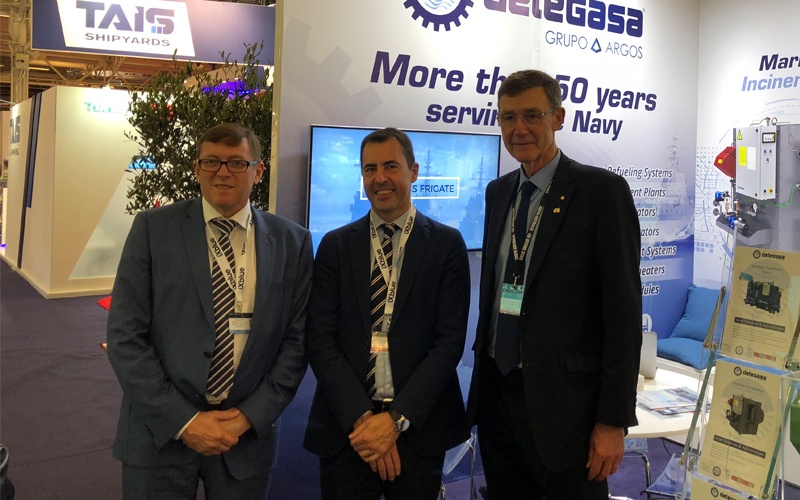 (From left) SAGE Automation Managing Director Andrew Downs, Detegasa Director General Andrés Moya Fernández and Sir Angus Houston celebrate the signed agreement at Euronaval 2018.
The company is among 400 exhibitors at the conference showcasing naval technologies of the future - allowing the Australian wide company a chance to promote its capabilities to an international audience and meet with world leaders in the maritime space.
"We have a unique suite of engineering services and a solid history of supporting and delivering naval solutions for prime contractors like BAE Systems, Thales and Navantia. This has meant SAGE has been able to successfully deliver more than 50 million dollars' worth of defence solutions in just over ten years" said SAGE CEO Adrian Fahey.
"Euronaval presents us with a unique opportunity to explore further exciting partnerships."
The South Australian-born company has enjoyed rapid growth in the defence sector since it entered the field more than a decade ago. Currently, thirty of SAGE's 350 plus workforce are employed directly in defence roles, as the company's national footprint continues to expand.
Presently, SAGE Automation is engaged to design, manufacture and test replacement Power Generation and Distribution assemblies for the Paluma Class Hydrographic ships.
To find out more about SAGE Automation and the company's work in defence, including upgrades to 6 Collins Class Submarines, view the case study below.