IoT enabled smart shuttle stop launches at CES
Published: January 10, 2018 - Updated: January 20, 2019
SAGE Automation and Local Motors have officially launched 'Accessible OlliStop' – the Internet of Things (IoT) enabled, smart shuttle stop that is set to revolutionize transport and accessibility services as we know them.
The SAGE-engineered OlliStop will be on display alongside Local Motor's driverless shuttle (aptly called 'Olli') at the international Consumer Electronics Show (CES) in Las Vegas this week.
In what's been hailed as a true IoT application, Olli and the OlliStop communicate with each other and the internet to offer passengers an interactive, smart experience tailored to their individual abilities.
Olli is also the first and only autonomous vehicle that taps into the natural language capabilities of IBM Watson – the smart business AI platform that learns the language and nuances of specific industries and professions, then augments human intelligence to scale expertise. This gives riders personalized interactions with Olli through conversation, route assistance, and destination recommendations.
*2019 update: Since this exciting launch at CES, SAGE has refined the technology and relaunched OlliStop as 'Matilda' the Smart Transit Hub. MAtilda debuted in a world first integrated driverless technology trial in 2019. For more up-to-date information visit the Matilda page.
The 'OlliStop' uses cameras, communication networks, voice recognition systems, sensors, lighting systems, software and IBM Watson's natural language capabilities to talk to passengers and provide real-time travel information and assistance.
But it goes beyond this….
Making transport accessible for all
The OlliStop was designed to communicate with and assist passengers based on their abilities:
Kinect sensors and sign language displays on LCD screens can communicate with people who are deaf; speaker amplifiers and coloured signal lighting assists those who are hard of hearing or who have difficulty communicating; and cameras and sensors detect the passengers, ensuring a level of security.
"Together with Local Motors, we've engineered something that will positively impact people's daily lives. It'll make public transport more accessible for the elderly and individuals with disabilities," SAGE Automation CEO Adrian Fahey said.
"At Local Motors our focus is on creating the best customer experience by bringing together the world's leading technology companies to make it happen," Local Motors Knoxville General Manager Gregory Haye said.
"That's why we have SAGE Automation integrating the technologies and delivering the automation solution for OlliStop," Mr Haye said.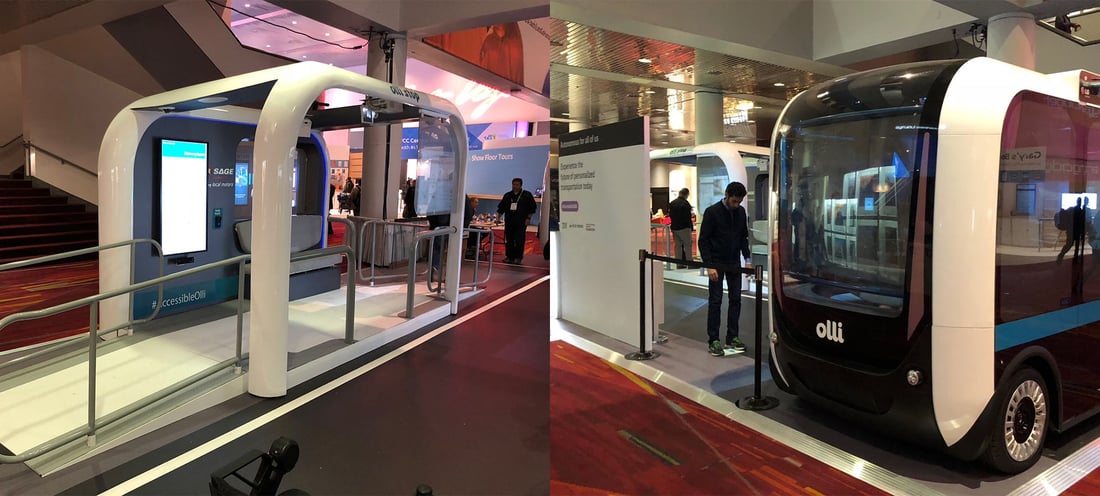 SAGE Automation's Ollistop and Local Motor's autonomous vehicle Olli on display at CES 2018.
The Olli and OlliStop solution is also Local Motor's answer to the 'first mile last mile problem' – where major public transport systems don't directly connect with people's homes or work places. The stops are built to be relocatable within a few hours – giving road authorities flexibility to trial different 'last mile' locations, or put additional systems in place for major public events.
"Our development of this prototype for the CES show is the first step in rolling it out publically," Mr Fahey said.
Smart design: from Australia to the USA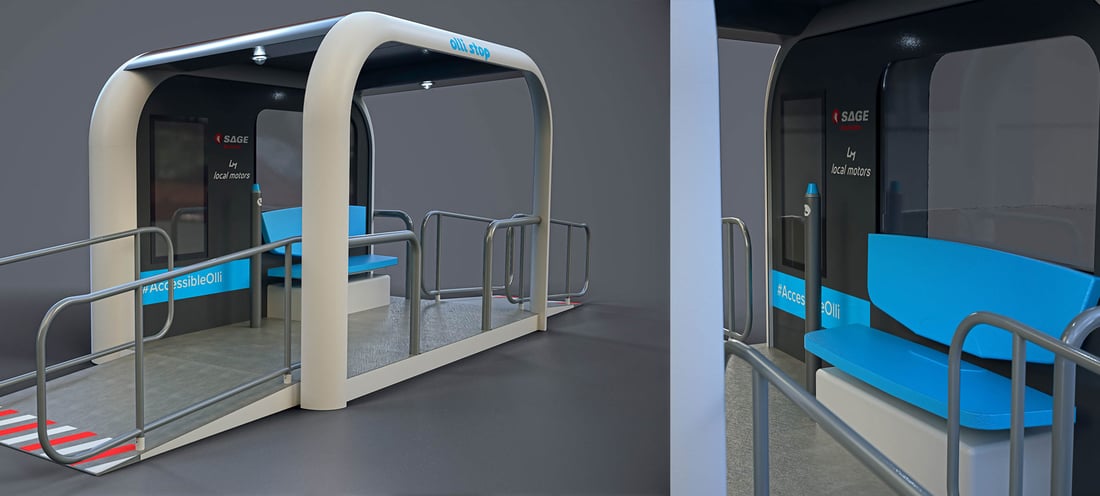 A render of the Accessible OlliStop on display at 2018 CES. Final product may appear differently than depicted. IMAGE: Local Motors
SAGE Automation designed and manufactured OlliStop from its international headquarters and Advanced Manufacturing Facility in South Australia before sending over the control system and other components for final assembly in the USA.
"The real exciting story here is in the technology application – making a shuttle stop 'smart' through the way we integrate technology so it can interact with people and Olli – that's groundbreaking," Mr Fahey said.
SAGE Project Engineer Matthew King said a range of technologies had to be integrated to communicate with each other, and Olli.
"SAGE created the Ethernet network that talks to Olli and integrated everything from sound and music control, automated announcements for arrival times, changeable lighting, kinect sensors, camera systems and security systems for remote monitoring of the bus stop," Mr King explained.
'Real world' OlliStop vs CES exhibit
The technologies in OlliStop work autonomously, so when somebody enters the smart shuttle stop, a process begins.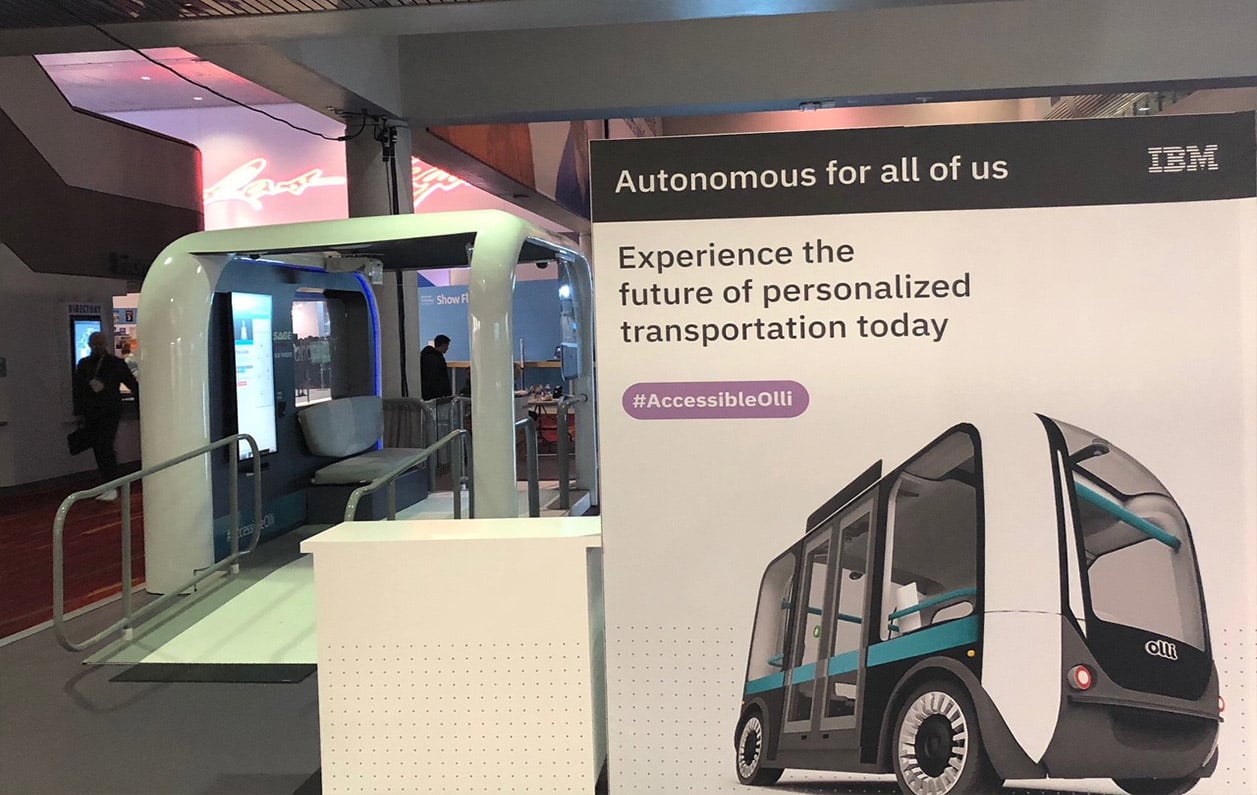 "When this is installed in your neighborhood, the OlliStop will use sensors to know when you're standing inside the shuttle stop and will run tailored features based on either your app data, or assistance requested by you," Mr King said.
But he explained, the display at CES will only give people a taste of OlliStop's accessibility features.
Every CES attendee will be given a Radio-Frequency Identification card linked to one of four different 'personas' with differing abilities: Brent, Grace, Erich and Katherine. People will walk through and interact with OlliStop as one of these personas – and OlliStop will react accordingly.
Those wanting to encounter the full OlliStop experience will have to wait till they're on our roads.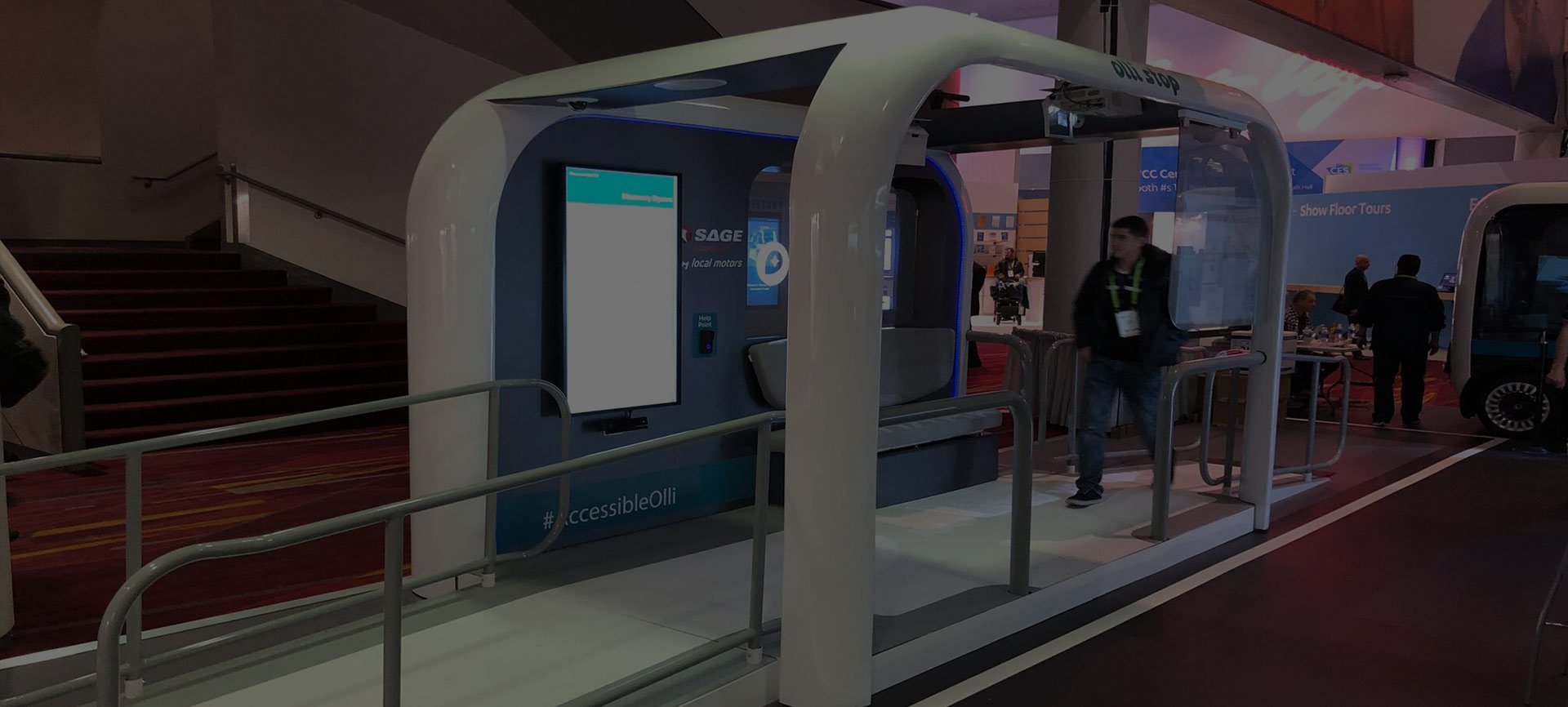 Smart shuttle technology makes transport accessible for all: OlliStop and Olli on display with Olli at CES 2018
CES, one of the world's biggest tech shows, will run from January 9­-12 and feature four thousand company exhibits and more than 184,000 attendees.
Update: since this exciting launch, SAGE has refined the technology and relaunched OlliStop as 'Matilda' the Smart Transit Hub. MAtilda debuted in a world first integrated driverless technology trial in 2019. For more up-to-date information visit the Matilda page.
Integrating the technologies of tomorrow with current infrastructure is one of the biggest challenges road authorities face.
SAGE engineers, manufactures and integrates connective data solutions for Addinsight – the South Australian Government's traffic intelligence system that provides real-time road traffic analysis of probe data from Bluetooth, WiFi and other sensor technologies. Learn how in our Case Study: SAGE innovates connective data solutions for smart motorways