Demand escalates for smart remote support solution
Published: March 21, 2019 - Updated: March 28, 2019
Industrial companies in their dozens are signing up for SAGE's brand new remote VPN service for the industrial sector.
The main takers of the Remote Service Module (RSM), are remote clients with mission critical plants who want to ensure they can minimise downtime, explained SAGE Queensland service manager Scott Gamble.
"Many are 2-4 hours away from a major capital city and don't have the technical automation skillset onsite to resolve faults. The RSM allows our experts to access their systems and work with the site team to diagnose and fix faults," said Gamble.
"Other clients want real-time visibility of their plant via their mobile devices, and the RSM provides this without the hassle of going through IT for a fixed VPN line system," he said.
Recent changes to a major VPN service provider's model has seen the demand for alternative VPN solutions increase – and according to Gamble, clients are excited about our answer to this challenge:
"When I mention the RSM I usually get a response like, 'That sounds perfect, we need that,'" he said.
"It speaks to a real need within the industry, especially with the increasing connectivity in our world through the Internet of Things – this is just another tool in our client's toolbox to ensure they can get their operation up and running as fast as possible."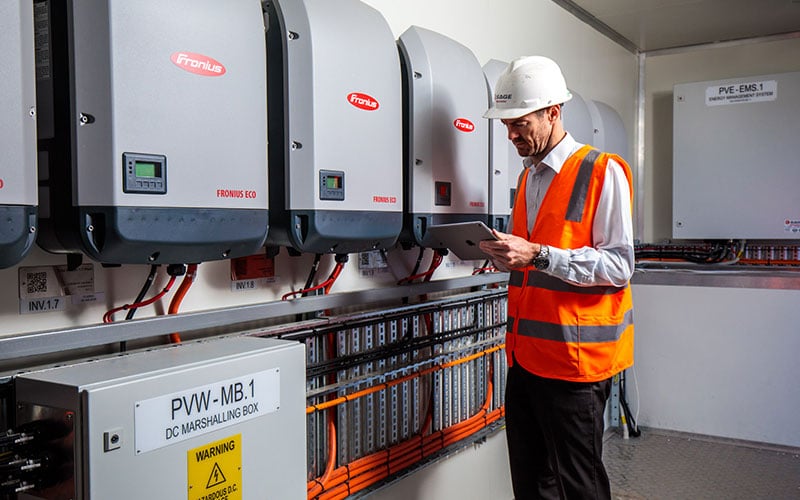 What is the RSM?: '150 experts in a box'
The RSM is a portable VPN developed by SAGE after realising the area of improvement and innovation. It provides remote access to a facility's control network – with minimal configuration required to the existing network.
"It is essentially a portable box that you can plug in to any location on your PLC network, allow a SAGE Service Technician to remotely resolve the fault via our National Operations Centre," said Gamble.
"We think of the RSM as a box with 150 experts in it – you have that instant connection to our team of technicians who can all work on solving your problem," he said.
The VPN service is secure with a 256bit end-to-end encryption, cypher and TLS authentication for maximum military-grade security.
Mr Gamble says the RSM is different to anything else on the market because it bypasses the need for traditional IT network configuration – a step that is normally required to set up a fixed-line VPN connection – and one that is often a road block for setting up the VPN.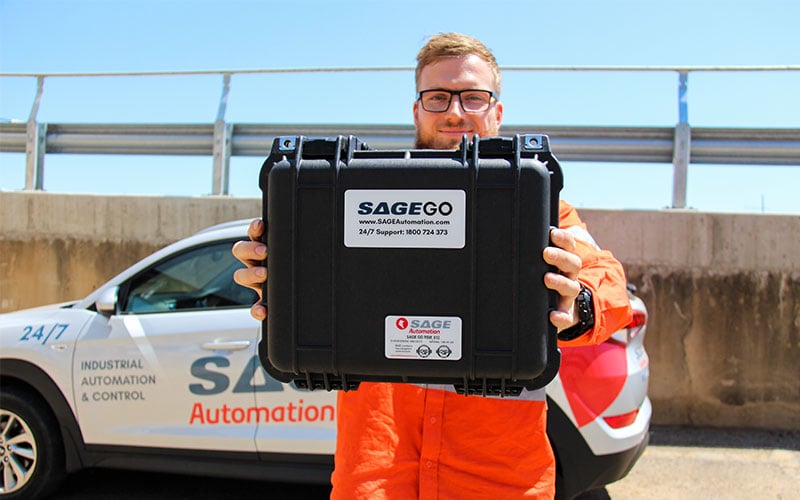 Cost-effective IoT solution
The RSM communicates via 3G or 4G and as such is relatively affordable.
"Clients can expect to pay a small upfront hardware cost, followed by an ongoing connection and data cost comparable to mobile phone plans," SAGE national service manager Deon McHatton explained.
"For managers with operational budgets this is a small drop in the ocean for something that reduces downtime resolution by as much as 4-8 hours," he said.
Gaining uptime for: oil refinery, food and beverage, agriculture, mining and water
A major Australian grain producer and processor with multiple grain storage sites across Australia is using the RSM to monitor its critical control systems required for gain loading.
"We initially used the RSM to provide monitoring during a project, then provided 3 months monitoring after completion. It's since stayed there and has paid for itself already," Victorian service manager Dean Goulding said.
Gamble said an oil refinery three hours' drive from Brisbane replaced its previous VPN service (now unsupported) with a panel-mounted RSM.
One QLD food and beverage producer was struggling to get a fixed-line VPN set up through their IT department – the RSM allowed them to bypass this because it was secure and only connected to the PLC control network.
A major mining operator with more than 30 mines, plants, sales offices and distribution warehouses across Australia and New Zealand is also using the service. One of its Queensland quarries (about 3.5 hours out of Brisbane) was looking to reduce costs involved in both travel and downtime to support the site out of Brisbane.
"The site understandably needed a secure, remote access solution and the RSM was an easy fix," said Gamble.
A mining village operator in North Queensland is responsible for the site's sewerage treatment plant.
"They [the operator] wanted to gain remote, real-time visibility into the plant's HMI via their mobile devices, and we were able to offer this with the RSM and a Virtual Network Computing VNC app."
Finally, a state government owned utility with stringent security protocols has begun monitoring some of its regional sites using the RSM.
Once you get started, you don't want to stop. Download our SAGE service app for 24/7 service on-the-go, so you never have a lengthy wait for service again.