Technical Skill Shortage: The Biggest Challenge Our Clients Face
Laura Mabikafola , 2 August 2017 (4 min read)
This year, we have surveyed a significant segment of our customers across industry, to better understand what challenges they face and to ensure that we as a partner, continue to offer services which support them to solve those challenges.
While the results did not shock us, we were a little surprised that so many, almost half of our customers, are challenged by ensuring they have the right technical skillsets to support their operation.
They told us that the key challenges they face are...
• Changing market demands (6% of customers)
• Continuous Improvement (18% of customers)
• Aging Technology (29% of customers) and,
• Skillsets (47% of customers)
Let's clarify 'skillsets' for a moment
Our discussions told us that skillet challenges do not simply refer to difficulty filling a vacant role on the org chart, but more ensuring the specific skills of their team align with their current and future technology. These specific skillsets support companies to meet their KPI's, effectively operate critical assets and reduce downtime. They are kind of important.
For an organisation competing and looking to improve performance, it is these technical skills that will support them to be the best they can be, make the most of the equipment they have and the skills they need their team to have to serve them into the future as their plant and equipment evolves.
It is a very specific challenge and requires a very specific solution
Every customer we work for, without exception, has a unique combination of equipment, systems and technology. There is no out-of-the box training, which can improve the skillsets of their teams, it requires a custom solution.
If this sounds like you, why not take a leaf from the book of companies like Coca Cola Amatil, Treasury Wine Estates, BAE Systems, Glencore, CSL Shipping, Lion and Toll, who have engaged SAGE Training to develop curriculum specifically for their needs, specifically for the skill level of their team and specifically aligned to the areas in which improvement in technology skills will impact their bottom line.
Tailored solutions produce improved results
There is nothing more engaging than specifically targeted training on your systems, your platform, even in your premises if you prefer, and there is nothing that effects your business performance more than a highly skilled team, confident operating the technology that is critical to your operation.
We believe this so strongly, that we have developed a formula to measure skill levels prior to training and after training and their impact on operational performance and efficiency, to give you a quantifiable ROI.
We call it the SAGE Training Way and it starts with a core purpose, a clear understanding of the current situation, then custom designed training is delivered and learning outcomes are demonstrated to determine ROI. We take it pretty seriously and we know we deliver ROI.
Customised training … sounds expensive?
SAGE Training draws on the wealth of experienced engineers that work with all major technology platforms every day to develop really valuable training. This expertise ensures our training isn't the basic 'how-to', it includes all the tips, tricks and real-life skills to draw every bit of value from your technology.
We work with you to build the skills which will deliver real value to your operation. Value in increased uptime, value in faster fault resolution and value in an enhanced ability to use technology for innovation and improvement.
Customised doesn't always mean more expensive. In fact, having something designed specifically for your operation and held on your premises can, in fact, be more cost effective when looking at team training. It's not about working out what training budget you have, it is about understanding the operational efficiencies and performance improvement you want to see and enabling this by investing in your people and their skillset development.
Be like Google
Google aims to make things 10 times better than they are, they don't believe in incremental change. They have a philosophy they call 'ten things we know to be true', which forms a culture of empowerment of their team to embrace concepts like 'great just isn't good enough' and 'it's best to do one thing really, really well'.
If you're looking to deliver improved performance, it means you're looking for something to change and change can be hard. It can be hard to get employees to embrace the change required to see real improvement.
A critical element of improved performance, is not just bringing your team on the journey, make it theirs, they have to own it. It has to be them setting the improvement benchmarks and targets, seeking the training that will empower them to improve, innovate and deliver high performance.
They will thrive and your operation will thrive. A customised solution is the optimum way to get this type of engagement. Oh, and to make change even easier, we can support your operation while you train with our Control System Technicians shift coverage. We really do have your back.
What results can you expect?
Here is the actual feedback our students gave after training with us this year: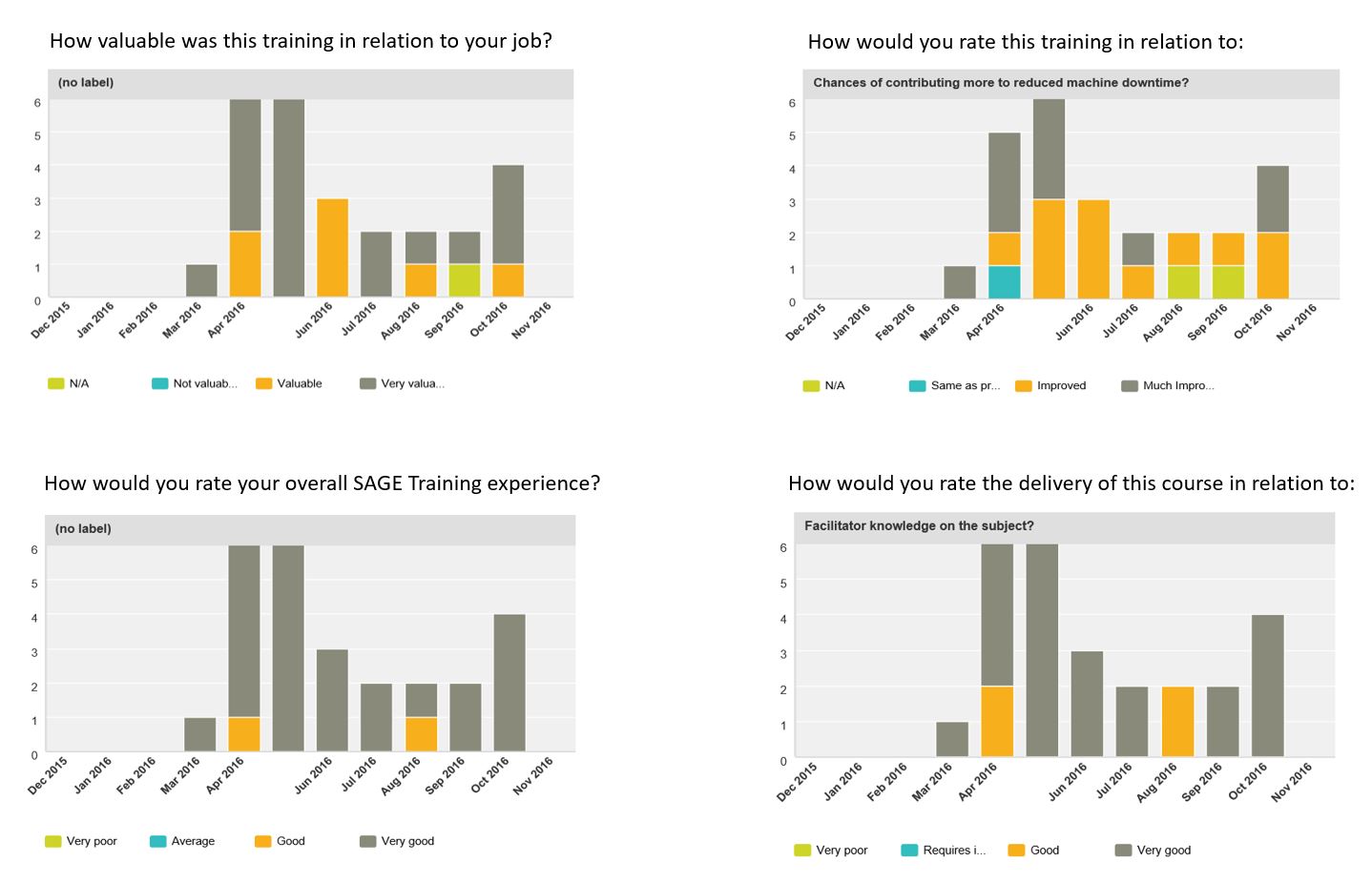 Need to develop a business case for automation training? Get started with our free guide to building an ROI-based case for training.