Work placement students bolster cutting edge ITS projects
Published: December 4, 2017 - Updated: September 3, 2018
SAGE's most recent work placement students have topped their classes in their assessments for work on some of the company's most cutting edge Intelligent Transport Systems (ITS) projects.
The Flinders University mechanical and electrical engineering students – who all worked within SAGE's ITS division – ranked the top of their classes for their final practical assessments, which included a presentation and poster component.
"SAGE's recent ITS placement students have achieved some great results both academically and in their project work," SAGE's ITS Manager Damian Hewitt said.
"Each of them have made very real contributions to some of our best projects in ITS and driverless car technologies."
Keith Man was awarded best presentation across all six engineering streams with his project work on SAGE's Passenger Detection Program – a ground-breaking technology that will enable road authorities to detect the presence of individuals using Wi-Fi. Understanding how many people wait at public transport stops at specific times will assist road authorities to better plan and resource transport services.
Fellow classmate Daniel Pescatore was awarded second place after Keith in the Electrical and Robotics stream for his presentation of the Automatic Tidal Flow Traffic System, which will see lanes in Sydney's Northern Beaches roads reverse traffic direction during morning peak hours.
Meanwhile, Mitchell Keough picked up first place in the Mechanical Engineering stream, for work on an intersection warning system that will enhance road safety in remote WA. The system will use a range of ITS sensor devices to provide advanced warnings to motorists whenever long trucks are entering one major intersection on the state's Great Northern Freeway.
Lastly, Matthew Markiewicz's work on a project involving driverless vehicle technology received top marks, but he wasn't able to publicly present due to the commercially sensitive nature of the project.
The project is part of a major partnership with Local Motors to develop a smart bus stop that will integrate with driverless shuttles and talk to passengers using a range of technologies including AI, cameras, voice recognition and sensors.
"They've all made their mark on these projects. Daniel helped design Australia's largest tidal lane changing system and Keith was integral in SAGE achieving a proof-of-concept for its passenger detection technologies," Mr Hewitt said.
"Matthew handled the communication with our overseas partners to build a smart 'OlliStop' for driverless public transport shuttles, and Mitchell helped design the truck signalling systems that will save lives on the country's remote roads."
"They can all be very proud," he said.
The students made such valuable contributions during their 20 week work placements, that all four have been offered part time work at SAGE for the duration of their degrees.
Student and project profiles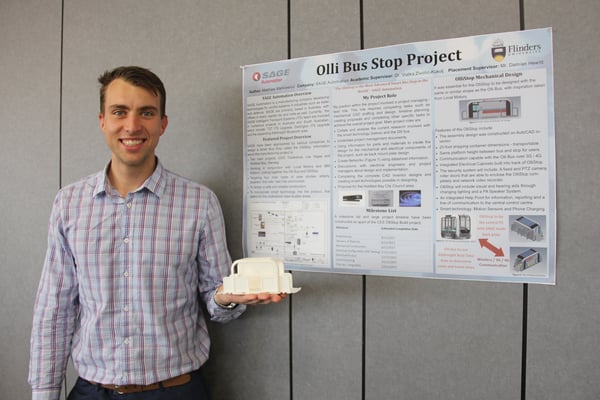 Name: Matthew Markiewicz
Degree and University: Bachelor of Engineering (Mechanical) at Flinders University
The SAGE Project you worked on: Smart Bus Stops Project – OlliStop
Project in a nutshell: SAGE was tasked with designing, engineering and manufacturing an electrically and mechanically smart bus stop for use in collaboration with the Local Motors driverless shuttle named 'Olli'. The 'OlliStop' uses cameras, communication networks, voice systems, lighting systems and software to talk to passengers and help them navigate to their end destination. Autonomous shuttles and smart bus stops like these are expected to revolutionise services given to the tourism, disability and aged care sectors to name a few.


SAGE Automation has shown leadership in this space by designing, project managing and integrating smart technologies to deliver a completed 'OlliStop' with Local Motors. It will be on display at the International Consumer Electronics Show in Las Vegas in early January 2017.
Your role in the project: Project management, stakeholder engagement and engineering
What challenges did you face along the way? How were they resolved?
I had to liaise with key stakeholders in the USA, which required a lot of odd hours and additional communication to ensure we were clear on requirements. We also had to build the electric components here at SAGE's Advanced Manufacturing Facility to integrate with the mechanical components being constructed in the US, so that was another challenge that we resolved through clear and regular stakeholder communication.


Lessons learnt: Working with the engineers at SAGE has helped increase my knowledge in electrical systems and of how processes work at an industry level. I'm also now more experienced in problem solving and engineering solutions, especially in materials selection.
The thing you're most proud of at SAGE: Using both electrical and mechanical engineering concepts to solve engineering challenges was a highlight, but the feeling of seeing your project built and delivered is definitely something that I am most proud of.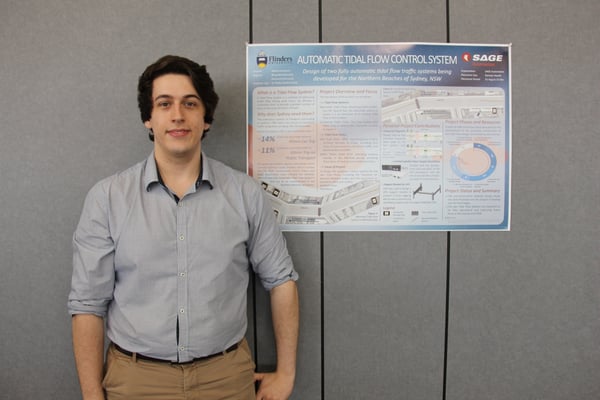 Name: Daniel Pescatore
Degree and University: Bachelors of Engineering Electrical (Honours) & Bachelors of Engineering Mechanical (Honours), Flinders University
The SAGE Project you worked on: Northern Beaches B-Line Tidal Flow System Design
Project in a nutshell: SAGE has partnered with a leading road construction company and road authority to design, built and deliver two fully automatic Tidal Flow Systems for Sydney's Northern Beaches roads.
A Tidal Flow System is a method of improving traffic flow by using a reversible lane to change traffic direction during peak hours. In this system, the morning peak hour (5–10am) road will have four lanes for inbound traffic, and two lanes for outbound traffic. The road automatically changes at allotted times using ITS devices: movable medians that move using motors, lane lighting, ITS signs and a series of sensors and thermal cameras to control traffic while the lanes reverse direction.
These systems are the smartest, safest Tidal Flow Systems in Australia to-date.
Your role in the project: I assisted with the development of the Automatic Transition Sequence for the two Tidal Flow Systems, as well as in the development of the In-Pavement Lighting Controller to be used to delineate the road lanes.
What challenges did you face along the way? How were they resolved? Design changes which resulted in several iterations of designs and documents. It took a lot of hard work from the team as a whole to get these design changes implemented, and it was a huge win to get the design submission to the client on time despite this.
The thing you're most proud of: Assisting the TFS Project Team in getting the project design completed and submitted to the client for construction approval. This was a huge milestone for the team, and it is awesome to be part of that.
What's your experience been like at SAGE? SAGE has given us awesome platform with some very talented engineers and project managers to learn from. We've all been given great projects to work on and we're all hard working students. These two things add up. I'm very happy and glad to see that everyone went so well in their assessments.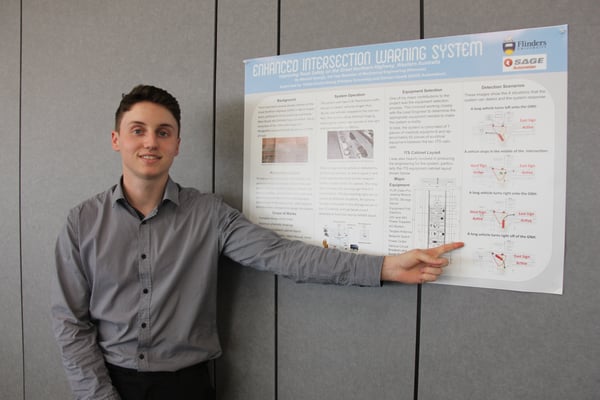 Name: Mitchell Keough
Degree and University: Mechanical Engineering (Honours) at Flinders University
The SAGE Project you worked on: Developing an Enhanced Intersection Warning System in Port Hedland WA.
Project in a nutshell: The Great Northern Highway in WA faces a unique road safety challenge: road trucks upwards of 50m long can block both lanes when turning, which creates a hazard for other drivers.
In a bid to increase safety for road users, SAGE has been tasked with designing and implementing an enhanced intersection warning system that detects road trains using thermal cameras and warns oncoming drivers by activating flashing warning signs.
Your role in the project: Assisting with the engineering and electrical design. This included choosing the equipment and its placement on the roads, camera and warning signs placement, electrical drawings and cabling design for field equipment.


What challenges did you face along the way? How were they resolved? Being a mechanical engineering student, I wasn't very familiar with some of the electrical concepts I came across when I first started at SAGE. Over my time here, I've learnt quite a lot about complex electrical design in the ITS industry.
We also faced a large scope change during design phase, which demanded the system detect trucks in four different scenarios with different warning signals for each one, for example a truck turning right onto the freeway, versus a truck turning left off of the freeway.
The thing you're most proud of: Winning best Mechanical Engineering stream presentation out of 20 other students at the Flinders Work Placement Expo.
Lessons learnt: Working with the Project Manager has been invaluable as he's got a wealth of experience in ITS. This project has also taught me how diverse engineering can be, and has opened up the possibilities of where it could take my career.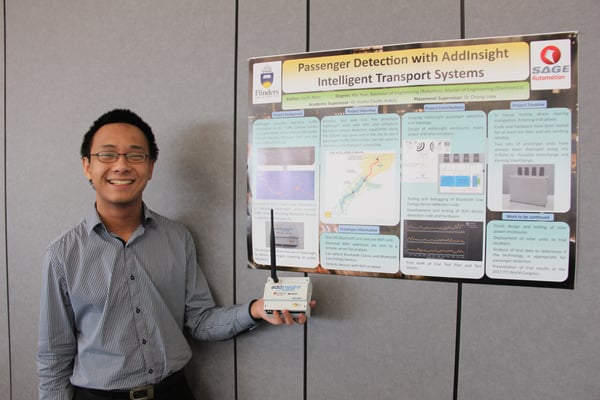 Name: Keith Man
Degree and University: Bachelor of Engineering (Robotics)/Master of Engineering (Electronics) at Flinders University
SAGE Project I worked on: Passenger Detection with Addinsight
Project in a nutshell: This was an investigative project that looked into the viability of using Addinsight technology for passenger detection using Wi-Fi. Prototype Addinsight units were designed, built and trialled. From our initial findings, the Addinsight system is capable of being used for passenger detection and will provide valuable information to assist in improving public transport services.
Your role in the project: I undertook the development and testing of software and hardware for the Passenger Detection unit trials, which included the analysis of trial data.
What challenges did you face along the way? How were they resolved? My personal challenge was entering a workplace that I wasn't familiar with and starting work on an ongoing project. The best way for me to integrate into the project was to ask questions. It was better that I ask than to dive headfirst into the project blindly.
At a higher level the challenge was in the nature of the project itself: the trial and development of prototype units. As with any trial of technology, we didn't know what to expect, or what would work and what wouldn't. It was about setting our own parameters and changing them and observing the results. There wasn't much I could to prepare, so I had to take things as they came and think about how to solve each problem as it arose.
The thing I'm most proud of at SAGE? Getting the Addinsight units to detect Wi-Fi devices is what I consider my best achievement at SAGE. It's a completely new addition to Addinsight and it felt great to know I was a part of this breakthrough achievement.
What did you like most about work placement at SAGE? The best part was whenever we got the data back and saw the results were what we hoped for – that's really rewarding. It's also exciting to be a part of such cutting edge technology like Addinsight and developing detection technologies. Before this, I had no idea our roads were so smart. Now I know it's out there, and that I was part of it and I can tell people that I was part of it. It's a great feeling!

Read more about SAGE's transport and infrastructure projects and our Graduate program here.