SAGE Automation brings trolley sanitising system Sanitizit to Australia
Published: December 9, 2020 - Updated: December 9, 2020
In an Australian first, SAGE Automation will be manufacturing an innovative trolley sanitising system for use across Australia and New Zealand.
The US-developed Sanitizit is being locally manufactured at SAGE, with machines distributed across the regions in coming months.
A number of Drakes Supermarkets in South Australia are already rolling out the units in stores, with the system receiving positive feedback from customers.
During a visit to SAGE's advanced manufacturing facility, Premier Steven Marshall said that SAGE was an agile, innovative company who has taken the opportunity to transform their manufacturing base to take advantage of the current climate.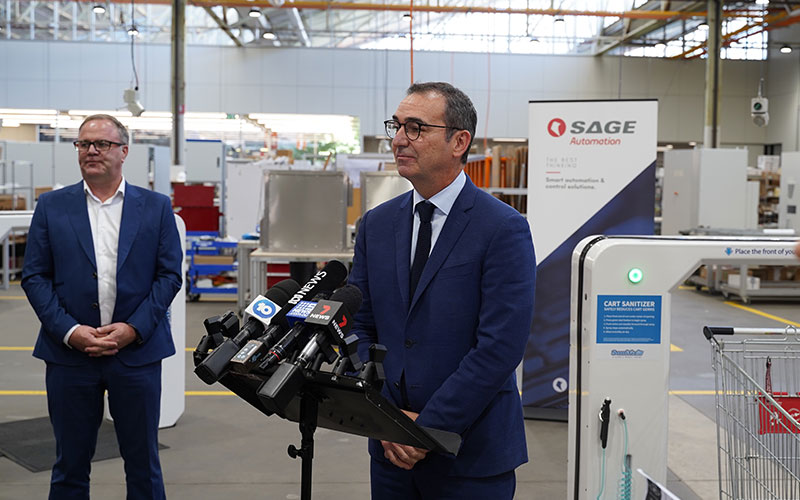 South Australian Premier Steven Marshall and SAGE Group MD and CEO, Adrian Fahey.
"SAGE is a company that has operated for 25 years and continues to invest in a range of products and services which are meeting the changing needs of consumers and businesses around the country."
"SAGE Automation will manufacture and distribute the innovative sanitising machines at Tonsley Park Innovation District - another outstanding example of a South Australian business quickly adapting to the economic reality of a COVID-19 world," said Premier Steven Marshall.
The Sanitizit product was developed in the US to sanitise shopping trolleys in retail, medical and airport environments. It works by providing a measured dose of sanitising solution as a mist blanket that covers the entire trolley as it is passed through the unit.
SAGE Automation partnered with the developer of Sanitizit to manufacture, supply and support the units in the Australian and New Zealand markets.
SAGE Group Managing Director and CEO, Adrian Fahey said, "SAGE will be the exclusive manufacturer of the Sanitizit product in Australia from our advanced manufacturing centre at Tonsley and will provide ongoing support nationally via our 14 state and regional office locations."
"We will be looking to build on the product, introducing new locally developed smarts into the system."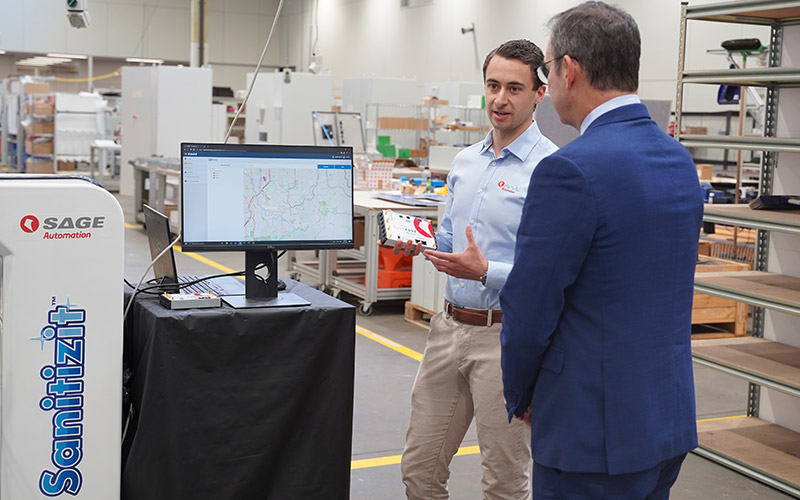 SAGE Automation Project Manager, Phil Herweijer, explains to Premier Marshall how the SAGE Edge device
will allow collection of data analytics and enable remote updates.
The locally developed smarts being installed is the SAGE Edge device, an Industry 4.0 IoT-connected controller, which will be fitted to every sanitising unit. Adding the device allows the Sanitizit units to connect to SAGE's Centralised Management and Monitoring System (CMMS), so users can centrally configure, monitor, track and maintain all deployed units.
SAGE Edge and the CMMS enable remote updates for the units, while also collecting data analytics including machine usage, location and status – with the ability to provide alerts for alarms and faults.
Sanitising units trialled across Australia show strong demand for product
Mr Fahey confirmed retailers have shown great interest in the sanitising units, with one supermarket currently trialling the unit sanitising 1000 shopping trolleys per day.
SAGE has identified markets in the retail, medical (wheelchairs) and airport (luggage trolleys) spaces where the Sanitizit unit will provide the public and operators with enhanced cleanliness and peace of mind.
The Sanitizit units:
Improve efficiency for the retailer by negating the need for hand-sanitising trolleys
Can sanitise one trolley or a bank at a time, as the dosage of sanitising solution can be adjusted to suit
Sanitise the whole trolley, not just the handle
Include a wand for quickly sanitising shopping baskets
Are low voltage and use little power to operate
Reduce waste by eliminating disposable wipes sent to landfill.
Manufacturing of the units will commence soon, creating Australian jobs in manufacturing and technology sectors, with local support quickly available to users through SAGE's national team.