Behind-the-Scenes Look at an Internship with SAGE Group
Published: October 16, 2018 - Updated: October 16, 2018
Adelaide University Students Millie Errington and Ethan Lov have each completed 10 week internships with SAGE Group's finance department.
We asked Millie & Ethan about their time at SAGE: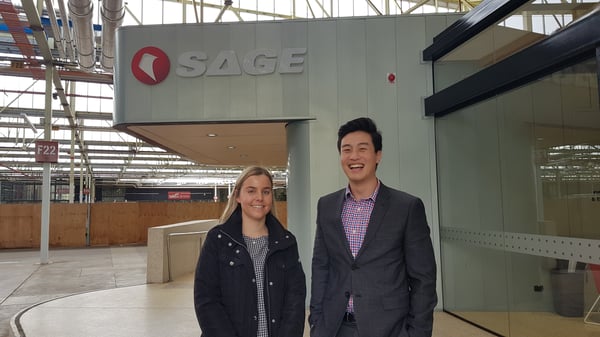 Q: How would you describe your time at SAGE?
Millie: "It was a rewarding 'real-life' experience. It allowed us to be able to see how the business works from within."
Ethan: "The internship was an eye-opening and really valuable experience which allowed us to be exposed to different areas of the business."

Q: Describe the culture at SAGE:
Millie: "Everyone was really friendly, supportive and welcoming."
Ethan: It was my first time in a professional environment but everyone was always friendly and willing to help out. SAGE seems like a very tight-knit team."

Q: What are your career goals?

Millie: "I would like to get into accounting."
Ethan: "Originally, I wanted to get into auditing, but after my stint at SAGE I would be more open to applying for corporate-like jobs too."
Q: What did you like most about SAGE?
Millie: "I really like that SAGE is part of the Tonsley Innovation District. It is an up-and-coming and innovative place in Adelaide."
Ethan: "I liked seeing how the details in the work can become part of the bigger picture."
SAGE Group actively takes part in university placements and the upskilling of graduates from finance, marketing, engineering and intelligent transport systems specialists. You can find out more about our graduate program here.
Always committed to training tomorrows' workforce with industry 4.0, SAGE Group also offers automation training for the industrial sectors through Skills Lab.