SAGE's 'Matilda' shortlisted for a 2019 Smart Cities Award
Published: May 15, 2019 - Updated: May 15, 2019
SAGE Automation's one-of-a-kind smart bus stop 'Matilda' has been shortlisted for the 2019 Smart Cities Award in the 'Best Integration of an Individual Technology' category.
The award category aims to recognise the best new, stand-alone technology integrated within a metropolitan or regional city.
The Matilda was developed by SAGE in 2018 – and offers a glimpse of what's in store for the future of transport. Matilda essentially bridges the gap between first and last mile transport (the journey to and from ordinary public transport) and delivers tailored passenger experiences in the process.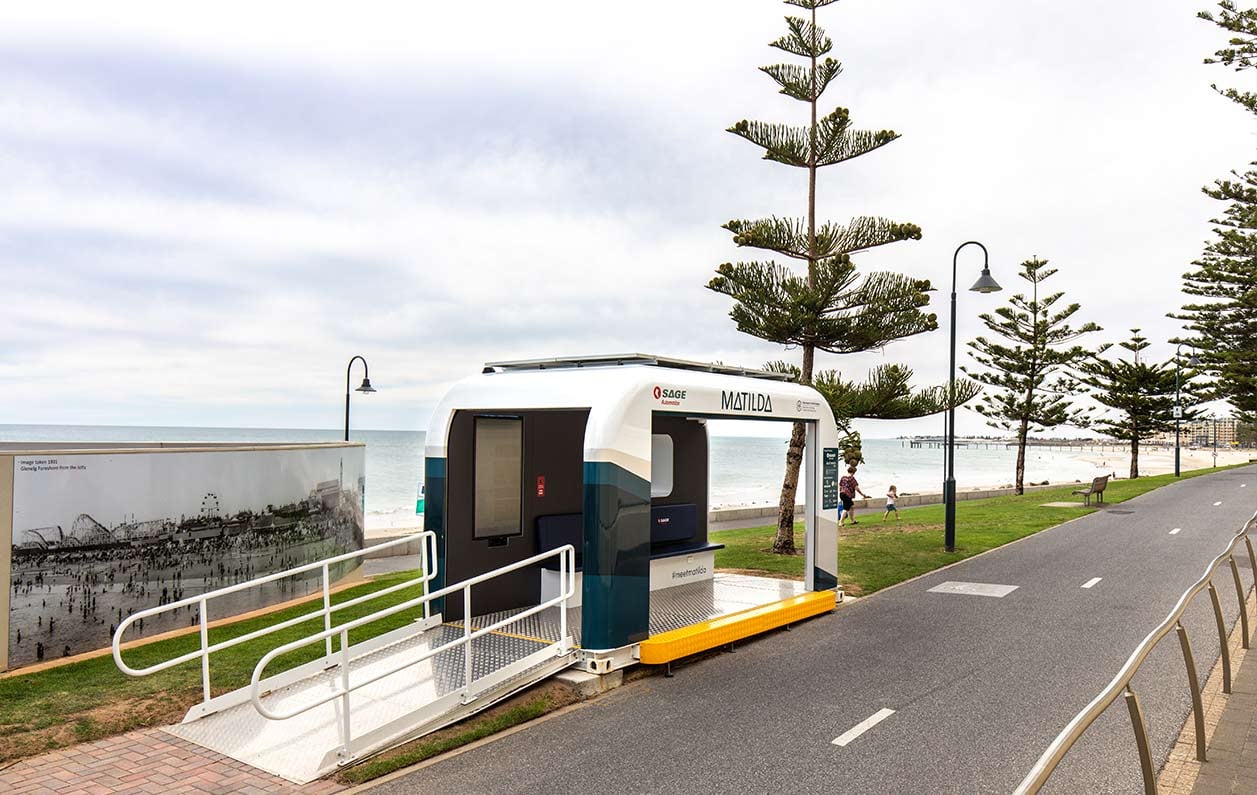 Leading-edge technology was incorporated into Matilda's design including cognitive voice assistance, a Kin Tran vision system that can interpret and communicate via sign language for hearing impaired users, as well as a fully customisable interactive screen for bookings, alerts, advertising and tourism information displays.
The design also features solar panels, ePaper, wireless device charging stations, 24/7 security cameras, LED lighting, an emergency call button linked back to SAGE's National Operations Centre, plus wheelchair access ramps, alongside many other smart-mobility features.
"Matilda is part of creating a more inclusive and smarter future of transport for everyone, including people living with vision or hearing impairment." SAGE Senior Control Systems Engineer Dr. Chong Liaw said.
"We feel fortunate to have the opportunity to improve the quality of life for all members of our community. This is another step towards giving them the ability to enjoy greater independence outside of their homes." he said.
Matilda connects to autonomous vehicles via high-speed mobile link, displaying vehicle performance in real-time. This includes the position of the vehicle on a map, which can be observed by waiting passengers.
The winners will be announced on in Melbourne on May 31st, as part of the Smart Cities 2019 conference.
SAGE is fast becoming a leader in the Smart Cities space with multiple projects underway with councils including City of Marion and City of Unley.
Click here to see who SAGE will be competing against within the 'Best Integration of an Individual Technology' category.