SAGE recognised with Schneider Electric Master Alliance Partner Status
Published: June 28, 2019 - Updated: June 28, 2019
SAGE Automation is excited to have been named a preferred Master Alliance Partner in Schneider Electric's water and waste water sector.
The accreditation makes SAGE Automation one of just two Master Alliance Partners in Australia in the water and waste water market.
Announcement of the accreditation took place at the Schneider Global Systems Integrator Alliance conference in Paris, France. The event brings together more than 600 industrial automation partners from around the world to exchange ideas and share industry best practices.
The Preferred Master Alliance Partner status is awarded for demonstrating technical excellence in the water and waste water (WWW) market, including:
Successful implementation of Schneider solutions, evidenced through project references validated by clients
Clear focus of the SAGE business and strategy on the WWW segment
Successful completion of Schneider Electric's Water & Waste Water EcoStruxure value proposition training.
SAGE CEO Adrian Fahey was in Paris for the announcement and expressed the importance of the long-running relationship with Schneider Electric.
"Our partnership with Schneider has extended to not only include Master Level status as Systems Integrator but now also includes Preferred Systems Integrator Alliance Partner for Water and Waste Water," Mr Fahey said.
"This accreditation highlights our maturity and many achievements in the water space, as well as demonstrating the industry-leading knowledge and solutions our team can bring to each project," he said.
Mr Fahey was also invited to present at the Innovation Days conference, where he spoke of digitalisation in the systems integrator world.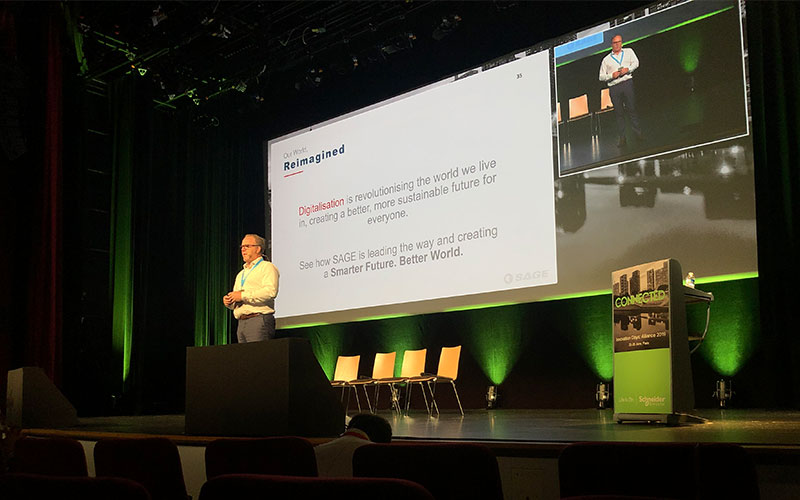 CEO Adrian Fahey presenting SAGE's vision for a smarter future, better world at the Innovation Days conference in Paris.
A number of SAGE Automation engineers were in attendance to gain valuable industry insight on topics relating to smart operations, workforce empowerment and asset performance.
Partnering to bring end users the best thinking in automation and control
The Master Alliance Partner accreditation is a result of many years of demonstrated experience in the water and waste water market.
SAGE Automation has been involved in the water and waste water industry for more than 20 years. In that time, it has provided control system solutions for many major water utilities around Australia, including a stormwater management and reuse scheme in Murray Bridge that allowed for the harvesting of more than 220 megalitres additional water.
About the System Integrator Alliance Partner accreditation
The Schneider Electric System Integrator Alliance Program combines a network of system integrators to bring the best thinking to end users. Program membership includes support for increased technical capabilities, offering greater opportunity to increase value for end users.
Master Level is the highest level of the program, where partners must show evidence of technical expertise in project execution, automation and process applications.
In 2018 SAGE was named as a 'Master Level' in the Schneider Electric System Integrator Alliance Program, one of only six in the world.
SAGE Automation has enabled clients to secure water reliability for both regional towns and major metropolitan centres across Australia.
Read more about SAGE's involvement in future-proofing water supplies: Waste water delivered to 8000 new southern homes.