Adelaide businesses join forces to deliver world-class training for international Energy Professionals
Published: June 8, 2017 - Updated: December 6, 2017
Energy professionals from Pakistan have undergone world-class training in control systems in Adelaide – with the goal of improving the country's energy sector performance as it experiences rapid economic and population growth.
Growing demand for energy in Pakistan has resulted in a change in the energy mix with emphasis on indigenous natural gas, and hydro and thermal power.
This change has resulted in increased focus on monitoring of performance standards and, the Supervisory Control and Data Acquisition Systems (SCADA) used to operate energy assets are key to addressing the challenge.
As part of a wider project headed by World Learning and funded by USAID Training for Pakistan Project, SAGE Automation won the right to deliver the highly specialised SCADA training at its Adelaide and Melbourne sites.
SAGE National Training Manager Laura Mabikafola said the company's unique position of being both an industry and training provider meant they could deliver a highly-tailored course.
"Based on our experience with energy sector we delivered a highly technical and specialised training program targeted at equipping the participants to make better decisions around the use of SCADA systems in their own context," Ms Mabikafola said.
"It's exciting to see that we can tap into our SCADA project experience, extensive client network and hands-on training program and bring that all together into a targeted training program that will really impact a range of organisations in a different country."
The 10 participants – selected from various energy sector organisations ranging from mid-career to senior level – completed one week of formal Citect SCADA training mapped to VET standards and three weeks of tailored content that involved eight site visits to local companies' control centres in Adelaide and Melbourne.
These include: SA Water, Department of Planning, Transport and Infrastructure, SA Power Networks, Australian Energy Market Operator, AGL Torrens Island Power Station, two sites at City West Water (VIC), and APA's Dandenong LNG Gas Storage Facility (VIC).
"Onsite visits are critical to taking the theory and discussion component and seeing evidence of that through practical application," Ms Mabikafola said. "The participants found these visits highly valuable."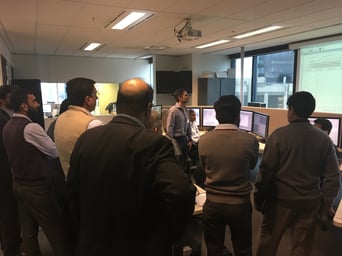 Key SCADA areas addressed for optimised energy management
In the formal SCADA training, participants write a full program and run
it on SAGE Automation's world class conveyer training platform.
"Participants can write their program, run it on the training rig, then see how it interacts with different equipment. This is a critical component which allows them to practice fault finding and problem solving."
The course addressed key need areas identified by USAID such as building capacity in "fault analysis and localization, load scheduling, system efficiency improvement, power balance planning, and handling emergency situations".
Participants will be equipped in vital energy management issues such as: evaluating and upgrading the existing system; cyber security; regulation and maintenance; protocols in the power, petroleum and gas sectors; interactions with machinery and devices; emergency protocols; mitigating peak hour demands; and safety monitoring and standards to name a few.
Ms Mabikafola said the focus was on providing the right content, hands-on experience and reflective practice to enable participants to apply and share this knowledge in their own companies.
"We approach all course design from the 'outcome perspective', that is we ask the client, 'what do you want to change or do?' and we work backwards from there," she said.
The participants will return home to Pakistan on the 8th June 2017.
SAGE has delivered industry projects for several energy companies in Australia including Origin Energy, Snowy Hydro and Shell. This industry experience informs all of SAGE's control systems and automation training courses.