NSAG joint venture wins $2.8M contract to supply key naval technology
Published: May 23, 2017 - Updated: December 14, 2017
Adelaide-based company SAGE Automation together with Navantia Australia have today signed a $2.8 million contract to supply the control systems for two Royal Australian Navy Auxiliary Oil Replenishment ships, currently being built in Spain.
Under the deal, SAGE Automation will supply the enclosures and consoles for the next generation 'Integrated Platform Management System' (IPMS) – the system which provides ship wide control and monitoring of all electrically powered on-board units.
This is the third project of its kind delivered by the Navantia SAGE Automation Group (NSAG), a joint venture which brings IPMS intelligence to the Australian defence industry. This latest contract brings the number of Royal Australian Navy ships with IPMS to seven.
Minister for Defence Industries Martin Hamilton-Smith together with the NSAG, announced the deal at SAGE Automation in Adelaide today.
"Contracts such as this with Navantia further strengthen our local capability in naval automation and monitoring and create a footprint for future Royal Australian Navy platforms," he said.
"With $89 billion in naval shipbuilding work for South Australia, it is vitally important that our local defence industry provides a stable supply chain and has a flow of work to maintain capabilities, ready for when the Offshore Patrol Vessel program commences in 2018."
SAGE Automation will manufacture the enclosures and consoles for IPMS at their Adelaide manufacturing facility before they are exported to Spain for installation on board the ships. When the ships return to Australia, NSAG will provide local support for the IPMS.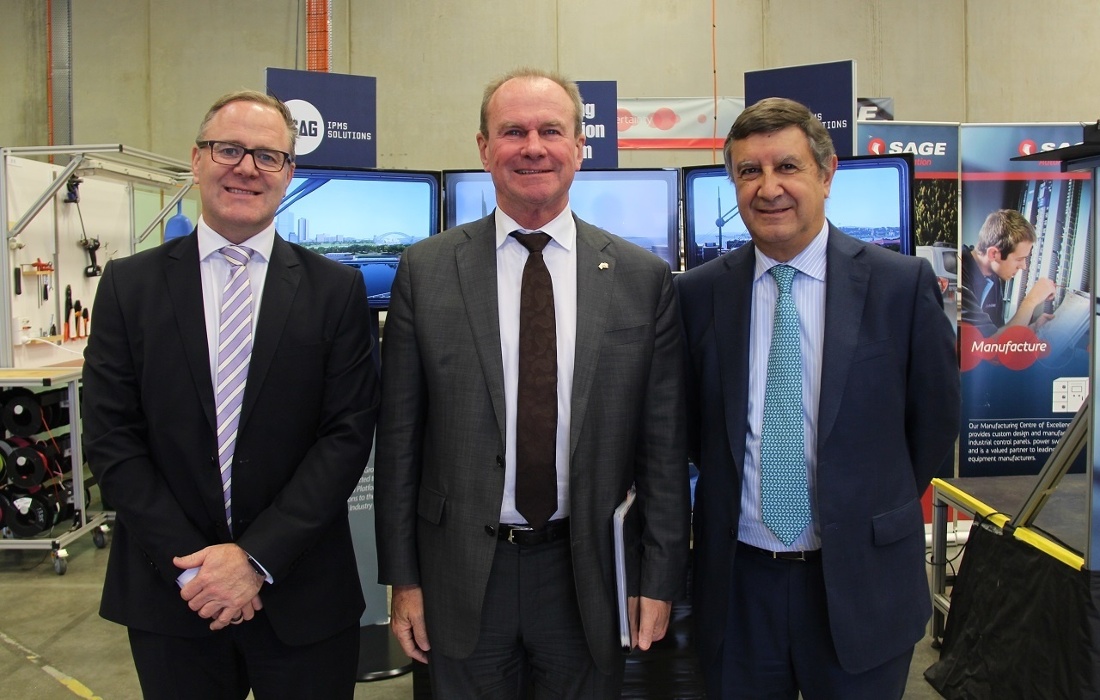 L-R: SAGE Automation CEO Adrian Fahey, Minister for Defence Industries Martin Hamilton-Smith, and Navantia Australia President Paco Baron after the NSAG contract signing, May 2017
SAGE Automation CEO Adrian Fahey said NSAG's experience and expertise will be critical to the future of naval shipbuilding in Australia.
"NSAG is built on a depth of experience and technical knowledge which will be vital to the success of shipbuilding in Australia," Mr Fahey said.
"We have proven our capability on the Canberra Class Amphibious Assault Ships and the Hobart Class Destroyers."
"Through the award of this contract NSAG is able to make a significant contribution to Australian shipbuilding industry and plan for future growth."
Today's news comes with the announcement of the Federal Government's long-awaited $89 billion Naval Shipbuilding Plan last Tuesday, which includes $1.3 billion to upgrade facilities in SA and WA.
Defence Connect reported that the infrastructural upgrades at Adelaide's Osborne Naval Shipyard are expected to increase capacity for "high productivity construction' of major surface combatants such as the future frigates, which are expected to begin construction in 2020."
The naval shipbuilding workforce is expected to reach 5,200 by the mid to late 2020s, with more than double this amount in supporting, maintaining and supply chain type-roles.
The infrastructural work at Osborne will begin in July.
Meanwhile at SAGE Automation, manufacturing of the IMPS components will begin in June and continue over the next 2 years.
Read more about defence and manufacturing solutions in Australia.