Key learnings from Hannover Messe 2019
Published: April 30, 2019 - Updated: April 30, 2019
Innovation! Innovation! Innovation!
It's at the forefront of everything we do here at SAGE, so having the chance to learn from some of Germany's best-in-class at Hannover Messe 2019 was an exciting opportunity for those within our business.
The theme for this year's Hannover Messe was 'Integrated Industry – Industrial Intelligence' in other words: when Industry 4.0 meets Artificial Intelligence. It provided our Australian delegation with the opportunity to observe and learn from leading-edge German technology that is synonymous globally with innovation and quality.

For those of you who didn't attend, here are some interesting facts about the event, which should provide an indication of the sheer size of the world's leading tradeshow!

In five days:
215,000 trade visitors attended
40 per cent of visitors came from overseas
6.5 million business contacts were made
75 countries attended
There were 6,500 exhibitors
SAGE attended the Hannover Fair alongside Siemens Australia. We also had the opportunity to meet with the Hon David Ridgway MLC, Minister for Trade, Tourism and Investment, to discuss how SAGE can bring new technologies to South Australian customers.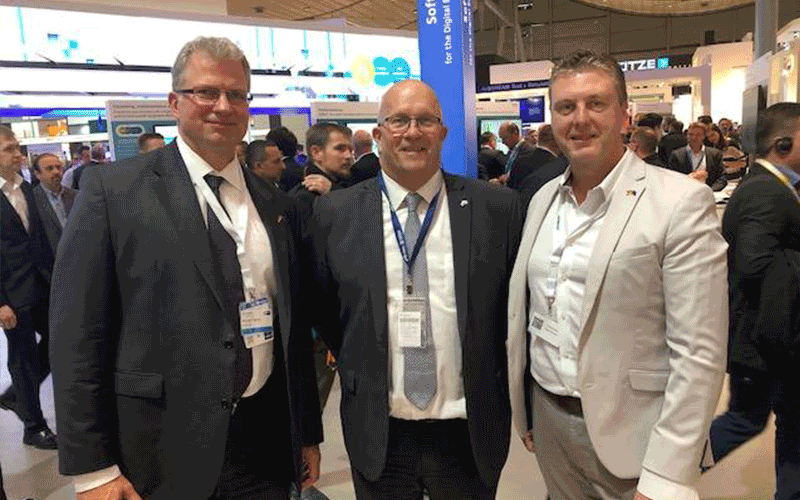 Executive General Manager at Siemens Michael Freyney with Hon David Ridgway and SAGE Chief Operating Officer Adrian Spencer.
Our NSW General Manager Adam Kiryk and Chief Operating Officer Adrian Spencer also had the opportunity to meet with the Australian Ambassador to Germany, Ms Lynette Wood, during their visit.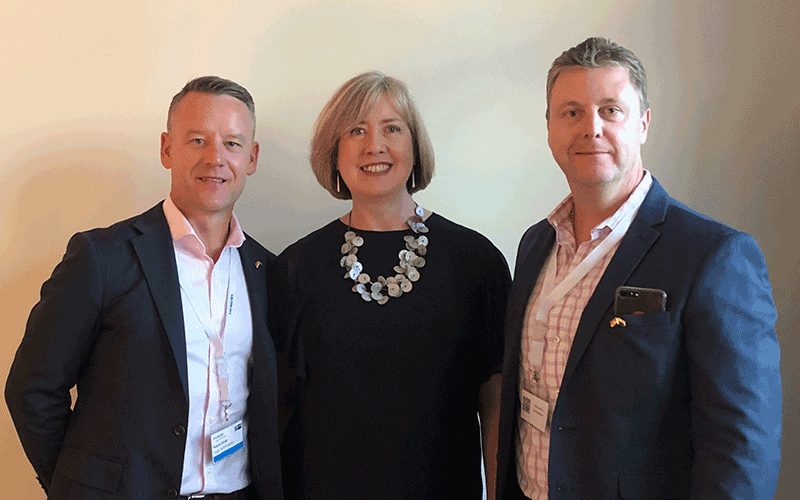 SAGE NSW General Manager Adam Kiryk, Australian Ambassador to Germany Ms Lynette Wood and Adrian Spencer.
Finally, from the defence and projects side of our business, Paul Johnson, Troy Hemmerling, Mike Ziegler and Adam Saliba attended the Fair as a guests of Weidmüller, where they has the opportunity to tour the Weidmuller factory and learn about the latest trends in technology and digitization.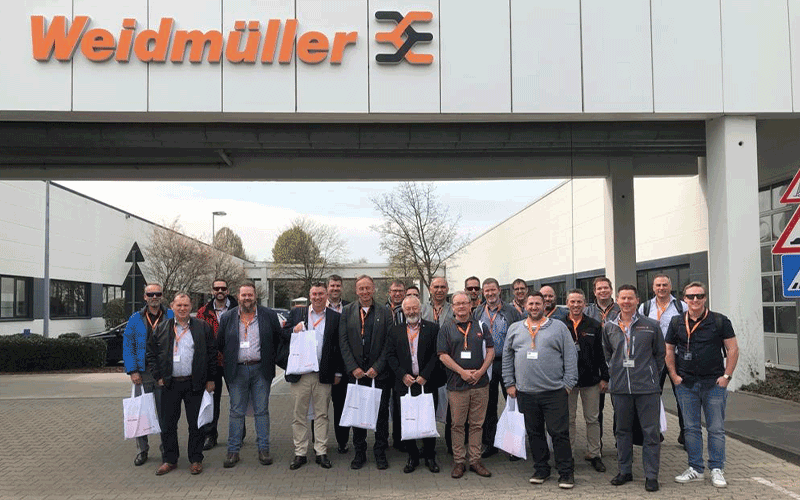 Key takeaways:
"I set out with two things in mind.

The first was to gain a better technical understanding of the Siemens' products and how we can use them and introduce them to our clients to enhance their business and bring us closer as that trusted advisor.

The second was to build a strong executive network within Siemens and APS and the other delegates on the trip.

I'm happy to say that I achieved both.
Working closely with key executives from both organisations including Michael Freyny, Dave Hagerty, Daryl Kaufmann, Lloyd Thomas and Justin Farrell, gave me a great oversight and deeper understanding of products such as Win CC OA and its application in water in Australia (I had a great session with Marcus the global water leader in Siemens), Mindsphere and how we can use and integrate this in our clients' businesses to optimise their assets, and hearing feedback and input on cybersecurity from people like the Global Chief Risk Officer at BMW and the Australian government, which will assist SAGE in our journey - particularly as we strive to enter the global market.

Siemens' attention to detail in grouping subject matter material, like-minded companies and some truly exciting technologies and innovative solutions provided for an exceptional learning experience."

- Adrian Spencer, SAGE Chief Operating Officer
"The pleasure of commencing the delegation with an exclusive event with the Australian Ambassador to Germany, Ms Lynette Wood, demonstrated the importance of this delegation in the context of the Australia-Germany relationship.

Attending the world's largest and most important industrial trade fair with more than 6,500 exhibitors was simply mind blowing. We got to explore the enormity of the Siemens stand (over 1 acre) which covered the digital transformation of industry through the integration of automation, energy technology, IT platforms and artificial intelligence. Wandering through the many halls and meeting other key suppliers showcasing their products and solutions was enriching.

A key takeaway for me was meeting with other delegates on the tour and learning how they used and implemented Siemens software and products with their projects and customers. We also had the opportunity to meet the General Manager for Water and Waste Water, Dr Makus Lade, who was very keen to understand how he could support SAGE's customers in the Australian water sector.
I felt privileged to be part of the Siemens' 2019 delegation to Hannover Messe. The trip provided a great opportunity to network and build new relationships with like-minded industry peers."
- Adam Kiryk, SAGE NSW General Manager
"A very big thank you for your hospitality at the Messe. I thoroughly enjoyed both the tour of your factory and the Messe (not to mention a beer or two). Besides gaining new friendships, I also have a better understanding of the products and services available from Weidmueller."
- Mike Ziegler, SAGE Senior Project Manager
Now, it's up to us to work out how to implement our newfound knowledge, and incorporate our learnings into fresh SAGE Automation solutions, as part of our continuous Industry 4.0 journey.

Learn more about the six cross-industry applications of the Internet of Things: